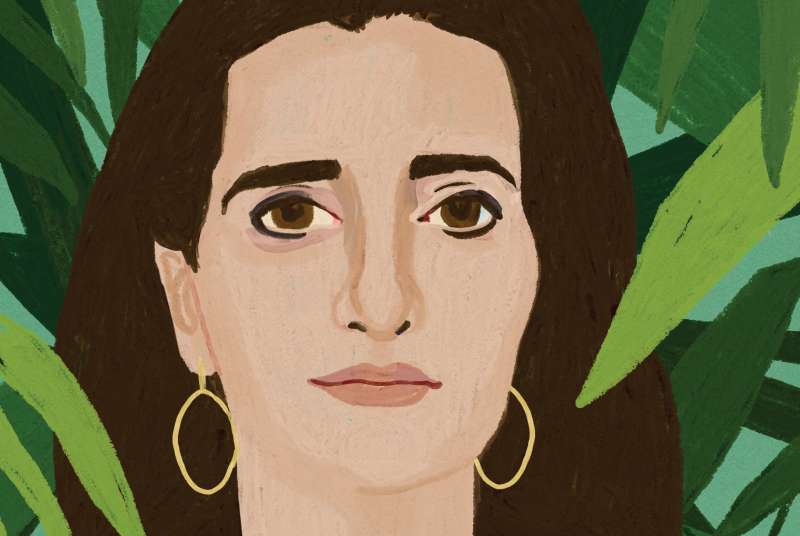 Illustration by Anne Bentley
Out of the Amazon
A wonder drug emerges from the Dragon's Blood tree, thanks to Jaguar Health CEO Lisa Conte '81, Tu'85.
Lisa Conte and her hiking partner were 12,000 feet up the flank of Mount Kilimanjaro when trouble struck.
Despite the pair's stop-and-go acclimation efforts, Conte's 20-something Olympic-level athlete pal was beset by the telltale signs of altitude sickness: a hangover-like headache and shortness of breath that can develop into dangerous confusion and a cough that produces pink froth. These symptoms, which can lead to death, were not to be taken lightly. The human body, after all, isn't ready-made for life at 8,000 feet above sea level.
But the mountain delivered a lifeline that fall day in 1987. A nearby villager, as if expecting the pair, offered them a strange elixir at what appeared to be a makeshift pharmacy along the trail. "He held what looked like a bottle of Scotch," remembers Conte, then a financial analyst for a California venture capital firm. "It had green stuff in it that was dripping down the side, and there were plants popping out of it. It looked very mysterious."
Conte's friend slugged down some of the "green goop" and felt relief. The climbers continued without incident to Kilimanjaro's 19,341-foot summit.
The contents of the bottle, she surmises, might have been khat, a flowering plant native to the Horn of Africa known for its amphetamine-like effects when chewed.
Conte recounted the scare to a fellow traveler, an elderly Australian bon vivant who was married to a Tanzanian military general. She marveled at the miracle cure and beseeched Conte to learn the concoction's ingredients: "You should do something about it. That should become a medicine for the world."
The words rang prophetic. The potion's healing qualities fired Conte's imagination and her entrepreneurial ambitions to "demystify the goop." In 1989 she founded the San Francisco-based Shaman Pharmaceuticals, whose goal was to identify medicinal plants and commercialize their potential. A fearless entrepreneur, she rang up $45,000 in credit card debt launching the company and soon won several entrepreneurship awards, including Ernst & Young's 1994 Entrepreneur of the Year Award.
Today, more than three decades after that fateful experience on Kilimanjaro, Conte is president and CEO of another company she founded, the publicly traded pharmaceutical company Jaguar Health and its wholly owned subsidiary, Napo Pharmaceuticals. (Shaman ceased operations in 1999.) Conte leads a team of researchers who could deliver the planet's next wonder drug: an oblong white tablet called Mytesi (the brand name of the drug crofelemer). This plant-based antidiarrheal has so far been approved only for use by HIV patients who battle digestive distress as the result of their prescription drug cocktails. The FDA approved the treatment in 2012. But the drug is thought to be a panacea for some half-dozen other conditions, including cholera, irritable bowel syndrome, Crohn's disease and colitis—markets that could have tens of millions more beneficiaries. Among them could be the 2.5 million children who die every year from diarrhea caused by diseases such as cholera. Jaguar is also developing Mytesi to combat chemotherapy-induced diarrhea. 
Trials will determine Mytesi's fate, and that could take several more years. Conte already has weathered delays brought on by two recessions and the bankruptcy of Shaman Pharmaceuticals. Drug development is nothing if not an exercise in patience and persistence, and hopes are high at her 23rd-floor headquarters overlooking San Francisco Bay.
The drug's secret ingredient? Sap from the Dragon's Blood tree of the Amazon basin. Its balsa wood-like trunk yields a red form of latex, something typically found in rubber trees. The sap, which smells like a smoky barbecue sauce, has a blood-like color and consistency, thus the tree's name. The tree grows in Bolivia, Colombia, Ecuador and Peru, as well as in parts of Argentina and Brazil.
Traditional South American medicine has long used it to stop bleeding, to remedy digestive woes including diarrhea and as an antibacterial salve. It has no known side effects. Mytesi is what's known as an antisecretory. It halts diarrhea by blocking chloride ions, which regulate the secretion of gastrointestinal tract fluids, yet the drug itself is not absorbed into the bloodstream.
That last characteristic sets it apart from other antidiarrhea drugs, which can paralyze the gut and cause constipation. For that reason, current medications can't be taken for more than 24 hours. "This is a blockbuster in every sense of the word," predicts Conte. "There are no other antisecretories out there."
That sentiment is seconded by one of the company's advisors. "Jaguar is supporting groundbreaking research for the treatment of children with life-threatening gastrointestinal diseases," says Dr. Christopher Duggan of the Boston Children's Hospital's Center for Nutrition. "Sadly," he notes, "infectious diarrhea and other illness still contribute to preventable mortality." 
Conte and her ethnobotanist have scoured the Amazon basin in search of life-changing plants for more than 20 years. 
Adds Conte: "For the most part, the only people who die of diarrhea are little children in areas where there are few resources. Our commitment to shareholders is to the whole world, not just the Western part of the world. We've leveraged the knowledge of traditional healers and used plants that have been used by mankind for thousands of years."
Toward that end, Conte and longtime colleague ethnobotanist Steven King have scoured the Amazon basin in search of life-changing plants for more than 20 years. These days Conte travels to remote jungles once every couple of years, while King treks into the rainforest twice annually. The duo has investigated plants to treat pain, infectious diseases and even Type 2 diabetes.
The pair consults with shamans, who readily share their secrets. In return, Jaguar engages in "benefit sharing" by helping locals finance water, school and social welfare projects. In one instance, the company helped villagers extend a community runway to make it easier for sick patients to be flown to medical treatment. 
Conte and King also worked closely with late Harvard ethnobotanist Richard Evan Schultes, who spent 14 years in the Colombian Amazon in the 1930s and 1940s and is considered the father of modern ethnobotany. "He was a mentor to me and many other people like myself," King says. "He'd see if plants had some bioactive principle. If they did, we'd take them back to the lab and identify what those principles were."
Through the years, King has collected 2,600 plant specimens, but Jaguar is putting its chips on the Dragon's Blood tree. "We would collect about 100 plants a year, bring them back to the lab, and test them and prioritize them," Conte says. "It kept landing at the top of the stack."
Creating the next big drug takes scientific genius—and deep pockets. The average cost of developing a pharmaceutical is $2.6 billion, according to the Tufts Institute of Pharmaceutical Development. It requires constant fundraising from institutional investors, hedge funds and private equity funds. Conte had to raise more than $350 million to get Mytesi out of the lab and into the regulatory pipeline. "We did it pretty efficiently," she says. 
There were moments when the whole effort felt doomed.
In 1997, the FDA approached Shaman to ask it to consider whether the drug could benefit HIV patients. It wasn't pursuing an HIV-related diarrhea treatment at the time, but her company leapt at the opportunity to help fast-track a potentially revolutionary treatment.
The opportunity, however, proved to be the company's undoing. Shaman needed to raise more money, and the next year the Asian financial crisis hit, drying up potential sources of funding. As a consequence, Shaman entered Chapter 11 bankruptcy. 
After she founded Jaguar, lightning struck again. In 2000, GlaxoSmithKline pulled its antisecretory drug Lotronex from the market after it was linked to the deaths of five patients. Conte's moment had arrived. She now had the chance to continue the work Shaman started.
After felling Dragon's Blood trees for their sap, Conte plants replacements.
"Lisa has been indefatigable," says venture capitalist Josh Mailman, founder of Serious Change Investments. "It's been a long process, but she has no less energy for this now than she did when she started." Mailman believes in investing in startups that will flourish financially and foster positive social change. He counts Conte among his acolytes. Besides promoting Mytesi's anticipated medical benefits, Conte's other abiding passion is to leave a light footprint.
After felling Dragon's Blood trees for their sap—each tree yields three to four liters—Conte plants replacements. She's also established the Healing Forest Conservancy, which financially supports villagers who harvest and care for all the medicinal plants her company uses.
Conte's career choice and her dogged perseverance make sense given her childhood. She grew up in Great Neck, New York, the daughter of pharmacist parents. From an early age, Conte worked at the family's pharmacy—primarily behind the candy counter. 
The establishment was open 365 days a year, and Conte's parents, when they could take time off, made it a point to get as far away from daily life as possible. Born in Queens, her father pined for wide-open spaces. Starting when Conte was 11, the family escaped to the hinterlands of Alaska's Wrangell Mountain Range, halfway between Anchorage and Fairbanks. It was a three-day horse ride "marching up and over mountains" and fording rivers into unspoiled wilderness. The family hunted caribou and spent all day fishing the Copper River. When the kokanee salmon weren't biting, there was a contingency. "In that case, it was Bisquick—Bisquick for breakfast, Bisquick for dinner," Conte says.  
The family's favorite getaway had a compelling antecedent: Conte's godfather was the first master guide in Alaska, squiring tourists and hunters through a Last Frontier populated by Kodiak bears, immaculate salmon runs and postcard-perfect vistas.
She enrolled at Dartmouth, as did her brother, Chuck '78, DMS'81, now the director of surgery at Northwell Health in Queens, New York. Conte could have gone to school in Boston, but she was beguiled by Hanover's outdoor ethos. The Outing Club gave her the chance to channel the wilds of Alaska. Her fondest memories include camping on Mount Washington. "Winter camping is something you are happy to say you have done, but not when you're doing it," Conte says. "I wasn't miserable, but I was cold. I was very cold."
She's been adventuring ever since: riding horses in the sands of the United Arab Emirates, ferrying medical supplies to earthquake victims in Haiti and once getting her canoe stuck for an hour in the middle of an Ecuadorian river. 
On a recent winter trip to Chamonix, France, Conte and her three children, including Maddy '17, went mountaineering. Conte brought crampons and ice axes but forgot a critical piece of equipment: rope. "If we'd slipped, we probably weren't going to die, but it was going to be ugly. There would have been injuries," Conte says. "The guide said, 'It's fine. We're going to be fine,' because there was no alternative. She wasn't going to panic us."
Back in San francisco, Conte is well-equipped and calm tackling her business challenges. Mytesi is generating excitement, and analyst Robert LeBoyer of Aegis Capital Corp. wrote last December that sales of Mytesi are expected to grow  in 2018. "Response to the new marketing campaign has been substantial," he noted.
"The stories that we hear from patients are absolutely remarkable," Conte says. "There's a market for this, and we can do something really important." She's "extremely optimistic" about gaining FDA approval for those additional uses of Mytesi  because the drug shows such great promise for treating other conditions in which diarrhea is life-threatening.
In the meantime, Conte isn't sitting still. She's spending as much of her free time as possible on a horse. "Jumping and a bit of endurance riding," she explains. After all, there is no elixir for stamina. After years of effort, she's coming down the backstretch, and the finish line just might be in sight.  
Andrew Faught is a freelance journalist based in Fresno, California.