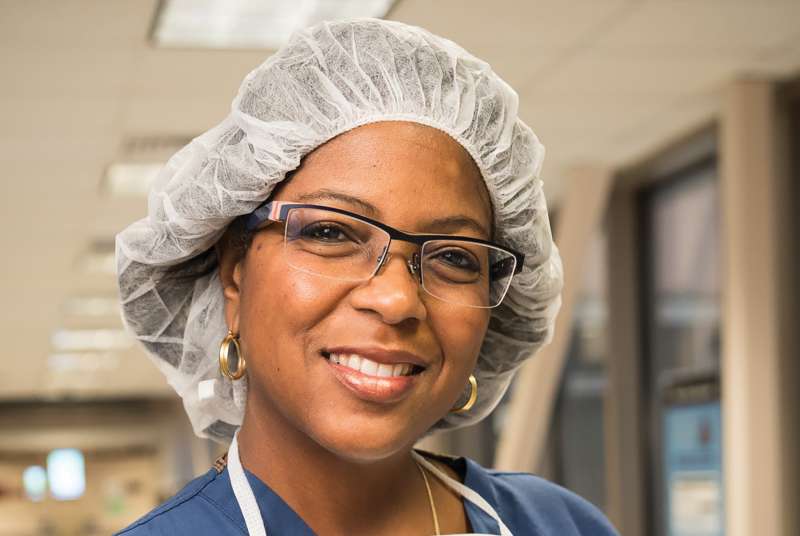 Lifesaver
America's first black female pediatric surgeon, Andrea Hayes-Jordan '87, DMS'91, delivers a therapy to treat a rare cancer.
As long as she can remember, Hayes-Jordan knew she wanted to be a doctor. She recalls being fascinated by the game Operation and looking forward to her annual checkups, when she got to use her pediatrician's stethoscope. "My mother tells me that when I first started talking, I said I wanted to be a 'baby doctor,' " says the L.A. native.
Hayes-Jordan has realized that dream and more: In 2004 she became the nation's first black female pediatric surgeon and one of a handful of pediatric surgical oncologists in North America. Now the director of pediatric surgical oncology and an associate professor at the University of Texas MD Anderson Cancer Center in Houston, she's helped extend the lives of more than 100 children in the last decade by pioneering a surgical technique that treats a rare, aggressive cancer known as desmoplastic small round cell tumor (DSRCT). She also heads a research laboratory working toward a potential cure. "No one knows where this tumor comes from. No one knows how it spreads," she says. "But we're getting close to figuring it out."
There have been challenges for Hayes-Jordan along the way. When she tried to enter a training program for pediatric surgery, not a single institution accepted her. She tried again—and again—with the same results. "You never want to blame it on your race, but when you can't find another explanation, that's what you're left with," she says. "I had done everything everyone who was accepted had done." Confounded, her mentors made calls to find out why she had been rejected. One surgeon at a Southern hospital replied that bringing in the first black woman was too much of a risk for his program. "I kept saying I know this is what I'm meant to do, and I'm not going to give up," Hayes-Jordan says. She refused to choose another specialty, and in 2000 secured a slot at the University of Toronto.
Six years later, Hayes-Jordan became the first surgeon in the United States to successfully use hyperthermic intraperitoneal chemotherapy, or "heated" chemotherapy, on a child, a protocol that has significantly boosted survival rates for children with DSRCT. In a 12-hour operation, she removes all tumors before pumping a chemotherapy drug heated to 103 degrees throughout the abdominal cavity. This destroys any remaining cancer cells and reduces the risk of recurrence. It allows for a more intense dose of chemotherapy and, because most of the drug stays within the abdomen, decreases the toxic effects on the rest of the body.
The treatment was developed for use on adults, and colleagues initially had concerns the procedure might not be appropriate for pediatric patients. Yet Hayes-Jordan kept thinking about a 12-year-old boy she'd operated on years earlier while training at St. Jude Children's Research Hospital (and was unable to help). "We go into surgery because we like to fix things immediately, and not to be able to fix his condition was a horrible feeling. I had to tell his parents their child was going to die," she says. "I thought, 'I never want to have to do this again.' " So she obtained approval from the hospital's internal review board to conduct clinical trials. The trial results—to be published in a forthcoming Annals of Surgical Oncology—show survival rates jumping from 30 percent to 70 percent across three years with the addition of the surgery.
"Innovator." That's how she is described by Dr. L.D. Britt, a former president of the American College of Surgeons and the American Surgical Association who was first impressed with Hayes-Jordan's clinical acumen when she was a general surgery resident at the University of California Davis. "She is the consummate role model," says Britt. "Her star will continue to rise."