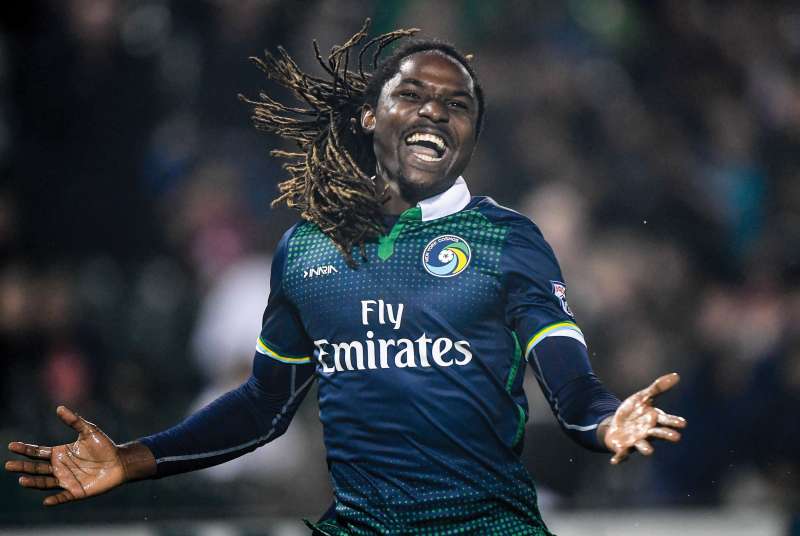 Photo courtesy New York Cosmos
Playing It Forward
Cosmos star "Lucky" Mkosana '12 empowers Zimbabwe teens.
Mkosana is one of those fortunate people who found his passion early. Since age 5 he chased the dream of playing soccer—and now this New York Cosmos forward wants to share that opportunity in his hometown of Plumtree, Zimbabwe. With Bridging Youth through Soccer Academy (BYS), which he started two years ago, Mkosana is building a mentorship program for his country's youth that emphasizes athletics and education.
His game plan: Develop fields and facilities in Plumtree as well as partnerships with schools and international organizations to help players use their soccer skills to win academic scholarships. "BYS seeks to instill a high sense of discipline, responsibility and commitment," he says. "This prepares its graduates for life at the highest level of achievement, promotes soccer throughout Zimbabwe and builds a supportive learning environment where children can develop their soccer and life skills."
It's a strategy Mkosana followed as a teen. After catching the eye of a Dartmouth coach during a soccer showcase in Zimbabwe, he attended Kimball Union Academy in Meriden, New Hampshire, before joining the College team, where he earned All-Ivy League First Team honors all four years and was named the 2011 Ivy League Player of the Year. He ended his Big Green career as the College's all-time leading scorer with 34 goals. Mkosana then played for the Harrisburg City Islanders and the Tampa Bay Rowdies before signing with the Cosmos.
Even as he seeks his third championship season in four years with his team, he remains focused on developing the next generation of talent. "The next step for BYS is to get one or two players scholarships to study in the United States. I'm currently talking to a few high schools that can help with that," he says. "I'm a happy soul, and I love helping people any way I can. It's given me a drive to play my part in giving back, not only for Plumtree, but also in communities that have helped me get where I am today."