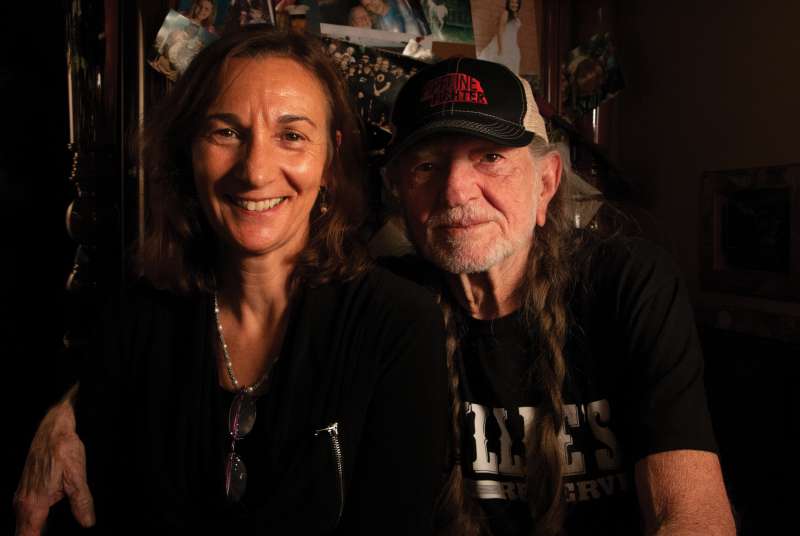 On the Road Again
Documentary film producer Julie Dunfey '80 records the stories of America. Up next: Country Music.
It's the middle of the night, and Ken Burns lies awake in bed trying to solve a problem: How can he film the floor-to-ceiling murals inside the Missouri State Capitol to make them come alive? 
At 6 a.m., a somewhat more reasonable hour, the documentary filmmaker dials his producer, Julie Dunfey, with the solution. 
"We should rent a crane," he proposes.
"I remember that phone call very well," Dunfey recalls 32 years later. It's a story she often recounts when people ask her what it's like to work with Burns, cofounder of Florentine Films and an award-winning filmmaker whose mind, she says, is "always turning" with ideas.
What Burns and Dunfey couldn't have imagined back in 1987, while swooping over Thomas Hart Benton's murals, side by side on a crane, their legs dangling in the air, was that together they would shoot another Benton mural—The Sources of Country Music—for their documentary,  Country Music, which airs September 15 on PBS.
It's an intimidating topic, given the amount of material to winnow down—Country Music has been in the works since 2012. The film focuses on performers and their lyrics, with plenty of soulful tales of alcoholics, cheating husbands, and unwelcome mistresses. "We try and let the music live in this series," says Dunfey. 
"We try and let the music live in this series."
First came the interviews, 101 of them, sometimes two every day for five-day stretches, with Dolly Parton, Loretta Lynn, Willie Nelson, Merle Haggard, Reba McEntire, and other legends. Some of the stars burst into song while the camera rolled. Dunfey visited Nashville so much she didn't need a GPS to get around. For two years she traveled at least seven to 14 days at a time, sometimes beyond Tennessee to Texas or California. 
Next came the editing. Dunfey tackles those duties from the team's dog-friendly office, a home built in 1842 in the village of Walpole, New Hampshire. Once a doctor's office, the quirky abode has creaky hardwood floors and steep stairs that lead to quiet nooks where editors work their magic. "Just when you get tired of being on the road, you get to be at home to edit for a couple years," says Dunfey.
A New Hampshire native and undergrad history major, Dunfey got her start in film as a graduate student in history at Stanford. She made a 10-minute short about polygamous Mormon women, the topic of her master's thesis. Around the same time, Burns was gaining attention for his 1981 documentary Brooklyn Bridge, which earned him an Academy Award nomination. 
That same year, Dunfey decided to take a chance. "I just called him up," she recalls. "People used to do that." It worked. Burns invited her to spend a day with him in Canterbury, New Hampshire, where he had started work on a film about the Shakers. "She immediately caught my attention because she was smart and professional," Burns says. Dunfey asked for a job, but Burns says he was "barely hand to mouth" and didn't have the budget. He did, however, weigh in with guidance while Dunfey turned her short film into a full-length movie. When she finished it in 1984, she sent it to Burns.
"It was terrific," recalls Burns, who was working on The Civil War (1990) and needed help juggling projects. "You have a job if you come east," he told her.
She joined the team in 1986, and for the next four years Dunfey learned the nuts and bolts of filmmaking. She filmed plenty of sunsets and sunrises, waking before dawn to capture the perfect light on battlefields. "It was really fun," she recalls. She mounted archival photographs to a stand, zoomed in for five seconds, then panned left, a technique utilized by Burns that would come to be known as the "Ken Burns Effect." 
Back then, filming was arduous. Digitization has transformed the process. There's little need to rent a crane or haul equipment to an archive to take a photo that can now be scanned or found online, nor is there a need to change camera rolls every 11 minutes while doing interviews. 
But there's still plenty of work for interns, some of whom have gone from Florentine to film careers. David Schmidt '09 worked his way up from intern to coproduce Benjamin Franklin (2022) with Burns. Elena Ridker '16 became an associate producer for the comedic sitcom Broad City. Hallie Reichel '18, who made a documentary about Dartmouth's organic farm as an undergrad, spent her time on Country Music knee-deep in research, double-checking facts and verifying historical details—all "cool and exciting" work, she says, that didn't make her "feel like an intern."
Entertainment lawyer Drew Patrick '93 stepped into the world of documentary filmmaking when he went to a New York City dinner party and unknowingly sat next to one of Burns' producers. Eventually he was repping Florentine Films. "Somebody once told me that luck is when preparation meets opportunity, and I got really lucky when it came to that opportunity," says Patrick. 
After The Civil War, Dunfey (a DAM board member) earned an Emmy for her production work on Florentine's The National Parks: America's Best Idea (2009), which she loved for its majestic scenery and central message: "These belong to all of us." 
When that project wrapped, Dunfey visited nursing homes in Kansas and New Mexico, scouting seasoned storytellers her team could interview for The Dust Bowl (2012), a story with a message that still resonates. "We destroyed the second largest ecosystem in the United States in the matter of a few decades, and we'll never get it back," Dunfey says. "I love that cautionary tale."
Interviewing is one of Dunfey's most beloved parts of the job, especially "when it really clicks," she says. Most of the men and women she spoke to for The Dust Bowl were in their 80s and 90s, the age of her parents. Some were centenarians. "Their adult children would bring them to the interview and, at the end, would turn to me and say, 'I've never heard that story before.' We were probably the last people to get their stories."                     
Betsy Vereckey is a freelance writer. She lives in Hanover.