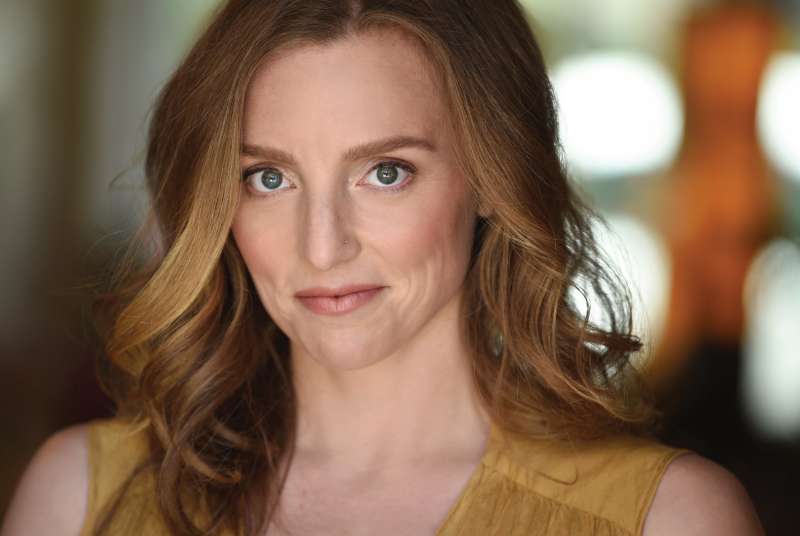 The Voice
Sarah Mollo-Christensen '03 pursues a career that keeps her well read.
When Sarah Mollo-Christensen is ready for work, she steps into a white box slightly larger than a telephone booth that is conspicuously situated in one corner of her bedroom. Then she starts talking to herself, sometime for hours on end. That's her job. 
Mollo-Christensen is an acclaimed audiobook narrator of more than 150 titles. A recent review in The Washington Post praised her for delivering the narration of The Current, a thriller by Tim Johnston, "in a low, gentle voice, modulating her tones unobtrusively to capture the dialogue among the characters." It's a career whose top performers can talk their way into six-figure annual salaries.
Four years ago the history major was a stage actress working on the side as a dog behavioral consultant to make ends meet. "Some of it was fun, like going to a client's palatial Tribeca loft to spend an hour socializing a new puppy," she says. But it also involved serious work with damaged animals. Between the acting and the dog care she found herself emotionally exhausted, so she turned to something different. 
First, she took a class in audiobook narration. Next, after learning that many established narrators work at home, she borrowed a microphone from a boyfriend, tacked up some acoustic tile in her closet, and turned it into a recording studio. She used the closet for 18 months until the limitations of the small, poorly soundproofed space became too much. Then she installed a high-end audio booth. "At that point I was getting steady enough work that I knew the booth would pay for itself quickly, since it would allow me to work more efficiently and take more jobs," Mollo-Christensen says.
A normal workday involves recording for about six hours, which she edits down to three hours of content. With back-to-back projects booked months in advance, she has to be protective of her health. "It's crazy how much getting a cold ruins your life," she says. Another unusual hazard: The toddler whose family just moved in upstairs. When he comes home from daycare and starts noisily tearing around on the floor above, she has to hang it up for the day. "That may force me into a healthier work-life balance," jokes Mollo-Christensen, who is single.
She does most of her recording at home, a growing industry trend, but she loves going to a publisher's studio. "It's fun to see people and get to work with a director and an engineer, so I'll always take an in-house job over a home record," she says.
Narrating requires hours of prep work. First step: Read the book. "You can't tell a joke if you don't know the ending," she says. Next comes a character list, noting the salient traits of each person. Giving a good reading is not about having a great voice, but "really being able to play all the characters," says Mollo-Christensen. Finally, she practices the pronunciation of any unusual or difficult words. Only then is it time to head into the booth. 
Mollo-Christensen doesn't simply read the books into a microphone. She performs, and she's especially versatile when it comes to doing accents. "When I need to learn a new accent, I listen to samples of it and use IPA [the International Phonetic Alphabet] to write down the sound changes. I watch movies whose characters have that accent to get it into my head, and sometimes I work with a dialect coach to polish and perfect it." Her repertoire includes Australian, New Zealand, Norwegian, British, Irish, French, and German accents. "New Zealand is definitely my favorite. It's warm and friendly but more wry than an Australian accent, if an accent can be wry," she says.
"Because I had speech and vocal training and a knack for it, that ended up opening doors for me," she says of her acting experience, which includes attendance at a conservatory program at Atlantic Acting School in New York City. That's where she learned the IPA. She no longer pursues an acting career. No need.
Sixty of the titles Mollo-Christensen has narrated are romance novels, for which she uses another name. "I was doing SAT tutoring and didn't want students to be able to find me reading steamy romances," she says. Her nom de plume isn't too terribly top-secret. A little detective work is all it takes to uncover it, but she does find it useful for career reasons to create a bit of separation between her two professional identities.
Mollo-Christensen has also appeared several times on public radio's program This American Life. The gig came her way because she trained host Ira Glass' pit bull, Piney. "That is the breed my dog was," she says. "It's one I really care about and wish was treated more fairly." She still keeps a hand in the dog-behavior business, working with a few clients she doesn't want to give up. As her website explains, when she's not in the audio booth, "Sarah can be found resolving the behavior issues of New York City's dogs (and their owners)."                                                        
Rick Beyer is a writer and award-winning documentary filmmaker. He serves on DAM's editorial board.