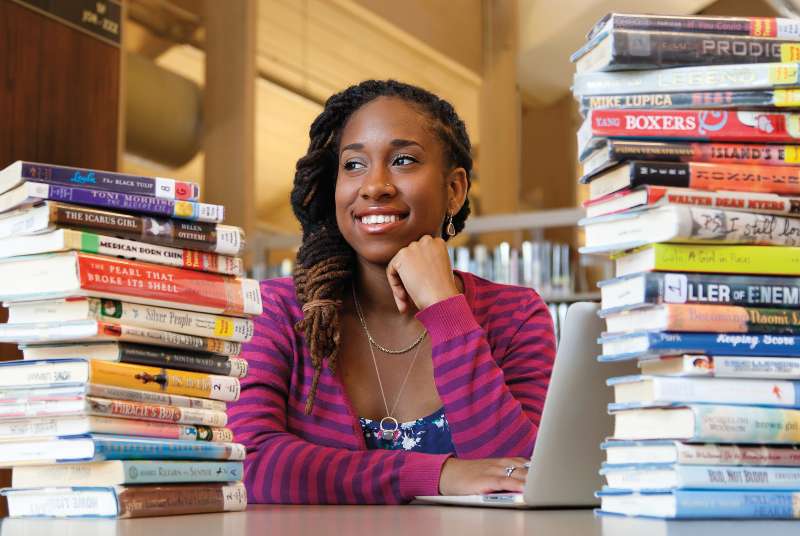 Recommended Reading
Entrepreneur Kaya Thomas '17 builds a virtual library.
Thomas' favorite books as a child included Lemony Snicket's A Series of Unfortunate Events and The Hunger Games trilogy. By high school she began to notice that few fictional characters looked like her. "It really started to bother me," she says. "I thought, 'Do girls like me not matter? Am I invisible?' So I started to seek out books with more characters of color, but it was really hard to find them." During her first year at Dartmouth, the computer science major created We Read Too, a mobile directory of 300 children's and young adult books written by authors of color that feature characters who are black, Latino, Asian, or represent other minorities.
Since its 2014 launch, the free list has grown to 900 books and been downloaded more than 50,000 times. Thomas recently released an Android version, funded by $15,000 raised in a three-month Indiegogo campaign. She's been featured in Forbes and Teen Vogue and was named one of Glamour magazine's 2016 College Women of the Year. Thomas has heard from self-published authors of color asking her to include their work on the app, as well as teachers and librarians who use it to add diverse titles to their collections. "That warms my heart, knowing these books are getting out to whole communities," she says.
The New York City native lives near San Francisco and works as a software engineer at tech company Slack. She continues to tweak We Read Too, with the goal of 1,000 titles and additions such as reviews. "These stories matter," she says.
Photo courtesy Dartmouth College Fund