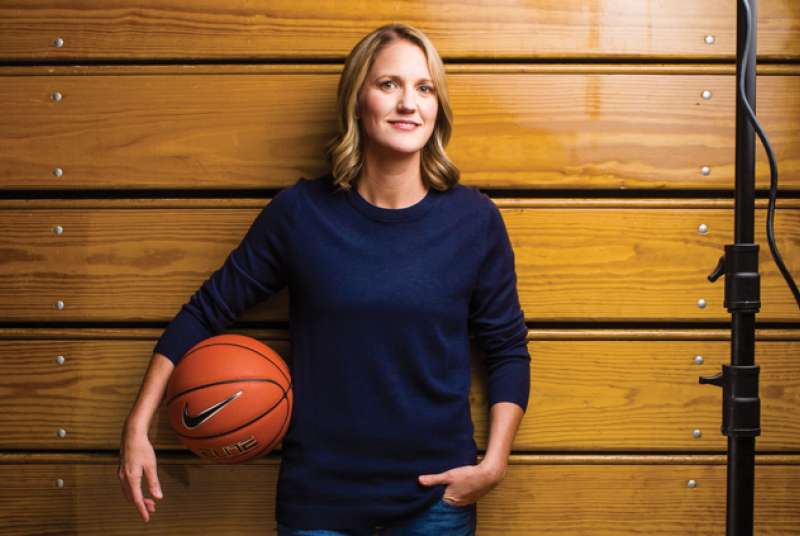 Into the Blue
Basketball coach Courtney Banghart '00 heads to Carolina.
For Courtney Banghart '00, the Ivy League has long been home. She had four years as a star guard at Dartmouth, another 12 as coach of the Princeton women's team, which she took to new heights by winning seven Ivy League titles, including a 30-0 regular season in 2014-15, when she was named Coach of the Year. Her former players include pros such as Blake Dietrick of the Atlanta Dream. Banghart's Princeton has become a viable basketball preparatory school, as evidenced most recently by Bella Alarie, the two-time defending Ivy League Player of the Year and consensus first-round pick in next year's WNBA draft.
Banghart could have been Princeton's coach for life, another in the line of Kathy Delaney Smith at Harvard. But now she's heading to the University of North Carolina, where she'll replace a 33-year coach engulfed in scandal. 
"This was the hardest decision I've ever made in my life," Banghart says. "For a lot of reasons—what I built, I believed in. I think people on the outside think I made that decision because I had done everything there is to do. I don't agree. I think I was near a Sweet 16 with the Princeton women. It was a really tough decision."
And it had to be made quickly. Banghart found herself at the top of the wish list of Bubba Cunningham, the Tar Heels' athletic director, who called her the same Friday morning in April that UNC coach Sylvia Hatchell resigned. The next day Banghart was on a plane to Atlanta to meet with the UNC search team. On Easter Sunday she got an invitation to visit Chapel Hill. A surreal Princeton team banquet followed on Tuesday, and by Thursday she had a job offer in hand as she toured the Chapel Hill campus. 
For Banghart, who holds Dartmouth's season and career record for three-pointers, the move is about more than just a job. It's about her three young children, none of whom are in school yet, and her wife, D.J. It's about spending more time with her sister, who lives two miles from the UNC campus. And it's about a woman who, at 40, has already accumulated a lifetime's worth of accomplishments deciding to venture out to bigger terrain. "I think, ultimately, the new experience and the new adventure won out over [staying at Princeton]," she says. Not to mention that UNC was on her short list of three schools that could lure her away. (Duke and Virginia were the others.)
Life will be different. Banghart will find herself in different living rooms, offering scholarships and getting a chance to play faster with a different level of athlete. She points out that the ability to practice in the afternoon at UNC—classes kept her Princeton players occupied until evening—means she will be home by 5 to have dinner with her family. 
Her house is on the market. She's already bid a tearful goodbye to Alarie and the rest of her Tigers, secure in the knowledge that she's leaving them at a time when the program can continue to thrive. 
Banghart is remaking her life, all with hopes of making it to a Final Four and beyond. 
She doesn't know how long it will take—she won only seven games in her first season at Princeton—but she knows how she'll measure success.
"By winning on the national stage consistently," she says. "By having a product that people are excited to follow. By how engaged and how much our players enjoy the experience. There are many different touch points that equal success, and I'm driven for all of them at the same time."
Howard Megdal is the editor and founder of High Post Hoops, a women's basketball site, and The IX, a newsletter covering women's sports.