66 New Reasons to Love Dartmouth
When the eloquent statesman Daniel Webster, class of 1801, declared "there are those who love it" in reference to his alma mater, he had no clue how long that love would endure—and how it would evolve. This feature presents the latest reasons (in no particular order) to cherish the College, all of which have emerged since we published "101 Reasons to Love Dartmouth" back in 2016. Some of the objects of affection arose out of necessity, such as pandemic solutions that still make sense even after the retreat of Covid-19. Most, however, simply sprang forth from the people and ideas that continue to make Dartmouth even more Dartmouth. All of them are perfect answers to the questions "What's new?" and "What's to love?"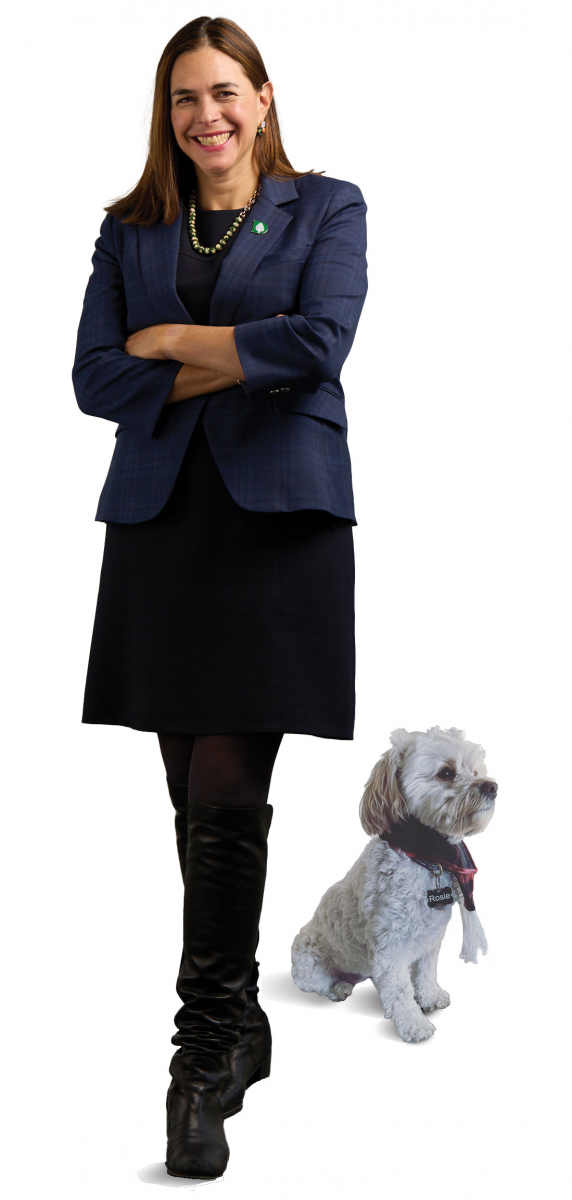 1. Sian Beilock
For more than 250 years, a man has ruled the roost. That ended when the College's first female president started in June. (Reason to Love Dartmouth No. 1a: Rosie, Beilock's winning Cavapoo)
2. Birling!
The timber team now practices the fine art of logrolling, aka birling, indoors at Spaulding Pool—and outdoors on the Green in a giant kiddie pool. It recently purchased a portable, foam-based Key Log, which allows users to adjust spin speeds. Competitions take place at Storrs Pond and on the Green. 
3. Extended Reality Revolutionizes the Classroom Experience
New realities abound with AR, MR, XR, VR—shorthand for augmented, mixed, extended, and virtual reality—technology that's altering learning at a dizzying pace, even in the humanities. The best example on campus is the Data Experiences and Visualizations Studio, a place "where people can go ask interdisciplinary questions and really play with the technology in interesting ways," says director John Bell. Studio users can test VR software, use a motion capture system, and create Avatar-like animation. Professor Nicola Camerlenghi is creating a virtual reconstruction of St. Paul's Basilica in Rome. Tuck professor Vijay Govindarajan's students travel to India via VR without leaving their desks, and chemistry students can now interact with molecular structures thanks to an app developed in part at Dartmouth's Digital Applied Learning and Innovation (DALI) Lab. Expect more. "VR is like a diamond embedded into the gold of the curriculum," says Govindarajan. "It complements. It strengthens."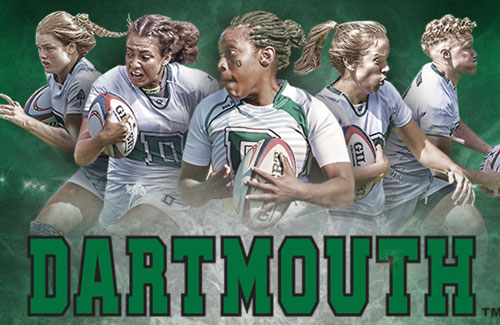 4. Scrum-diddlyumptiousness
Big Green ruggers do not mess around: The women's rugby team has nabbed three of the last four Division I titles of the nine-member National Intercollegiate Rugby Association. Scrumhalf/wing Ariana Ramsey '22 also competed for the 2021 U.S. Olympic team, which finished sixth in Tokyo. 
5. The Hood Museum's Latest Gems
Recent noteworthy acquisitions include Helen Frankenthaler's Inlet, (1965, currently on view), William Louis Sonntag's Boat Yard on the East River (1870-74, currently on view), Reliquary Bust of a Crowned Saint (about 1500), Albrecht Dürer's Landscape with a Large Cannon (1518), and 38 Strong! by Wendy Kendrick '76 (2022). 
6. Uncommon Consortiums, Intriguing Labs, and Singular Centers—Oh My!  
Out-of-the-ordinary research reverberates across campus. The latest examples: The team of government professor Sean Westwood's Polarization Lab studies the causes and possible cures for partisan animosity. The Consortium for Interacting Minds consists of a team of brain science profs searching for a better understanding of how our minds interact. And this summer the Center for Precision Health and Artificial Intelligence launched with a goal of assessing how to safely and ethically deploy biomedical data to improve healthcare.
7. We Don't Do Rinky Dink
Not one but two sheets of ice kept skaters on solid footing in 2021—and added grandeur to the Green during a season of pandemic. "Having the opportunity to skate between classes and other activities was such a fun way to experience winter and take a little break from my busy schedule," says Ana Alonso '25.
8. One Less Splash for Everyone
Faculty—it was their call—voted to eliminate the swim test in 2022. Enacted more than a century ago to help students prepare for military service, the 50-yard test was suspended during the pandemic and then deemed unfair to the increasing number of students who arrive with limited swimming skills. 
9. Institutional Soul-Searching, Part 1
The historical accountability student research fellowship enables students to spend 10 weeks researching some of the less-than-stellar aspects of Dartmouth history. Initial fellow Caroline Cook '21 uncovered the injustice endured by professor Hannah Croasdale, the first woman to gain tenure at the College—30 years after she'd been hired. Other fellows have explored diversity and inclusion in the Outing Club and fraternities, student housing issues, the AIDS epidemic, and the Black student experience of the 1960s and 1970s. "The idea is to get a more well-rounded perspective on Dartmouth's narrative and what Dartmouth is," says Myranda Fuentes, a research specialist at Rauner Special Collections Library. All reports can be found online.
10. An Unexpected Syllabus 
Okay, Dartmouth offers no class about Taylor Swift's lyrics. Yet. But where else can students enroll in courses such as these?
Analyzing Content: From TikToks to Tweets
Fighting With Your Mother: What Generational Conflict in Latinx Literature Can Teach Us  
Architecture and the Uncanny
Witchcraft and Biomedicine
Video Games and the Meaning of Life
How to Be a Fascist
11. 105 Dartmouth Hall
A groundbreaking fundraising effort led by alumnae enabled the $42-million transformation of a decrepit and musty relic into a hall of wonders. Room 105 now has a video wall and serves as a high-tech classroom, modern presentation space, and an after-hours student studio. A reopening ceremony took place in November 2022.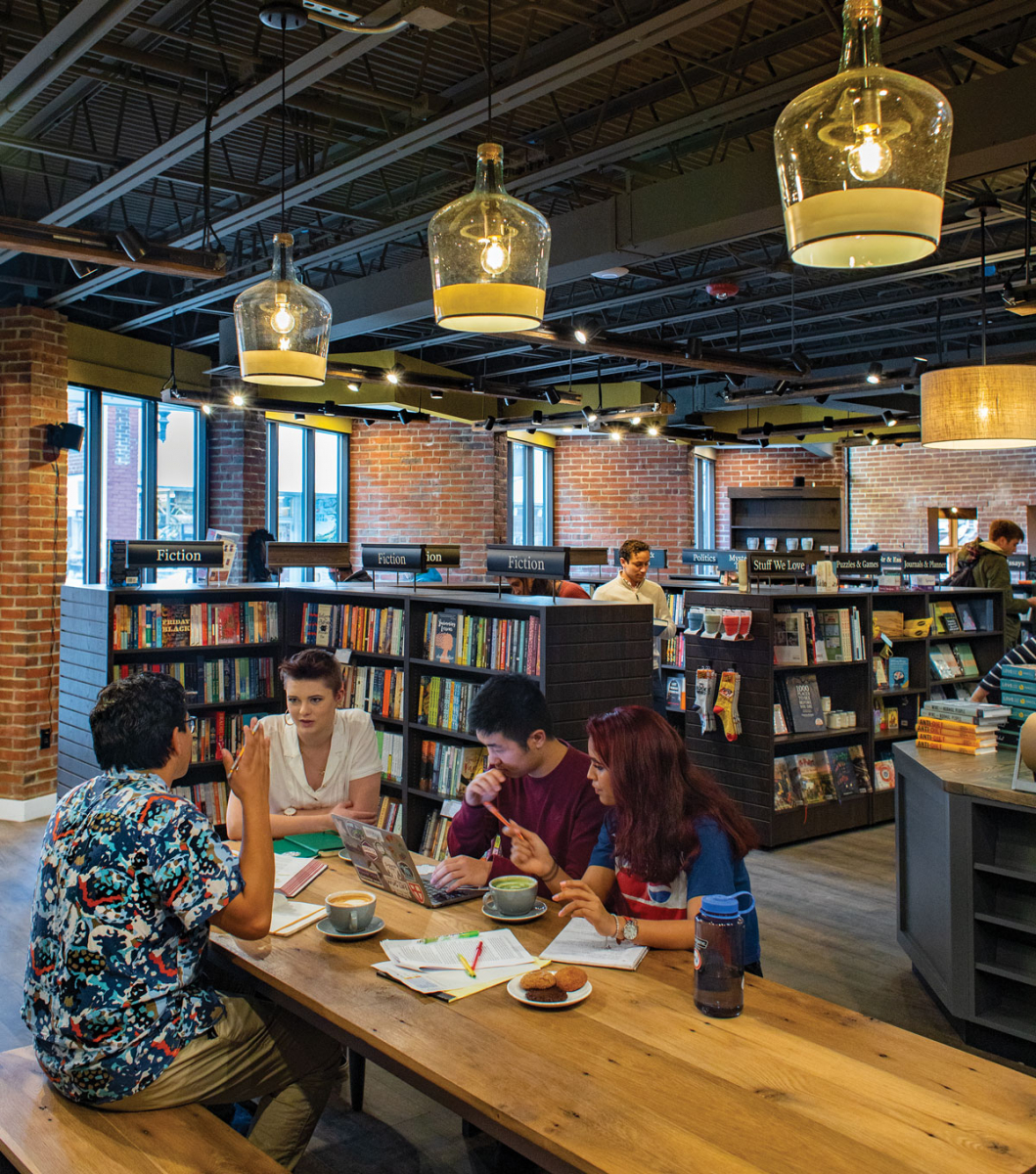 12. A Desperately Needed Nook
For almost a year after the Dartmouth Bookstore closed—in 2018, after more than 50 years in business—shoppers couldn't browse or buy new books in Hanover. Then Allie Levy '11 opened her independent Still North Books & Bar (a nice nod to the alma mater) in December 2019. Literature lovers now have a cozy book nook that's food-friendly and serves coffee, pastries, beer, and wine.  
13. Buses (Yep, Buses)
That big, bright people mover cruising through town? It's the Campus Connector, which started running daily, including weekends, in 2022. The 12-stop service—trackable online—provides more than 3,000 rides each week and connects various parts of the College as well as the hospital and a nearby grocery store. Another shuttle, started in 2019, provides rides for students and employees from nearby Norwich, Vermont, and distant parking areas. Expect more public modes of movement as the campus expands. "In addition to the Campus Connector, Dartmouth continues to financially support Advance Transit and Tri-Valley Transit, which both provide service for students and employees commuting to and around campus from communities around the Upper Valley," says Patrick O'Neill, director of transportation services.
14. No More Loans
Dartmouth eliminated federal and institutional loans from undergraduate financial aid packages last year. All student aid comes in the form of scholarships and grants—no repayment required. 
15. A Grind Rail in the Sky
Skateboard club founders Asher Lord '25, Lauryn King '22, and Malik Terrab '25 launched their group last year and now have a place to play: The Outing Club has approved the building of a modest skate park atop Maxwell Hall, where members will share a quarter pipe, 8-foot grind box, double-step ledge, bump to stair, a butter bench, bump to rail, and a grind rail. "This park is going to allow us to have consistent meetings with our club members and begin to teach and foster a community of skaters that Dartmouth is currently missing," says Lord. He hopes to see the playground open later this year. "Once you meet people at a skate park, you've made those friends for life."  
16. Indoors Is the New Outdoors
Athletes now have two grand practice facilities that render New England weather irrelevant: A 6,400-square-foot addition to the Friends of Rowing Boathouse, which opened in 2019, allows all three teams to train indoors simultaneously, and the 70,000-square-foot Graham Indoor Practice Facility, which opened in 2020, serves eight teams and roughly a third of all varsity student-athletes. The play area features a 280-by-200-foot expanse of field turf, retractable goalposts, and a 63-foot-high ceiling. 
17. No Dead Animals
A thorough renovation of the Dartmouth Outing Club House in 2020 and 2021 included an updated kitchen, improved dining area, a grand new bay window overlooking Occom Pond, and custom-made fire screens. The dingy skate and ski rental shop on the lower level was replaced, and the facility is now accessible. The class of 1969 spearheaded the $3-million makeover, which overseers of the recent capital campaign describe as "the biggest, most ambitious 50th reunion project in the history of Dartmouth." Not replaced: The mounted deer, buffalo, and moose heads that once stared down from the walls. 
18. More Shade
Two giant sugar maples went up on the southeast corner of the Green in 2020, replacing two sickly, distressed maples. 
19. Crazy Days at the Skiway
At the Ski Patrol's annual Pond Skim, boarders and skiers glide down a short slope at the Skiway toward a pool of frigid water—with hopes of skiing, flying, or splashing their way to the other side. Most succeed, some get drenched, and those who wipe out star on TikTok. The fundraiser most recently included about 250 skimmers and benefited the Veteran Administration's adaptive sports program.  
20. This Is No Place for Smokers
On March 18, 2021, the campus became a no-smoke zone, a policy that helped land a grant from the American Cancer Society's Tobacco-Free Generation Campus Initiative. Repeat offenders (smokers and vapers) are subject to "established procedures for a policy violation," according to College rules. It's hard to find anyone puffing in public view—but butts still litter sidewalks, frat basements, and even the Bema.  
21. The Town Gown Honeymoon
Alex Torpey, who started as Hanover town manager in 2022, has reached out to students with hopes of fostering more communication and collaboration. Torpey hopes to place student members on committees that deal with civics and with local economics. Are students an important constituency to Torpey? "For sure," he says.
22. Pickeball. Of Course.
"Pickleball is one of the fastest growing recreational sports in the country, and we want to support that interest for our students," says Gregory Isenor, associate athletics director of facilities and operations. That's why four permanent courts were installed last spring, near the gym and adjacent to the baseball field. For now they're first come, first served, but that may change: "Usage has been significant," says Isenor.  
23. An App for the Mind
Headspace became free to everyone on campus last fall. Dartmouth users have since practiced more than 1.2 million minutes of meditation.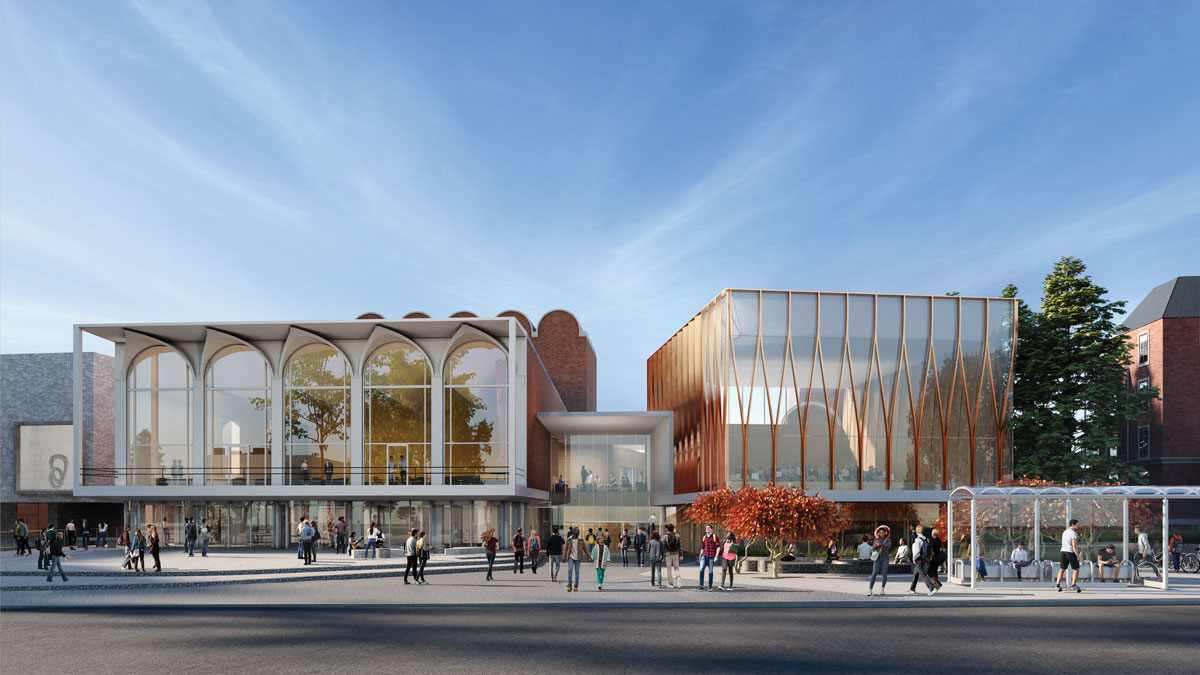 24. A Room with a View
An $88-million expansion of the Hopkins Center, now underway, features the addition of 15,000 square feet of arts-dedicated spaces. These include Dartmouth's first dedicated dance studio, a theater dubbed the "performance lab," and an exterior plaza that leads indoors to a large, open lobby area. Crowning it all is a large, acoustically optimized recital hall with a striking view of the Green. The Hop reopens in 2025. 
25. Brain Power
The latest faculty hires bring plenty of it. New professors who started at Dartmouth in the past year include: 
Kianna Middleton, African and African American studies
Adithya Pediredla, computer science
Mahima Sneha, chemistry
Tatiana Filimonova, Russian
SouYoung Jin, computer science
Allie Martin, music
Michael Lee, medical education
Burçin Mutlu-Pakdil, physics and astronomy
Rufus Boyack, physics and astronomy
Matthew Olzmann, English and creative writing
Raymond Orr, Native American and Indigenous studies 
Adedoyin Teriba, art history
Li Song, biomedical data science
Kiara Sanchez, psychological and brain sciences
Peter Chin, engineering
Yujun Yan, computer science
Mattias Fitzpatrick, engineering
Jane Henderson, geography
Michael McGillen, German studies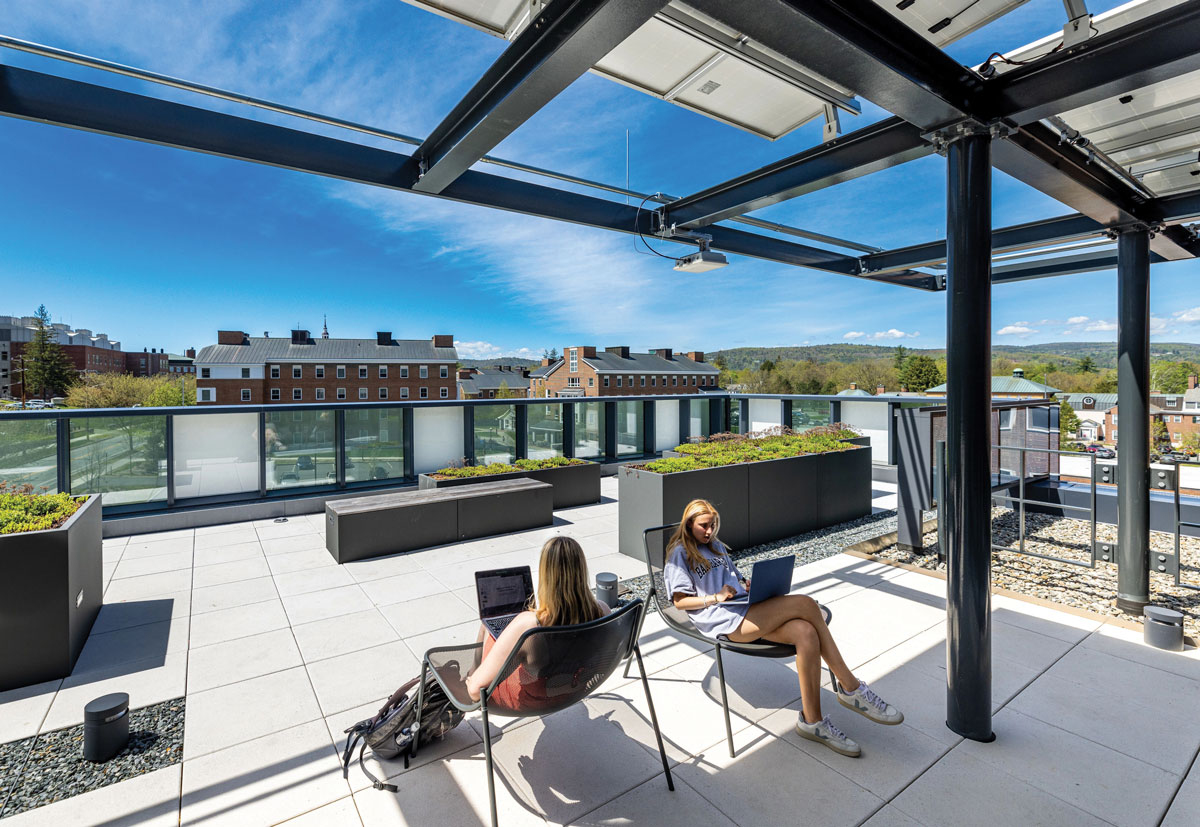 26. A Secret Place to Be Anonymous
What's the coolest, hidden, new spot on campus? The rooftop terrace atop Anonymous Hall, home to the Guarini School of Graduate and Advanced Studies. This miraculous little building was cobbled together three years ago from a decrepit Dana Hall and now serves as a gateway to the north campus. If you manage to get past the superb sandwich café on the ground floor and work your way to the roof, heaven awaits. There, unseen from the ground, you can privately soak up the sun—just like the canopy of photovoltaic cells over you—and a glorious view.
27. A Nordic Upgrade
The coming ski season brings with it a $5-million upgrade to the trails and cross-country ski facilities—including snowmaking machines—at Oak Hill-Storrs Pond Recreation Area. That means Dartmouth teams won't have to host events nearly 90 miles from campus in Craftsbury, Vermont, because the current setup fails to meet competition standards. Jointly funded by the College, the town of Hanover, and private donors, the new home for both Nordic teams will also serve local skiers.
28. Doing the Math
Phil Hanlon '77 plans to keep teaching in his retirement. First up, a yearlong sabbatical at Merton College in the University of Oxford. Then he'll return to Hanover, where the former president will teach math "for a few more years," he says. 
29. The Trail Starts Anywhere
Those old signup sheets in Robinson Hall that announced outdoor trips? They're gone. The Dartmouth Outing Club now has an online portal, Trailhead, that offers one-stop shopping for trip descriptions, signups, and gear needs. Small wonder that student participation in DOC activities has surged since the system launched two years ago.  
30. Pine Park Just Got Bigger
The demise of Hanover Country Club led to a 2020 survey of Pine Park's boundaries and a subsequent reclamation of nine acres of the former golf course. The 118-year-old conservation area now covers more than 100 acres and offers five entrances. In 2019, arborists removed a substantial number of diseased trees from the park's Cathedral Aisle section. 
31. Power Trips
"You can't fix something without understanding what the problems are," says Angus McReynolds, the new experiential learning coordinator at the Arthur L. Irving Institute for Energy and Society. He helps send undergrads on 10-day Energy Immersion trips to Louisiana, Texas, and West Virginia for a closer look at the nation's oil, gas, and coal mining infrastructures. Students tour industrial sites and meet with industry and political leaders.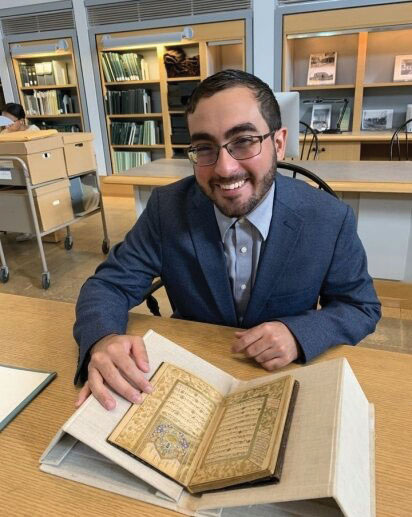 32. The College's First Muslim Chaplain Arrived Last Fall. 
Abdul Rahman Latif is also a multifaith advisor and associate director of the William Jewett Tucker Center for Spiritual and Ethical Living. "Although Dartmouth's slogan is a 'voice in the wilderness,' I'm here to help that be a prophetic or comforting voice and not just students screaming in the woods," he says. 
33. Cephalopods!
A cramped lab in the basement of Vail Basic Sciences Building contains several tanks where at any time several tiny octopuses may reside. There, psych and brain sciences professor Peter Tse '84 studies their cognition abilities. Like humans, octopuses (in this case, the California bimaculatus species) have highly complex brains—and more than 500 million neurons that allow each tentacle to work as if it has its own mini brain. "The tentacles are making lots of decisions," says Tse, who hopes to learn more about neural circuit design, perception, and consciousness by examining their various activities. Yes, some of the octopuses are named (Cleopatra is a recent example), but they do not live much more than a couple of years. "We're doing our best to create a mini oasis of their real world," says Tse of his octopus lab. "It's a prison of sorts, but in the wild they very likely would get eaten." 
34. Sunny Days
The indoor practice facility that athletes call "The Woodshed" surges with energy inside and out. More than 1,700 solar panels cover the roof, arrayed in a captivating grid that generates 555,000 kilowatt hours of electricity in a year—more than 40 percent of the building's needs. The College has installed 15 rooftop solar arrays on campus since 2017 to generate about 1.3 million kilowatt hours a year, about 2 percent of Dartmouth's energy consumption. "That's a small slice," acknowledges sustainability director Rosi Kerr '97, "but it's growing fast."  
35. Justice for the Courts
The squash teams play on recently renovated courts suitable for international competition. New lights, cameras for live streaming, electronic scoreboards, and an improved audio system round out the $1.75-million project. 
36. Help Is Only a Phone Call Away
The College health service partnered with mental health startup UWill to offer free, unlimited, 24/7 remote counseling last fall. More than 800 students logged nearly 2,000 individual sessions during the first two terms the service was available. 
37. That Big Jump in the Minimum Wage
Earlier this year the minimum wage for most student workers rose to $16.25 an hour, up from $11.50. "It's really important," Jonas Rosenthal '25 told The Dartmouth. "Student wages hadn't been in line with the rising cost of living and rising inflation." 
38. A Different Brand of Wilderness
The Outing Club has a new subdivision, The People of Color Outdoors Club (POCO), which organizes outdoor adventures for underrepresented groups. "I didn't like some of what the DOC and Dartmouth as a whole looked like culturally," says Jae Hong '20, an early co-chair. "I wanted to create a space for students like me." With nearly 300 members, POCO organizes trips that cover all DOC disciplines. 
39. The Nights That the Lights Go On in the Bema
For the last three winters a neon forest has blossomed in the secluded campus amphitheater. A psychedelic sound and light show illuminates nights with candlelit paths, projected imagery, and glow-in-the-snow visitors. An unexpected benefit of the pandemic, the magical forest emerged out of a desire to find outdoor activities that could accommodate social distancing. The office of student life sponsors the winter wonderland.
40. A Boost for First Gens
As the number of first-generation College students continues to grow (they make up 18 percent of the class of 2027), so has the effort to help them. A multimillion-dollar gift from Skip Battle '66 funds a four-person office led by Jay Davis '90 that offers a range of assistance to first-gen students and alumni. Its latest offering: a post-college transition program that launched last September.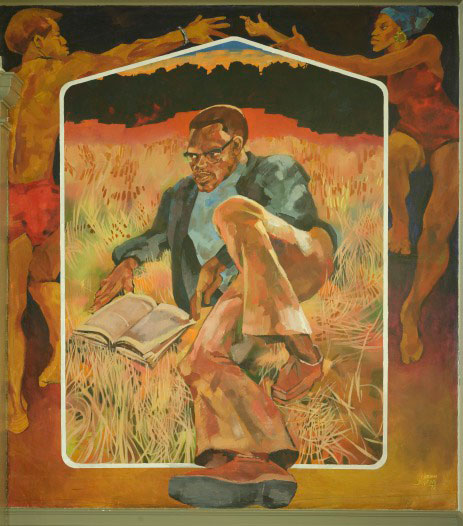 41. 3-D Exhibits
The Hood Museum offers virtual tours of two campus masterworks: the Orozco murals and The Temple Murals: The Life of Malcolm X by Florian Jenkins. The interactive digital exhibitions, created during the pandemic, reside in the museum's growing online gallery.
42. Sonic Feedback
Thanks to Spotify developer Glenn Macdonald, listeners can monitor campus musical tastes. His "The Sound of Dartmouth College" playlist refreshes every week according to the listening patterns of subscribers with College email addresses. Tracks by Caamp, Noah Kahan, and AJR appear frequently.
43. A Farm-Fresh 650 Gallons
Every week, nearby McNamara Dairy delivers three truckloads of milk to the Class of 1953 Commons. Other new dining developments: Sushi-making now happens more frequently, the most popular new treats are Muncha's Marshmallows, and an "A9" station will open soon to provide comprehensive allergy-safe food preparation.
44. Fresh Tracks: New Ways of Trippin'
Recently introduced first-year trips:
Timber Sports 
"I had no idea how difficult it is to chop wood." —Laura Yam '26
Explore a Museum  
"It's great for those who don't love the outdoors. A great alternative." —Alex Knox-Jones '25
Community Service  
"It was a great time meeting the other volunteers, and we learned about youth education and mentoring programs." —Catherine O'Halloran '25
45. You Can Tinker Like Never Before.
Design. Collaborate. Build. That's what students do at the Harold Edward Cable Makerspace, a cutting-edge emporium of engineering and creativity that opened at the engineering school in the spring of 2022. Looking for a 3-D printer? Makerspace has six. Laser cutter? Soldering equipment? CAD workstations? Sewing machines? Helpful staff? It's all there. (But you'll need some safety training to use that laser cutter.) Nearly 200 students get hands-on every week. 
46. Dartmouth's Own West Side Story
The public relations folks sum it up nicely: "Home to Thayer School of Engineering, the department of computer science, Tuck School of Business, the Magnuson Family Center for Entrepreneurship, and the Arthur L. Irving Institute for Energy and Society, Dartmouth's West End District is the epicenter of technological and entrepreneurial innovation on campus." The most recent addition, the Class of 1982 Engineering and Computer Science Center, opened last year.
47. A Flower Child of the 1980s
For the past three springs, alum and student volunteers have helped plant more than 12,000 square feet of native wildflowers on campus and around Hanover. The class of 1989 project has pumped more than $8,000 into increasing habitat for pollinators and setting up 13 bee boxes. "Instead of a sports car for my midlife crisis," says the man behind the flora, David Hammond '89, "I decided to plant wildflowers."
48. A New Dimension
3D, a magazine published by the admissions office, targets prospective students. It often features undergrads writing about undergrads.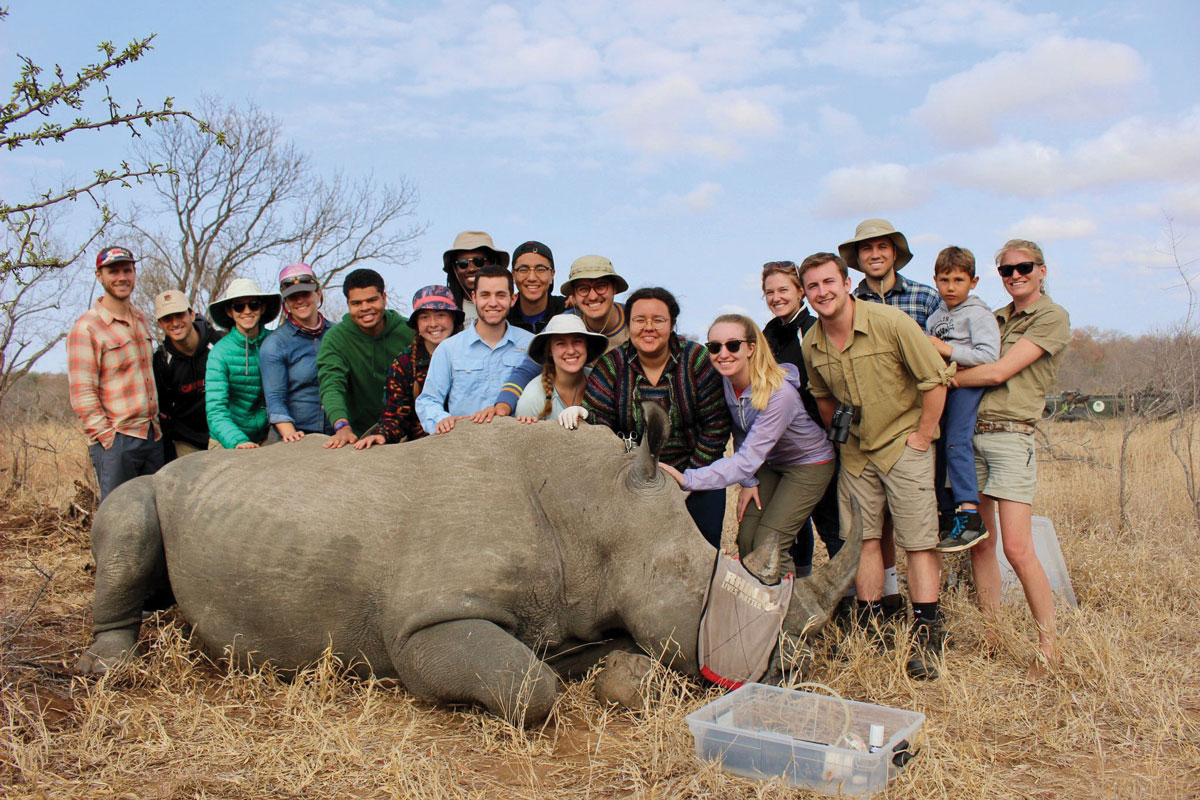 49. Oh, The Places You Can Go
Recently added foreign study and language programs include travel to Vietnam, the Baltics, and Berlin. Meanwhile, post-pandemic trips have resumed to New Zealand, Beijing, Namibia, and South Africa, where environmental studies students have tagged white rhinos as part of conservation efforts.
50. Recently Started Student Clubs:
Aerial Arts
Archery
Can't Sell Culture
Comedy Collective (sketch comedy)
Dartmouth Under-graduate
Crocheting and Knitting Society (D.U.C.K.S.)
Gymnastics
House of Lewan Drag Club (named for campus queer rights advocate Stuart Lewan '79)
Skateboarding
51. Dartmouth STEM-X
"The stakes for society are high. We must channel the creativity and innovative thinking of today's students to shape the creation and implementation of new technologies. To meet the challenges of tomorrow we need all the talent we can muster and teach." —Jim Coulter '82 on providing $25 million for this new $100-million investment in opening more doors for underrepresented groups in science, technology, engineering, and mathematics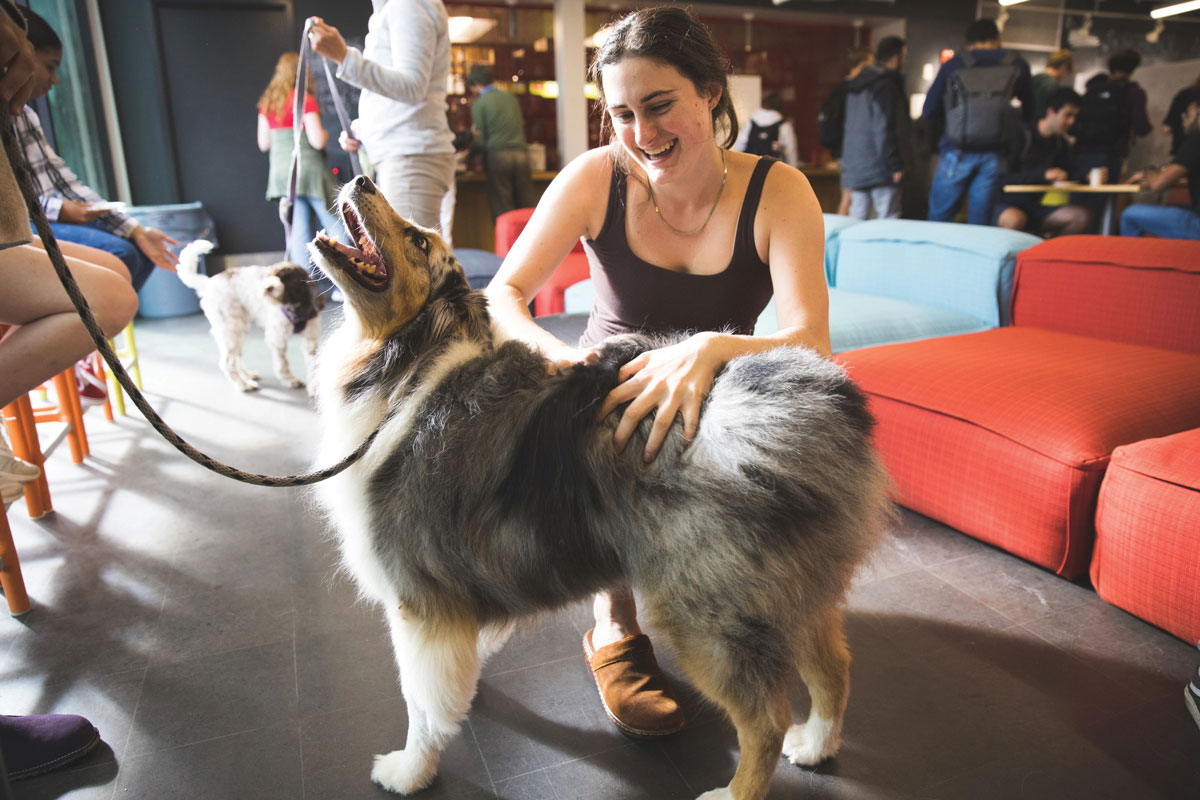 52. Drs. Frankie, Poppy, and Rosie
Those are just a few of the comfort creatures that have become regulars around campus, all to help students make a bad day—and even a good one—better. The Student Wellness Center partners with Therapy Dogs of Vermont and Caring Animal Partners to bring the certified therapy retrievers, goldendoodles, and other lovable breeds to town every week. Some make the rounds, others hold regular "office hours," and each dog "treats" about 40 students in a day. That number doubles during finals. The power of pups! 
53. Student Power Circa 2023: The Union Movement 
Last winter the student dining workers union nearly went on strike before winning a pay increase. In April, grad students also voted to unionize.
54. A Different Kind of Golf
This summer, events facilitator Rob Crossett set up a disc golf course on the old back nine of the former Hanover Country Club. Students can play for free, dawn to dusk. 
55. Institutional Soul Searching, Part 2
Although there's more work to be done, the College has made strides in acknowledging its historically uneven relationship with Native Americans—and making amends. Last year President Phil Hanlon '77 repatriated the papers of Samson Occom to the Mohegan people, for whom the materials hold deep spiritual meaning. Occom helped Dartmouth founder Eleazar Wheelock raise funds but later felt betrayed by the minister. Three years ago Hanlon ordered the removal of the century-old weathervane atop Baker Library's tower, which offensively portrayed a Native American. And in 2018 a committee recommended moving the Hovey murals from the basement of the Class of 1953 Commons to an off-campus storage facility. "The derogatory images convey disturbing messages that are incompatible with Dartmouth's mission," Hanlon said.
56. The Green Is Covered
Campus wifi can support more than 50,000 devices a day, according to chief technology officer Felix Windt. Multimillion-dollar upgrades continue to add more and better access points. 
57. $3.7 Billion
That's what the just-concluded Call To Lead campaign brought in. More than 60 percent of alumni made donations.
58. A Little Less Dirty Laundry?
Dorm residents can rejoice: This summer a new service, Automatic Laundry, replaced the fleet of failing washing machines and dryers that students had been griping about. All the machines are free to use—no more doling out $1.50 per wash and $1.50 for a dryer. Student government officers had been lobbying for free laundry services since last October. 
59. Coffin's Corner
Dean of Admissions Lee Coffin launched his acclaimed podcast, Admissions Beat, in 2021. The show attempts to demystify the admissions process at Dartmouth and other selective schools for the benefit of parents, high schoolers, guidance counselors, and anyone who wants insight plus news from an admissions veteran. The show has a 4.8-star rating on Apple Podcasts, and Forbes listed it as one of the "Top College Admissions Resources" of this year.
60. Gathering 'Round the Firelight
Campus turned cozy cool when firepits lit up areas outside Collis Student Center and other spots during the days of social distancing. Perfect for roasting s'mores, they're here to stay: Nineteen propane-fueled fire pits are now available by request. 
61. Tranquility Now
Undergrads seeking peace of mind now have a room of their own. After the student wellness center opened less than a year ago, its tranquility room became an instant hit, drawing more than 150 students each week. The wellness space—in Berry Library—features two massage chairs, ambient lighting, Bluetooth speakers, yoga mats, and a fragrance diffuser that offers scents such as lemongrass, peppermint, and "Be Centered" (a citrus blend). A grant helped pay for the room, which welcomes visitors eight hours each weekday. "We're often taught that we need to be going, going, going all the time or we can't unplug," says Jessica Chiriboga '24, who helped land the grant. "The center and tranquility room encourage taking care of ourselves and stepping away from the buzz of everyday life at the school." She hopes remaining funds can help build an outdoor meditation garden somewhere on campus.
62. #TheWoods
Legend has it that coach Buddy Teevens '79 originated the creative hashtag after watching then-President Jim Wright read Robert Frost, class of 1896, on the videoboard at Memorial Field one cold (snowy?) game night. It's now a primary Twitter hashtag for Dartmouth athletics.
63. Wild Eyes
A virtual reality project driven by students lets users see the world through the eyes of an animal. Anivision shows how ultraviolet light allows a bee to zero in on nectar and how a nocturnal primate can see a potential meal on a dark night in the rainforest. A recent creation from the wizards at DALI, the VR has been used in bio classes and may soon become available to the public. "We hope to foster a new empathy for how non-human animals perceive the world," says DALI director Tim Tregubov. "We have a lot more to understand."
64. No Proof Required
As of April 11 Dartmouth no longer demands documentation that students, faculty, and staff have been vaccinated against Covid-19. 
65. The College Will Host the 2024-25 NCAA Skiing Championships.
66. The Window of Opportunity
After sundown, a glowing art gallery appears through the Hood's second-floor vitrine window. "It acts as an open invitation to step inside," says museum director John Stomberg. "Visitors can see directly into the heart of the museum."