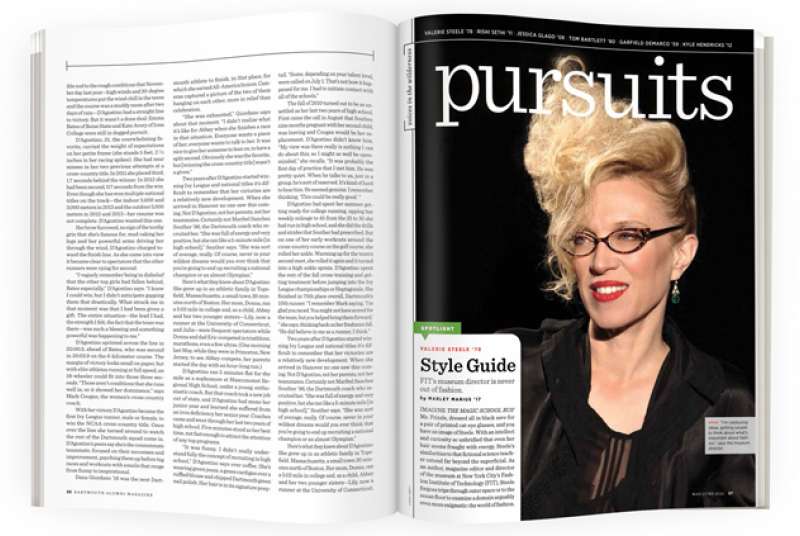 Voices in the Wilderness
Valerie Steele '78 • Rishi Sethi '11 • Jessica Glago '08 • Tom Bartlett '80 • Garfield DeMarco '59 • Kyle Hendricks '12
Valerie Steele '78
Style Guide
FIT's museum director is never out of fashion.
Imagine The Magic School Bus' Ms. Frizzle, dressed all in black save for a pair of printed cat-eye glasses, and you have an image of Steele. With an intellect and curiosity so unbridled that even her hair seems fraught with energy, Steele's similarities to that fictional science teacher extend far beyond the superficial. As an author, magazine editor and director of the museum at New York City's Fashion Institute of Technology (FIT), Steele forgoes trips through outer space or to the ocean floor to examine a domain arguably even more enigmatic: the world of fashion. "Our mission is to advance knowledge of fashion," she says. "We're trying to explain where fashion fits in culture and society and history, so that it's more than just a question of weird or pretty dresses—so it's got some kind of significance."
Called the "Freud of Fashion" by The New York Times, Steele developed her interest in the field at Yale, where she did her doctoral research on modern European cultural and intellectual history. She was inspired by texts on the Victorian corset to consider its cultural context—had it restricted women or liberated them?—and has worked since then to influence the way others think about clothing. Her efforts have resulted in exhibits ranging from "Dance & Fashion" to "Gothic: Dark Glamour" and more than 20 books.
In 2014 the Business of Fashion counted her among the 500 most influential people in the industry, naming her a "catalyst" alongside Steven Kolb, chief executive of the Council of Fashion Designers of America, and Helena Helmersson, chief sustainability officer of H&M. "I'm catalyzing ideas, getting people to think about what's important about fashion," says Steele. "I also try to put people together." At FIT's 2013 fashion symposium, for example, Steele invited a panel of lesbian, gay, bisexual and transgender designers and scholars to discuss the museum's "Queer Fashion" exhibit, one of the first to explore gay style. With other, similar public programs scheduled throughout the year, the FIT museum's commitment to teaching is a great source of pride for Steele. "Our educational mission is really important," she says. "It should be at [other costume museums] too, but sometimes it's less so because of the need to do blockbusters. College and university museums are often freer to do shows that might be in some sense controversial or cutting edge." 
Although some parts of her job are less than inspiring—"I do have a lot of fun putting on shows, but I also do a lot of normal administrative stuff with human resources and fundraising and endless meetings and so on," she says—Steele clearly loves her work. She lights up discussing her favorite museum acquisitions (pieces by Alexander McQueen, Comme des Garçons and Rodarte) and says she is flooded with ideas for new exhibits all the time, and often starts to plan them years in advance. This year's varied schedule includes shows on Yves Saint Laurent and Halston, global fashion capitals, and fairytale fashion.
So, what does Steele suggest for up-and-comers also interested in probing fashion? She says that, although there are fewer jobs for fashion journalists, there are more opportunities in the visuals of fashion, such as fashion films, and in the business side of fashion. "It really depends what they see themselves doing," she says—but within reason. A former FIT dean asked a graduate student what he was interested in. The student replied, "I want to be Valerie Steele." "Actually," the dean said, "that job's taken."                —Marley Marius '17
Rishi Sethi '11
Match Maker
By the time Sethi arrived in Hanover in the fall of 2007 he had already written a book with a chess grandmaster, founded a nonprofit called Chess Without Borders and touched the lives of countless youngsters across Illinois.
"A lot of professional chess players start playing really early. I started when I was 8 or 9—that's pretty late," says Sethi, who learned the game from his grandfather. "I think the average person doesn't understand that chess is very fun. It's a diverse game. There are players of all religions, races and socioeconomic backgrounds."
Sethi grew up in Barrington, Illinois, and in fourth grade started a chess club at his elementary school. It took off—fast. By fifth grade he'd attracted 75 students to the club and inspired three other schools to open after-school chess programs. He was also ranked in the top 50 chess players in the state. In high school Sethi grew Chess Without Borders—which combines the game with community service—to 127 students and 10 schools. He also convinced Grandmaster Yury Shulman to come to Chicago and take over the nonprofit. Sethi won the Governors Award. Twice. He won the Presidential Freedom Scholarship Award. And he wrote the go-to beginner's guide, Chess! Lessons from a Grandmaster, with Shulman.
Next, he went to Dartmouth, where he majored in linguistics and joined the chess club. Now Sethi plays the game in New York City, where he lives and works in tech when he's not helping with the nonprofit. Chess Without Borders, active in 35 school systems across Illinois, has donated more than $109,000—most raised through tournaments and camp fees and sales of his chess book—to nonprofits around the world and established chess programs in orphanages and schools in India, Mexico, Chile, Nigeria and Sudan. "The real thing we want to do is spread the concept that chess is a great game for everyone. It's a language everyone can speak—everyone can connect through chess," says Sethi. "It's an art. It's a game. It's a science. It's a sport."                —Abigail Drachman-Jones '03
Jessica Glago '08
Healthy App-etite
About two years ago Glago decided she needed to radically overhaul her diet and started trying to eat healthier. "As a cancer survivor I take my health really seriously," says Glago, who has had cancer twice, including lymphoma at 17, just before she entered Dartmouth. She searched for tech help and quickly found that most of the phone apps on the market focused on calorie counting and weight loss. "I was a cognitive science major, so I've always been interested in psychology and how you can use technology to change behavior," she says. "I wondered if I could build something that could motivate people to eat healthy foods."
So Glago, then a program manager for Microsoft in Seattle, asked her web developer husband if he wanted to help her build an app for that. He jumped at the idea. "We'd just gotten married, and instead of taking a honeymoon we stayed home and worked on a prototype," she says. Together they built Wholesome, an iPhone nutrition app that earned glowing reviews and a 2014 Innov8 for Health business concept award. The free version lets users access USDA nutrition information for a wide range of whole foods. The $3 version lets users track food intake throughout the day—and provides info on what vitamins and nutrients may be lacking and where to get them. Colors aid in navigation. "It's designed to be visually inspirational: red, orange, yellow, leafy green, purple," she says. "You can keep browsing—I had no idea that cherries had so many antioxidants!—and it'll inspire you."
Glago is now packing for a move to New York City to become a senior product director for Priceline and continue developing Wholesome. "My ultimate vision is that it becomes a recommendation engine that would suggest healthy whole food recipes," she says. "We'd have a database of recipes and it would suggest the recipes based on your individual needs and diet history and what you should be eating." In the meantime Glago's following some wholesome advice of her own—crunching sunflower seeds to boost her daily dose of vitamin E.       —Carolyn Kylstra '08
Tom Bartlett '80
All Shook Up
Bartlett's big break came in 2001, when an agent spotted him sitting in a Las Vegas bar. Sporting black sideburns and a slick pompadour, Bartlett had an uncanny resemblance to the "King of Rock 'n' Roll." The agent invited him to a party with other agents, and in a matter of weeks Bartlett was crisscrossing the country as one of the world's most sought-after Elvis impersonators. He's so authentic he even had former Elvis manager Ed Bonja working as his tour manager.
For those nostalgic for the flashy Elvis of the 1970s, Bartlett may come closest to the real thing. "Elvis lives!" Country Weekly Magazine proclaimed in a review of his performance at the 2004 Academy of Country Music Awards. Bartlett's engagements have taken him overseas, where he says he receives the most enthusiastic reactions. "Elvis is just as big in other countries today as he was here in the 1970s," Bartlett says. "I've had security take people off the stage. It's crazy, just crazy."
Bartlett first entertained the idea of performing as the King while stationed in Myrtle Beach, South Carolina, during a four-year stint in the Air Force. At a Legends in Concert show he befriended an Elvis impersonator who suggested he had "the look" for it. Bartlett spent months analyzing original Elvis concert footage and practicing mannerisms at karaoke sessions. Nailing the voice was the most difficult part. "Elvis had such a high octave range," Bartlett says. "It's something a lot of people don't have naturally, and it takes a lot of practice to make it perfect."
Until he had to perform as Elvis, Bartlett was never an avid listener of the King's music. "I was mainly a Beatles fan," he admits. "But once I started paying attention to Elvis, it was like I discovered something great." For Bartlett, sharing Elvis with a new generation has been one of the most rewarding parts of his tribute shows. "If I spark enough interest to make them want to hear the man himself, I consider my job done," he says.             —Gavin Huang '14
Tom's Top Elvis-isms
The lip curl: "When he smiled, one side of his lip went up."
Karate moves: "Elvis was a black belt in karate and often did his karate moves on stage during his performances."
"Thank you, thank you, thank you very much!"
The shaky leg: "When Elvis performed he would have a lot of energy and be nervous, which caused his leg to shake during performances."
The scarf toss: "Elvis often threw out scarves into the audience during his performances."
Garfield DeMarco '59
"It Really Is a Wonderland"
If DeMarco had lived out his childhood dreams, he would have become an archaeologist or a priest. Instead, he became the third-largest cranberry farmer in the United States. "It's not something that I had planned, but fate intervened," he says. DeMarco grew up in Hammonton, New Jersey. His father, a pharmacist by training, bought and sold produce and ran a large produce trucking business. He was also fascinated by cranberry bogs. DeMarco spent his summers working for his father, "but the business did not interest me at all," he says. After Dartmouth and Yale, where he earned a J.D., his dad offered DeMarco a job straightening out the complicated titles to the family properties. He planned to take the bar exam in the winter of 1964, but his father's death in an auto accident in December 1964 "changed everything right then and there," he says.
DeMarco was 26 when he took the reins of the family's 4,000-acre farm and business. He grew the company into one of the largest cranberry operations in the world, boosting production from 25,000 barrels in the final year of his father's life to around 170,000 barrels a year. When DeMarco describes the Pinelands property, he speaks of the seemingly endless, cloud-filled sky, lakes and brooks running across the land, herds of deer moving through with bald eagles flying overhead, and fields of green dotted with bright red cranberries at harvest time. Everything is quiet: "It really is a wonderland," he says. In 2003 DeMarco sold the nearly 10,000-acre preserve, valued at $24 million, to the New Jersey Conservation Foundation for $12 million. "If these lands are lost, they're lost forever. I think conservation is very, very important from the point of view of wildlife conservation and overall aesthetics—the beauty of it. I'm really happy people can enjoy this."   —Abigail Drachman-Jones '03
Kyle Hendricks '12
Special K
When Hendricks first arrived in Hanover from California, few pegged him as a future major leaguer. But in his junior year under coach Bob Whalen, the right-handed pitcher posted a 6-3 record with a sparkling 2.47 earned run average (ERA). The Texas Rangers grabbed him in the 2011 draft, then dealt him to the Chicago Cubs in 2012.
When Hendricks arrived at "the show" in mid-2014 he posted numbers eerily reminiscent of his Dartmouth days: a 7-2 record and a 2.46 ERA. He won a National League Rookie of the Month Award. But he had hedged his bets, finishing his A.B. in economics in 2013.
Fresh off the second day of spring training in February, when he spoke with DAM, Hendricks was entering 2015 with two new realities. First, many said he'd be in the starting rotation. Second, the legendarily luckless Cubs were being called a playoff contender.
Hendricks demurs. "I don't see myself as a presumed starter," he says. "There's going to be a lot of competition. I'm just trying to focus on getting a good feel for all of my pitches as early as possible." But the Cubs buzz was undeniable: "Being with a team that looks like it's going to win a lot of games is exciting," he adds. And yet, some things are constant. "The game is a lot faster than it was in college, but if you make good pitches you can get guys out at any level."
And no lasting scars from first-year hazing? "We had rookie dress-up day for our trip to Toronto. It wasn't bad though, because I was Mario from the video game, and we had 15 guys all doing it together."                                                                  —Dirk Olin '81