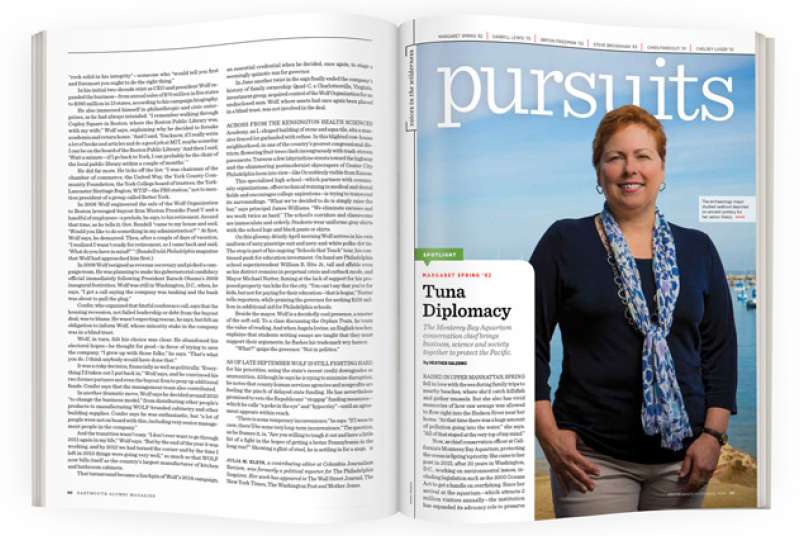 Voices in the Wilderness
Margaret Spring '82 • Darryll Lewis '75 • Bryon Friedman '02 • Steve Brosnihan '83 • Chris Pandolfi '01 • Chelsey Luger '10
Margaret Spring '82
Tuna Diplomacy
The Monterey Bay Aquarium conservation chief brings business, science and society together to protect the Pacific.
Raised in upper Manhattan, Spring fell in love with the sea during family trips to nearby beaches, where she'd catch killifish and gather mussels. But she also has vivid memories of how raw sewage was allowed to flow right into the Hudson River near her home. "At that time there was a huge amount of pollution going into the water," she says. "All of that stayed at the very top of my mind." 
Now, as chief conservation officer at California's Monterey Bay Aquarium, protecting the ocean is Spring's priority. She came to her post in 2013, after 20 years in Washington, D.C., working on environmental issues, including legislation such as the 2000 Oceans Act to get a handle on overfishing. Since her arrival at the aquarium—which attracts 2 million visitors annually—the institution has expanded its advocacy role to preserve fisheries and marine ecosystems, as well as endangered species such as sea otters, white sharks and bluefin tuna. "Aquariums are a trusted source of information," she says. "We have a special voice."
Part of Spring's job is to oversee the aquarium's Seafood Watch program, which guides consumers and businesses toward seafood that is fished or farmed in eco-friendly ways. Not only has the aquarium encouraged businesses to sell environmentally responsible products in more than 100,000 locations across the country, it has also recently worked with a presidential task force to eliminate fraud and illegal fishing for imported seafood, a threat to long-term ocean health. Seafood Watch has a global impact as well, helping countries such as Brazil, Costa Rica, South Africa and Mexico build sustainable seafood movements. "It's quite amazing to me," says Spring. "We've been able to make this transition from watchdog to advisor." 
She's particularly passionate about saving the bluefin tuna, which has dwindled mainly because of overfishing in Japan, where a single giant Atlantic bluefin tuna—prized for sushi—can sell for more than $100,000. Monterey is the only U.S. aquarium that displays live bluefin, and during the past few years it has partnered with Japanese scientists on research projects in the hopes that a better understanding of the species will lead to stronger preservation measures. Though Japan recently announced new rules to restore the bluefin's declining population, Spring says further action is needed. "Measures now being implemented by Japan, while a start, are long overdue and will not be sufficient to conserve and recover this incredibly important species," she says. 
An archaeology major at Dartmouth, Spring jumpstarted her career in 1991 when she postponed graduation from Duke University Law School for a year to take a fellowship on Capitol Hill. For nearly a decade she served as a lead attorney for the Senate Committee on Commerce, Science and Transportation, counseling congressional members on ocean and climate issues. After she married Napa winemaker Mark Bunter in 2007 she moved to California, where she directed the coastal and marine program for the Nature Conservancy's state chapter before returning to D.C. in 2009, when she was appointed to the National Oceanic and Atmospheric Administration. There, she spent four years tackling disasters such as the Deepwater Horizon oil spill before returning to the West Coast. 
At the aquarium Spring will continue to deal with challenging issues. One immediate task is to spread the word about a November referendum to repeal California's landmark ban on single-use plastic bags. "There's no time to waste if you know anything about the state the ocean is in," she says. "There's a lot more to do." —Heather Salerno
Darryll Lewis '75
Play it Again
Not many retired law professors have an eye for football as Lewis does. After 16 years as an NFL line judge, he's now preparing for his fourth season as a replay official. His job is to "direct the activities of all those in the replay booth in an effort to get to the referee and New York the best angles to demonstrate the accuracy—or inaccuracy—of an on-field ruling," he says. During games Lewis works onsite with a replay assistant, booth technician and booth communicator. He's also in touch with NFL VP of officiating Dean Blandino in New York. Their work comes into question from Monday morning quarterbacks every week. "Often camera angles are not indisputable," says Lewis of controversial calls, and "create doubt whether an apparently erroneous on-field ruling can be reversed." 
An expert in economic law, the econ major opened his own law practice before he became an associate professor at the University of Nebraska-Omaha in 1986. Before fulfilling a dream with his NFL gig, he officiated at a variety of levels.
Although Lewis misses being a line judge, his current role still comes with the challenge of making correct calls. He also has the pressure of unilaterally halting play if he thinks a review is in order during the final two minutes of a game. Does he foresee a day when lasers and other technology will constitute all officiating? "Technology, although not perfect, is a useful aid," says Lewis. "However, technology will not replace the human element necessary in a game played by human beings." —Sean Plottner
Bryon Friedman '02
Bamboo Groove
During the decade Friedman spent racing for the U.S. Alpine Ski Team he received a huge amount of free gear. It was a nice perk, but used equipment piled up in his garage or he was forced to throw it away, especially after he retired from racing in 2009. It troubled him to think how energy-intensive ski equipment was to manufacture and how difficult it was to recycle or repurpose. One small way to make a difference, decided Friedman and former U.S. Ski Team member Erik Schlopy, was to make poles using a material that had both vintage appeal and eco-credibility: bamboo.
The company they founded, Soul Poles, now hand crafts several thousand pairs of bamboo ski and hiking poles a year at its Park City, Utah, facility. A fast-growing, low-impact, renewable resource, bamboo also has a proven track record: Before aluminum poles swept the industry in the late 1950s, discerning skiers favored bamboo poles for their light weight and durability.
Friedman sources his bamboo from a family farm in Guangdong Province, China. The small Soul Poles team kiln-dries and oils the stalks to help them withstand dry, cold skiing conditions. In company tests, the poles rated twice as strong as aluminum ones. Soul Poles have garnered accolades on both looks and performance from outlets ranging from Vogue to Powder magazine. Friedman, though, is most pleased with his customers' feedback. "Part of it is having a piece of organic material, part of it is just the conversations it starts on the chair lift," Friedman says. "People say they feel more connected to the mountain."  —Kaitlin Bell Barnett '05
Steve Brosnihan '83
Lighting Up a Room
One evening six years ago Brosnihan was SAY-ing goodbye to a teenage patient. Looking out the window at Hasbro Children's Hospital in Providence, Rhode Island, where he's resident cartoonist in the healing arts department, Brosnihan noticed his route to the bus was visible. He spontaneously told the boy to watch outside later for a sign. When he signaled to the boy with his flashlight on his way home, Brosnihan was surprised and pleased to see the boy flicking a light in response. So Brosnihan made it his routine to flash goodnight to his patients, many of whom told him it was the best thing that happened all day. "A feeling of loneliness is alleviated," Brosnihan says.
Since 1991, Brosnihan has logged thousands of hours drawing at the bedside of seriously ill children. He helps young patients with their fears and anxieties and he's called in like a specialist, with the goal of getting a smile or laugh from a child deep in the doldrums. He devised a method, "Cartoonagrams," to quickly teach children to join him in cartooning, using letters of the alphabet. Last year Brosnihan expanded his Goodnight Lights idea, asking local businesses, including tugboats and a bar with a large neon sign, to communicate with four blinks for "Good Night Hasbro Hospital" each night at 8:30. Businesses and patrons, who use phones or other lights, have been eager to participate. He's working on involving buildings in the nearby downtown skyline. "People are feeling the thrill that someone is thinking about them in a free will, goodwill gesture," Brosnihan says.
When the former visual studies major, who also teaches at schools and camps for children with medical and other special needs, walks the halls of the hospital, he carries a clipboard. Taped to its back is a talisman—a worn copy of a handwritten note from a fellow Dartmouth alum, Theodor "Dr. Seuss" Geisel '25. "He was wonderfully supportive of me becoming a cartoonist," Brosnihan says. Months before he died, Geisel wrote to wish Brosnihan luck for "six years, hell, make it the next six decades." —Noel Rubinton
Chris Pandolfi '01
The Picker
When Pandolfi fell in love with the banjo, he was a high school senior obsessed with the genre-bending instrumental group Bela Fleck and the Flecktones. "I came to the banjo in this re-contextualized role that was very new and different," says Pandolfi, who majored in environmental studies. "And then I came to find out that bluegrass was where the banjo really lived." Pandolfi's five-man string band, The Infamous Stringdusters, formed in 2006 and quickly earned critical praise and credibility with bluegrass fans, notorious for their fierce loyalty to the traditional music. Six albums in, the Stringdusters now bill themselves as "The Future of Bluegrass," experimenting with form and earning crossover appeal, as well as more critical raves, including a 2011 Grammy nomination.
The Stringdusters' most recent album, Ladies & Gentlemen, released earlier this year, features a series of female vocalists such as Joan Osborne, Lee Ann Womack and Mary Chapin Carpenter and allowed Pandolfi to go beyond the banjo's traditional role. This summer the group began recording a seventh album and collaborating with singer-songwriter Ryan Adams, with whom they played Telluride Bluegrass and Newport Folk festivals and Late Night with Stephen Colbert.
Pandolfi, now working out of the Stringdusters' fan base of Denver, has also launched a solo banjo and keyboard project. TRAD+ both harkens back to the experimental, fusion banjo music that inspired him as a teenager and weaves in influences from ambient electronic music. "I've definitely put in my time and had instruction from some great and notable bluegrass players, but I've also come full-circle," Pandolfi says. "This is sort of my flight of fancy into a new musical world." —Kaitlin Bell Barnett '05
Chelsey Luger '10
Indigenized Fitness
Luger is on a mission to promote health and fitness in Native American communities. The Arizona-based journalist, who has roots in the Turtle Mountain Band of Chippewa and Standing Rock Sioux Tribe, joined photographer Thosh Collins in 2015 to launch Well for Culture, a website and wellness initiative that offers workout tips, recipes and holistic health advice drawn from North American indigenous traditions.
Two key concepts promoted by Well for Culture are Earth Gym and Ancestral Diet. "We're encouraging people to get outside and be on the land," says Luger. "Earth Gym is all about embracing the challenges of the elements." Ancestral Diet merges traditional Native American foodways with ideas from modern healthy-eating movements. "Spending time with food and recognizing its spiritual significance used to be a huge part of our culture, and it's something that many of us have forgotten," says the former Native American studies major.
Well for Culture has offered workshops and fitness classes in schools, on reservations and even at Nike World Headquarters, where Luger spoke to the company's Native American Network in November 2015. Earlier this year the Native Americans at Dartmouth student organization invited Luger back to Hanover to lead a weekend wellness retreat just before the start of midterm exams. Following an off-campus Earth Gym session, 40 students attended a community dinner of bison burgers, sweet potato hash and other ancestral foods. "We emphasized how exercise and healthy food contribute to brain health," says Luger.
In her monthly "Well for Culture" column for Indian Country Today Media Network, Luger stresses that promoting personal fitness in Native communities is also a highly political project. "Wellness is empowering," she says. "Living healthy and positive lifestyles is making a statement: I'm not who you expect me to be. My healthy lifestyle disproves many of the negative stereotypes of Native people. I'm alive and well, succeeding and happy." 
—James Napoli