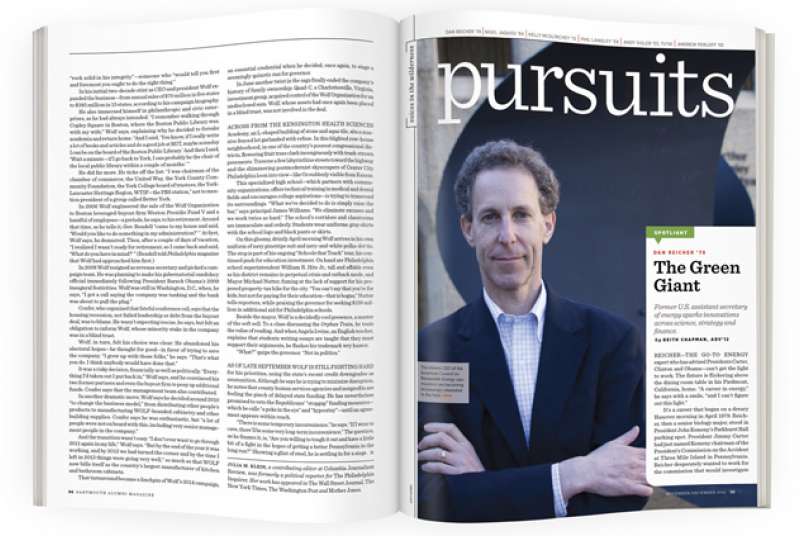 Voices in the Wilderness
Dan Reicher '78 • Nigel Jaquiss '84 • Kelly McGlinchey '12 • Phil Langley '59 • Andy Sigler '53, Tu'56 • Andrew Perloff '93
Dan Reicher '78
The Green Giant
Former U.S. assistant secretary of energy sparks innovations across science, strategy and finance. 
Reicher—the go-to energy expert who has advised Presidents Carter, Clinton and Obama—can't get the light to work. The fixture is flickering above the dining room table in his Piedmont, California, home. "A career in energy," he says with a smile, "and I can't figure out this light."
It's a career that began on a dreary Hanover morning in April 1979. Reicher, then a senior biology major, stood in President John Kemeny's Parkhurst Hall parking spot. President Jimmy Carter had just named Kemeny chairman of the President's Commission on the Accident at Three Mile Island in Pennsylvania. Reicher desperately wanted to work for the commission that would investigate the partial nuclear meltdown. "President Kemeny drove this little blue Fiat," says Reicher, "and had a cigarette hanging from his lips." When Kemeny pulled up, Reicher asked for a job. "President Kemeny said he'd get back to me."
And he did. A few months later Reicher was running the commission's photocopy machine. He later became a legal assistant to the group. It was just the beginning of a varied career that included stints as U.S. assistant secretary of energy, a wind company executive and a Stanford professor. Thirty-five years after making photocopies, Reicher stands out as one of America's most prominent energy players, a man who was on the short list to become President Obama's secretary of energy in 2008 and again in 2012.
He has risen to this level thanks to his innovative and comprehensive approach. "If we want to make progress on clean energy, we have to make progress on technology, policy and finance," says Reicher, who earned his law degree from Stanford. "My whole approach has been to integrate these three key areas."
It helps that he has worked in each: Reicher has spent a good part of his career in Washington, D.C., but he also cofounded the Hanover-based private equity firm New Energy Capital and served recently as Google's director of climate and energy initiatives. Today Reicher is the executive director of Stanford's Steyer-Taylor Center for Energy Policy and Finance, which has offices at both the university's business and law schools. The center's name reflects Reicher's interdisciplinary approach, initially cultivated, he says, by Dartmouth's liberal arts curriculum.
His goal is to bring both cash and strategy to the science. "You can develop a great low-carbon technology," Reicher explains, "but if you aren't able to finance it or secure supportive policy, you won't make progress. Solar cells have been around for 60 years but still provide only a tiny percentage of our energy today." The technology behind fracking dates back to the 1940s, he adds, but only recently has it been utilized on a large scale to produce natural gas. "The technologies must work well at scale and also be cost competitive with current energy sources. This is very different from creating the next app."
For all the media's doom and gloom about climate change, Reicher remains upbeat. He sees it as both "a crisis and an opportunity" for businesses to do good and do well. "Entrepreneurs and investors from Wall Street to Silicon Valley to Shanghai are increasingly seizing these opportunities. The planet and our pocketbooks will be better off for it," he says. "And we're always inventing. Refrigerators used four times the electricity in the 1970s. Now we also have LED light bulbs in our homes."
Reicher points to the bulb above his dining room table. The flickering has stopped, and the light shines on. —Keith Chapman, Adv'12
Nigel Jaquiss '84
The Watchdog
Jaquiss has brought down not one, but two, Oregon governors as an investigative journalist for the Willamette Week, Portland's free alternative weekly. He won the Pulitzer Prize in 2005 for exposing revered politician Neil Goldschmidt's sexual relationship with a 14-year-old babysitter. And John Kitzhaber '69 resigned from the state's top post earlier this year after Jaquiss revealed possible ethical misconduct involving Kitzhaber's fiancée. "A reporter has the responsibility to be the public's watchdog," he says. "If I didn't challenge people, I would only be doing a small part of my job." 
Though Jaquiss is one of just three news reporters at the 70,000-circulation weekly, he often scoops the Oregonian, the state's largest paper. The reason? Curiosity and persistence. Plus, working for an underdog publication sometimes serves as an advantage. "It's hard for a pillar of the city to sometimes investigate other pillars of the city," he says. "We're decidedly not a pillar of the city." 
Raised in southern Indiana, Jaquiss decided to switch careers in his early 30s. Post-Dartmouth he spent 11 years as a Wall Street oil trader before his first child's birth and the death of both parents prompted him to enroll in Columbia's journalism school. "All those things forced me to think about whether I was doing what I wanted to do with my life," he says. Still, Jaquiss never expected to land at an alternative weekly. "I'm a pretty conventional person," he laughs. But he was attracted to the paper's commitment to hard-hitting political coverage and joined the staff in 1998. Winning the Pulitzer, he says, proves that reporters don't need to be part of a major news organization to make a difference. "It showed me that if you do great journalism, it doesn't matter where you do it," he says. "People will respond." —Heather Salerno
Kelly McGlinchey '12
Urban Farmer
A vegetarian since age 12, McGlinchey cultivated her passion for food and the environment at Dartmouth, where some of her work still flourishes today. Wander into Collis and you can pick up a Kelly McGlinchey Vegan Pumpkin Chocolate Chip Square, a testament to her days as assistant to Collis baker Mary Ann Milanese. Drive by the organic farm on Lyme Road and you'll see a modern wood barn full of seeds and vegetables, the result of a community effort McGlinchey nurtured as a fellow with the Dartmouth Sustainability Project.
Now in New York City, she cultivates a larger field by introducing children and adults to the pleasures of healthy, seasonal foods and advocating for farm-to-table solutions. "To tackle a big issue like climate change, we have to start with the local community, and food is an incredible way to bring people together," says McGlinchey, who serves as food education director at Butter Beans. It's a for-profit company that delivers healthy meals to New York City schools and provides food education through cooking classes and summer camps. McGlinchey oversees the camps, which expanded three-fold this past summer. "I love seeing the kids discover that they can grow something. We are inspiring future food leaders," she says.
Her passion for building community through food extends to her Manhattan apartment building, where she persuaded the landlord to let her plant a vegetable garden in the 8-by-1-foot strip of grass in front of the apartment. "I was amazed at how many neighbors, who usually would walk right past me, stopped to ask what was growing and how they could help," says McGlinchey, who cultivated Swiss chard, string beans and lettuce last summer. "To me, that's the power of food to create change." —Andrea Useem '95
Phil Langley '59
Hot to Trot
Think of harness racing as a modern-day chariot race, says Langley, the four-time president of the U.S. Trotting Association, a nonprofit that regulates and promotes the sport. In harness racing, a driver sits atop a lightweight cart, known as a sulky, and leans back at a precarious angle, driving a Standardbred horse. "The horses are inches apart, moving at 30 miles an hour—it can get pretty hairy out there," he says.
As a child, Langley attended harness races in Sportsman's Park, Illinois, with his father, Pete, a leading organizer and advocate of the sport. "I learned to read by helping my dad figure out which horses qualified for a race," he says. During his four years in Hanover, Langley kept up with weekly race results. His photographic memory enabled him to reel off race times for any horse. The former history major adds that he's always been drawn to the sport's rich history: "I have breeding books in my office that go back to the Civil War."
Today one of his missions is to inspire new generations of fans. Under his leadership, the Trotting Association has reached out to new audiences via social media, with guidance from a top-level New York City consulting firm. At the association's Columbus, Ohio, office to which he commutes from Chicago, Langley oversees a staff of 60 that meticulously compiles DNA records and publishes statistics on each of the 26,000 horses that compete each year.
Langley, who was inducted into the Harness Racing Hall of Fame (an organization headed by Larry DeVan '70) in 2006, also owns several competitive horses. He spends part of each day at the Balmoral racetrack near his home as the horses train. The best part his job? "Watching races," he says. "I never get tired of it. Every race is exciting." —Andrea Useem '95
Andy Sigler '53, TU'56
Daily Tee
At Montcalm Golf Club in Enfield, New Hampshire, it's all about golf, and only golf: There's no pool, no bar, no tennis. That's exactly the way its founder, Sigler, wanted it. The former longtime CEO of Champion Paper Co. spent four years building his dream course, which opened in 2004 and has received rave reviews ever since. Set on a scenic, hilly 358 acres, Montcalm is considered one of the best courses in all of New England. It's also a tough track. "You're not going to score here easily," says Sigler, a former 5 handicap who says he's at his private course every day and still "fools around" on it.
A former College trustee (1989-99), Sigler has well-honed business and management skills that came into play when construction began. "The hardest thing was dealing with all the ledge we had to blast out," he says. But Sigler, a former member at a certain club in Augusta, Georgia, did not give precise instructions to his architect and builders. "If you give too much detailed direction to someone, they'll soon rely on you for everything," says the man who sounds as if he's run a large company and served on a number of corporate boards, from GE to Bristol-Myers—which he has.
 After inspecting 18 meticulously maintained greens and fairways by cart, Sigler sits back on the porch of his unassuming clubhouse and waves to a foursome heading toward the first tee. He doesn't hesitate when asked why he wanted to build his own golf course. "Why not?" he says. "What else are you going to do when you retire?" —Sean Plottner
Andrew Perloff '93
McFun
As a "Danette"—a supporting member of morning NBC Sports Network radio and TV talkfest The Dan Patrick Show—Perloff never knows what will happen next. He has punched former pro hockey player Jeremy Roenick in the (titanium) jaw. He has re-enacted a Footloose dance scene for Kevin Bacon. Former football star Rodney Harrison once used him as a tackling dummy. "He hit me really, really, really hard," says Perloff. "Google it. You can see my soul leave my body." 
It's a personal highlight reel anyone would envy. Better known on air as "McLovin" (after a character from 2007 teen comedy Superbad), the Sports Illustrated contributor started off doing guest spots and joined full-time in 2009. Since then he has proved as adept at analyzing NFL drafts as he is the latest Game of Thrones episode. But a running joke is Perloff's Ivy League degree: "People love when I get something wrong," he says.
He's very aware of the show's power. Broadcast on 300-plus radio affiliates and three television channels, including NBC Sports, it reaches more than 80 million homes. "When I talk to my parents, all they want to talk about is the show. They don't even ask about the kids anymore," says the father of two young daughters. He's also gotten used to rubbing elbows with famous superfans. At a Super Bowl party, comedian Will Ferrell recognized McLovin and gave him a huge hug. Actor and producer Adam Sandler often features the Danettes as movie extras; Perloff played a White House reporter in last summer's Pixels.
Raised outside Philadelphia, Perloff spent much of his career as a writer, editor and web producer for outlets such as FoxSports.com. He never expected to step in front of the camera, but now loves every second. "If you'd asked a 12-year-old me to describe the ideal job, I'd describe this," he says. "I don't even want to call it a job, it's so fun."  —Heather Salerno
McLovin's Top 5
NFL Player Names
Former Browns wide receiver Webster Slaughter "Probably more fitting for a linebacker, but he made the Pro Bowl twice"
Former Seahawks fullback Mack Strong "There was a lot of pressure to live up to the name in the weight room, but he delivered."
Former Colts linebacker Pat Angerer "Blockers who couldn't handle him had Angerer management issues"
Minnesota Vikings cornerback Captain Munnerlyn "Ironically, not a team captain"
Houston Texans linebacker Whitney Mercilus "Former Texans first-round pick has no relation to Flash Gordon bad-guy Ming the Merciless"