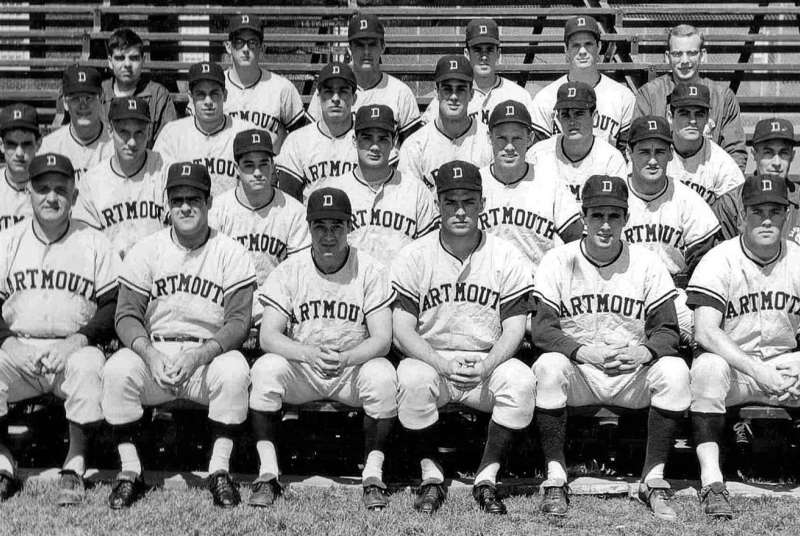 1967 Dartmouth Baseball Team (Courtesy Stuart Deane)
Playing Catch Up
Fifty years is a long time not to talk. One email bridged the decades.
Out of the blue I got an email from an old teammate, Mark Bankoff '69. We both played on the 1967 baseball team that went to the NCAA Northeast regionals. I hadn't seen or heard from Mark since the day of our last game.
That spring I had asked baseball coach Tony Lupien if I could try out. I hadn't played in four years. (I left Dartmouth after my sophomore year and served in the Army for three years before returning to school for my junior year.) "I have a set team," he said. "But come out for pre-season, and I'll give you a look."
That look earned me a spot on the team for its spring trip to the Carolinas. Pinch hits in my first two appearances earned me regular pinch-hit appearances throughout the season.
That's where Mark enters the story. Our team had two good catchers, neither of whom hit well. But because I wasn't known for my foot speed, if I reached base the coach sent in Mark as the pinch runner.
In his email Mark wrote, "I want to thank you for extending my baseball career through spring 1967. I couldn't hit much at that level, but Tony thought I had a little speed, so he let me dress for home games. I sat, freezing in the cold dugout, hoping he would call your name to pinch hit. You were my only way to get into the game. It seemed like you got a hit every time. You were my ticket to participate in the game I loved. So, thanks!"
I wondered why it took Mark so long to write. It turned out he had read an essay I wrote for the alumni magazine about the 2017 death of classmate Lee Arbuckle '65. "After reading the story I was moved to finally reach out," he explained. "You beautifully captured the trials we all face as we age. You described a wonderful friendship. From reading your article, I got the feeling that I knew Lee."
It turns out Mark lives in Lynnfield, Massachusetts, a half hour drive from my home in Newburyport. He is a retired radiologist. His wife is a retired nurse. We agreed to meet for dinner, having not spoken to each other in 50 years.
"As a matter of fact," he told his wife, "I don't think we ever talked while we were teammates."
But this time we hit it off right away—once again through baseball. Before heading to dinner at a local restaurant, I treated Mark to an electronic slide show about my family's baseball history. It covered my father's experience in the Cape Cod league and how he met touring major leaguers in the Pacific during WW II, my Dartmouth years, my son's Newburyport high school career, which included a game-winning home run against Lynnfield, and my grandsons' budding youth baseball careers. To surprise Mark, I added into the presentation his quote about our pinch hitting-pinch running roles.
"I'm getting goosebumps here," he said when the slide came up.
Over dinner we discovered we share a mutual interest not only in baseball but also photography. Mark is on a mission to photograph lighthouses around the country. He makes frequent trips to Plum Island in Newburyport to photograph nature, as do I on daily walks around Maudslay State Park on the other end of town.
"I'd like to join you on one of your walks," he suggested.
So began a new adventure, leading me and my wife to visit him and his wife at their home in Lynnfield. As an afterthought, it occurred to me we should play catch on his front lawn. It is scheduled for a future visit, though he warned me he has shoulder issues.
It's something we just have to do as part of our process of…catching up.
Retired high school teacher Stuart Deane writes opinion pieces for the Newburyport Daily News.