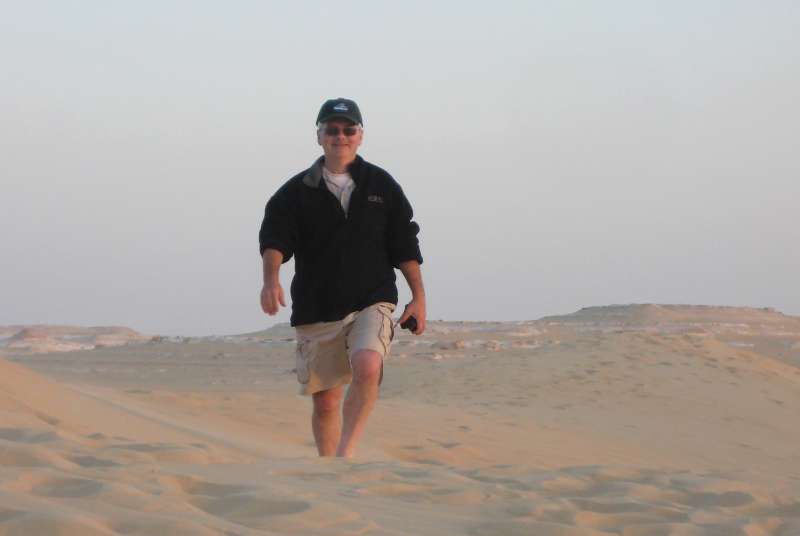 Nomadic Newsman
Veteran NPR reporter covers the hot spots.
Peter Kenyon '80, NPR's international correspondent based in Istanbul, Turkey, spent much of the past few months filing stories about the war in northern Syria. It's a confusing conflict, one that Kenyon has deftly explained to more than 37 million listeners every week. "Who's on what side seems to be in flux sometimes," says Kenyon, one of a handful of journalists the Syrian government allowed into the country in the last few years. "It's a complicated, difficult story to cover."
Kenyon has spent nearly two decades reporting from Yemen, Saudi Arabia, Lebanon, Bahrain, Algeria, Morocco and elsewhere in the Arab world. He was part of an NPR team that twice received the prestigious Alfred I. duPont-Columbia University Award for its coverage of post-war Iraq.
Reporting stories while staying safe requires careful planning. In Iraq, there were times when Kenyon couldn't talk to people on the street because Western journalists are kidnap targets. "You had to nip into someone's house, get the interview and get out," he says. "You could never be in one place more than 10 or 15 minutes."
"When a story inspires people to take action, that feels really good." 
He's been shot at twice, both times when he was based in Jerusalem and reporting from the West Bank. In one of the incidents, Kenyon was sprayed with stone chips when a bullet slammed into a nearby wall. "I'm pretty sure in both cases it was a warning shot from someone who probably could have hit me if he really wanted to," he says. 
The most rewarding stories often have a humanitarian angle. In 2016 Kenyon followed a Turkish volunteer group aiding some of the more than 3 million Syrians seeking refuge, delivering a series of reports that resulted in increased donations and offers to help. "Sometimes as a journalist you feel like you're just observing," he says. "So when a story inspires people to take action, that feels really good." 
A New Jersey native who majored in literature and creative writing, Kenyon moved to Alaska after graduation, following a girlfriend who worked at the local public radio station. One day its program director asked him what he knew about classical music. "I said, 'Well…Beethoven,' " recalls Kenyon. "He said, 'Good. Show up at 9:30 on Sunday. You're our new classical host.' " He quickly moved to news stories, and then jumped to NPR in 1995 and spent six years in Washington, D.C., covering major stories such as former President Bill Clinton's impeachment.  
After 9/11, he volunteered to work abroad and has been globetrotting since, including a five-year stint in Cairo. "Peter is a very quick study, and he's extremely precise," says Douglas Roberts, NPR's former Middle East editor who worked with Kenyon for more than a decade. "He knows exactly who to talk to and the right words to use in any situation."
Kenyon points out that living in a region helps tremendously when it comes to developing key sources. "That's an advantage as opposed to what's happening more and more, with people parachuting in for big events or short stays on long-running stories," says Kenyon. He praises NPR for keeping foreign correspondents in place at a time when many news organizations are closing foreign bureaus. "The need to have more journalists overseas is more important than ever."