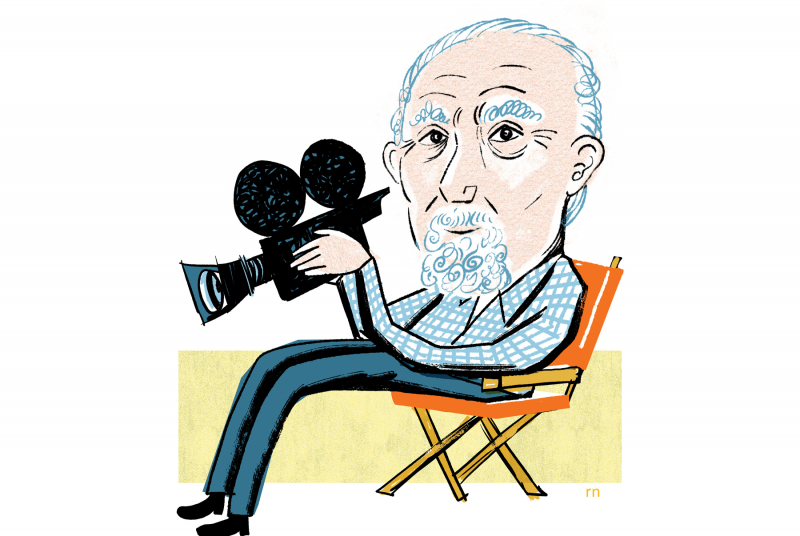 Never Too Old
Rookie producer Larry Jaffe '46 hits paydirt at 98.
Jaffe's first motion picture, The Girl Who Believes in Miracles, hit theaters earlier this year. He certainly stands out as the only movie producer at his Gainesville, Florida, retirement home. Most of his friends spend their time looking back on their lives. "I'm the only one who's looking forward," he says. "I am so taken with the idea that you're never too old to try something new and to succeed."
An economics major whose time at Dartmouth was interrupted by a stint in the Marines during the last days of World War II, Jaffe is long retired from a career in marketing. His transformation to movie producer was its own miracle. A friend was ready to give up getting his original screenplay produced. Jaffe offered to help. Twists and turns led them to an established Hollywood screenwriter, and they decided to try to produce his script instead.
Veteran director Rich Correll was skeptical when approached about the project. "He is 96," Correll thought to himself. "How can this guy possibly be functioning as a producer?" Once he connected with Jaffe, Correll was impressed. "He knew what he wanted to do, and I thought, 'Okay, I'll give it a shot.' " 
The faith-based film tells the story of a young girl who discovers she has divine healing powers. It features Oscar winner Mira Sorvino, Peter Coyote, and Austyn Johnson, who plays the lead. "Being involved became a full-time job," says Jaffe, who arranged financing, cut deals with talent and crew, and exercised script and casting approval. He talked to the director daily. He even had a cameo in the film alongside his son and grandson. 
Jaffe plans to use the profits to help disadvantaged communities. And he wants to make more movies. "I would be happy to work with him again," Correll says.