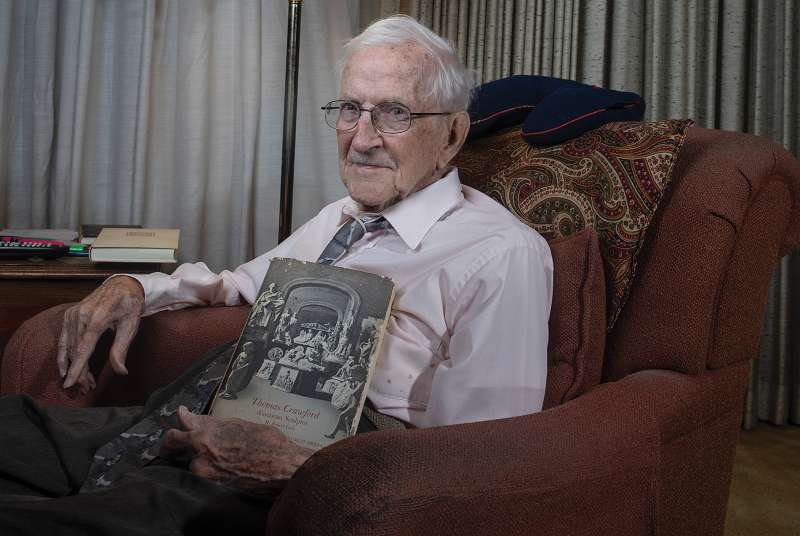 Photo by Nate Guidry / Pittsburgh Post-Gazette
Life on a Shelf
Nonagenarian Robert Gale '42 writes. A lot.
Gale, 99, is working on his 65th book. The subject? Robert Frost, class of 1896. "It might be one of my short ones," he says. The former teacher has written 37 books since he retired from teaching in 1987. You won't find him on any bestseller lists, though, as most of his titles are reference works, profiles of famous writers, and literary criticism, such as An Ambrose Bierce Companion, Truman Capote Encyclopedia, and Characters and Plots in the Fiction of Kate Chopin.
After serving in counterintelligence in the Army Air Corps in England during WWII, Gale became an English professor. "I admired the success and persistence of literary critics who attempt to explain American literature to willing readers, and I thought I would like to be a part of that group, if possible," Gale says. For 28 years he decoded the mysteries of novels and poems for undergraduates at the University of Pittsburgh after stints at Columbia, the University of Delaware, and the University of Mississippi.
Gale, who lives in Pittsburgh and majored in English, says he does his best writing in the afternoon and sometimes in the morning, but he never works after 9 p.m. Married for nearly 63 years, Gale is a widower and has three children. He continues to drive and lives independently. "I hope to stay as busy as I can be." Which means we won't have to wait long for book No. 66.