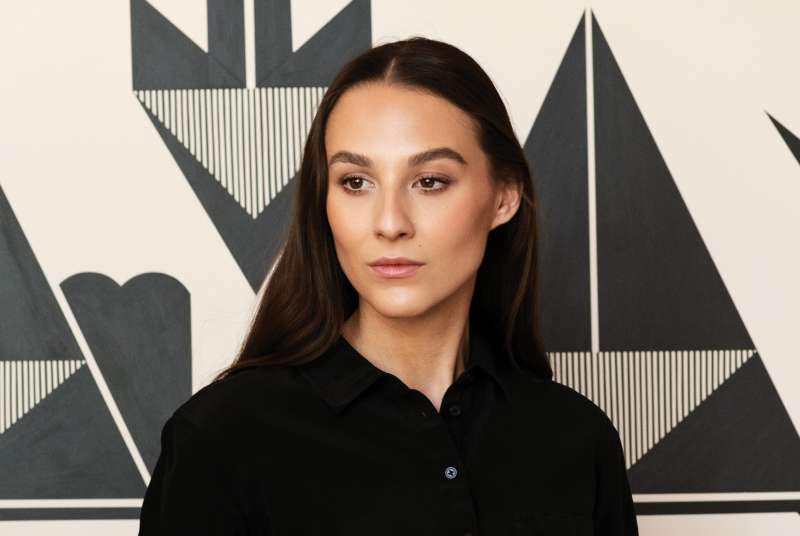 Artist On the Go
Northern Cheyenne painter Jordan Craig '15 lands multiple fellowships.
"Thrilling and terrifying" is how Craig describes "trying to figure out how to be an artist." After graduation the painter and printmaker enjoyed nearly back-to-back fellowships and residencies that took her from Berkeley, California, to Ireland, Italy, England, and the Netherlands. She's now an artist-in-residence fellow in Santa Fe at the Institute of American Indian Arts, the world's only college devoted to the study of contemporary Native American art. While there, she is creating designs influenced by the patterns and colors of her tribe's beadwork. "I feel like I learn something every day when I make art," she says.
Last year as a fellow at the School for Advanced Research, also in Santa Fe, Craig recontextualized the designs on southwestern Native Indian pottery to create large, nearly monochromatic paintings. "I was extremely inspired by New Mexico's plateaus, peaks, and flatness," she says.
Watching dancers at a pueblo smeared with ocher-hued mud left her astonished. "They were art pieces dancing," she recalls. The event motivated her to produce abstract works daubed with cascades of hundreds of meticulously arrayed orange dots. "She's a remarkable and amazingly driven young woman who is determined to bring her goals to life," says the school's curator of education, Elysia Poon.
Craig credits the College with firing a passion for art that started freshman year with her last-second enrollment in a collage-making class taught by professor Esme Thompson. "I had a community of artists and the Native community around me at Dartmouth," she says.