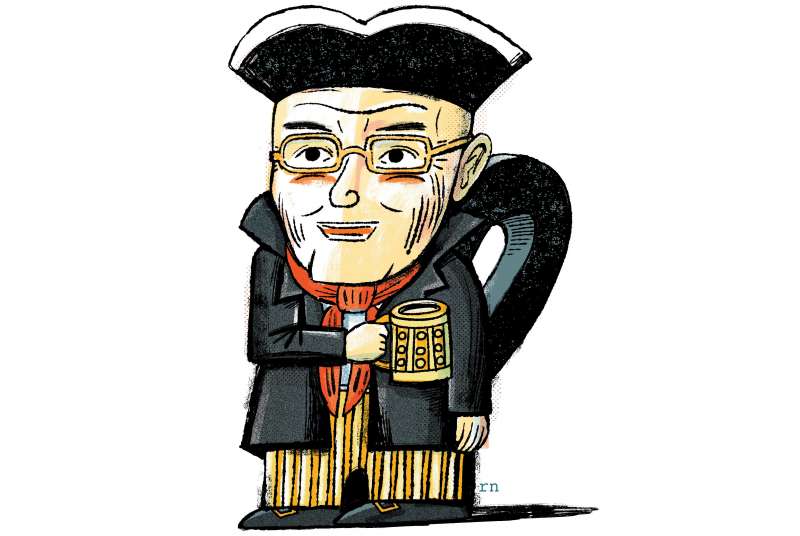 Mugger's Delight
Steve Mullins '54, the king of Toby jugs, opens a mug mecca.
At summer camp in 1947, Mullins, then 15, made a sweet deal. He traded $9 in "candy money" for six ceramic caricature cups. Also known as Toby jugs, these mugs are made primarily in England and in the form of famous figures ranging from Churchill and Elvis to Yoda and even Eleazar Wheelock. Mullins, a retired real estate investor and developer, then started buying the cups as birthday presents for his mother. During the past 70 years his mania for mugs led him to amass 8,600 jugs—the world's largest collection.
When he headed to Dartmouth his freshman year, instead of driving straight to Hanover from Chicago, Mullins headed into Ontario and Quebec to rummage in china shops, a detour that transformed an otherwise dull trip into a 22-hour treasure trek. A clever collector, Mullins learned he was more likely to unearth mugs where British roots were strongest.
Today, at 86, most of his searches take place on eBay. Mullins is keenly aware of the few pieces missing from his collection. It frustrates him that rarities, such as an Alice in Wonderland jug and one of a Maori tribesman, have eluded him.
Mullins in 2005  opened the American Toby Jug Museum in Evanston, Illinois, which houses his collection in 100 glass cases. (The value? Several million dollars, according to Mullins.) Admission is free. "I don't want people to be discouraged from coming in," he says.
Illustration by Robert Neubecker