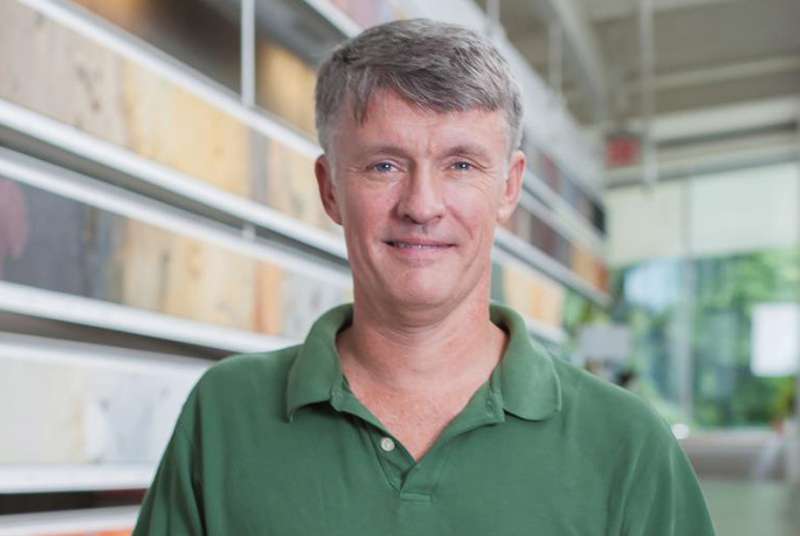 Keeper of the History of Life
Warren Allmon '82 spearheads construction of the $11-million Museum of the Earth.
Long before Allmon became the director of the Paleontological Research Institution (PRI), home to one of the 10 largest fossil collections in the United States, he had quite a collection of his own. "Whale teeth and bones, barracuda jaws, giant shark teeth—I made it into a real museum of evolution and the history of life," he says of the specimens he gathered in his parents' South Carolina basement as a teenager. "I had little business cards. My mom would give tours when I was away at school. It was pretty hokey, but I was training myself, really." Allmon's family vacationed on the Chesapeake Bay and in north Georgia. "We went to these miserably hot limestone quarries and we'd collect amazing fossils," he says.
After studying earth sciences at Dartmouth, he earned his Ph.D. in earth and planetary sciences at Harvard, where Stephen Jay Gould, one of the leading evolutionary biologists of the 20th century, became a mentor. Allmon then taught at the University of South Florida until 1992, when he loaded two tractor trailers with 3-million-year-old fossils he'd collected from the nearby Sarasota shell pits and headed to PRI, his professional home ever since. Founded in 1932 in Ithaca, New York, PRI has grown under Allmon's leadership from a small staff with a tiny budget to an internationally respected research and education institution with more than 3 million specimens. In 2004 the institute formally partnered with Cornell, where Allmon is a paleontology professor in the earth and atmospheric sciences department. He also spearheaded construction of PRI's Museum of the Earth, an $11-million project that took nearly a decade to complete. "It was an amazing thing to take that mountain of fossils and do something with it," he says.