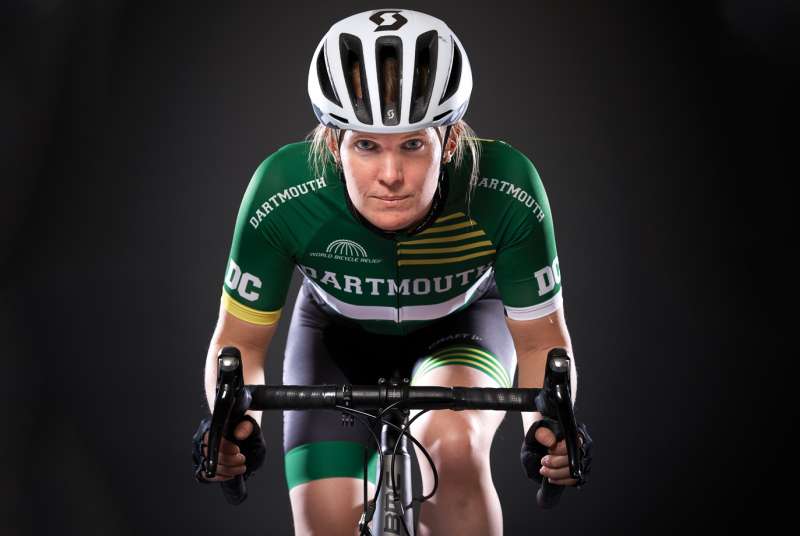 Caroline Folmer, Tu'18 (Photo by John Sherman)
Joy Riders
Meet the cycling team's road warriors.
"There's something pure about cycling," says team president Ethan Call '18. "It's man-powered, but it's fast and takes you places." Indeed, the team has gone far, winning the Ivy Championship five years in a row with a possible sixth title on the line April 22. (Update: The team won.)
"I like the challenge, and you have to have a lot of discipline," adds Aiko Takata '21, who says the team's motto is "You Have More." "It reminds you to dig deeper and keep on going."
Biking attracts students who are geared up in more ways than one. "It's a nerdy sport—a nice blend of man and machine," says engineering major Jack Greene '20. There are a lot of STEM students in cycling, according to math major Sophie Connor '18, who says "they like maintaining their bikes and enjoy the mechanical aspects of biking and calculating things like the power-to-weight ratio."
Is there a zen and the art of bicycling? "It's calming, centering—and really intense," says Alec Pelton '19. 
These bikers also have a need for speed. "There's a deeper moment in cycling when you feel like you're flying," says Tim Messen '18. "When you're drafting behind a group, you get this effortless speed. It's like when you were a kid and  wondered what it would be like to get on a dragon." Kieran Ahern '21 puts it more bluntly: "It's such an adrenaline rush going downhill."  —George M. Spencer