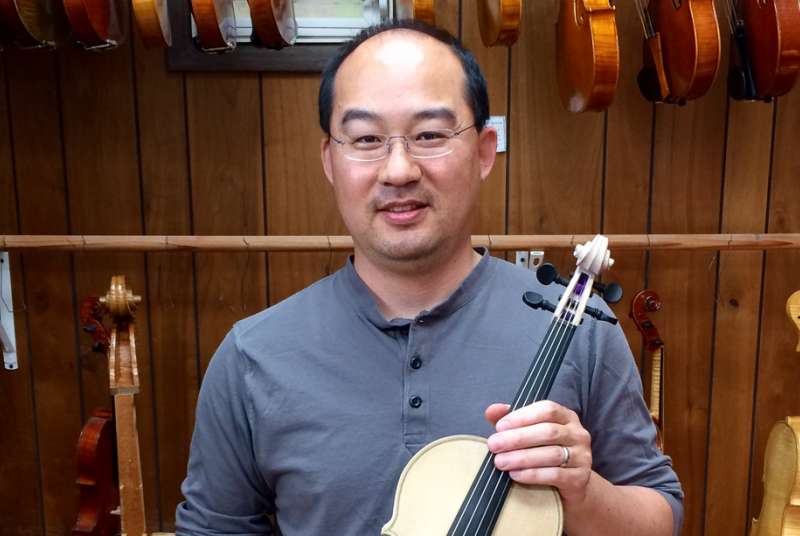 Instrumental
Eric Hwang '96 finds his calling after fiddling around in the corporate world for 20 years.
Most weekdays, for seven hours a day, Eric Hwang can be found hard at work in an unassuming building in Skokie, Illinois, bent over a block of wood with a chisel in hand, surrounded by knives, planes, rulers and other tools of his newly adopted trade. He's in the final stretch of a full-time, three-year course of study at the Chicago School of Violin Making (CSVM), where he's learning to build string instruments based on centuries-old techniques by masters such as those in the Stradivari family.
It's an exacting, painstaking art. Despite today's technological advances, the preferred way to make a high-quality violin is still by hand. Hwang is passionate about the craft, thrilled by the idea that his instruments can affect performers—and those who listen to the beauty of the sound they create. "As a violin maker, I have the opportunity to directly enrich individuals for a lifetime and to leave a legacy for multiple generations to come," he says.
Becoming a luthier is a major shift for Hwang, who spent nearly 20 years as an analyst and corporate strategist for companies such as IBM and Walgreens. He wasn't interested early on in a music-related career, though he adored playing the violin in his high school orchestra and a local youth symphony while growing up in upstate New York. Among his fondest memories are listening for hours to virtuosos such as Itzhak Perlman and Isaac Stern with a good friend and fellow violinist. "Instead of rock music, I gravitated toward classical music," says Hwang. "We bonded over buying and trading recordings, swapping CDs, critiquing them and just being in awe of the music and the talent."
The preferred way to make a high-quality violin is still by hand.
He still plays, but at Dartmouth his interest waned as he pursued a degree in government and Asian studies. Hwang set out on a typical corporate track after graduation, but never felt content at places such as IBM, where he helped launch an internal management system, or tech advisory company Gartner, where he was a senior research analyst. In 2004 he moved to Illinois to be near his now-wife, Miranda, who works in finance. Hwang earned an M.B.A. at the University of Chicago and spent four years as a project manager at Walgreens before moving to stints at smaller firms including wi-fi provider Gogo Inflight. He realized the traditional workplace didn't suit him. "I was craving self-sufficiency," he says. "I wanted to be my own boss."
At 40 he became a stay-at-home dad to daughter Berkley, now 10, while plotting his next professional move. "I recognized that I could keep going down the same path or I could use this as my last opportunity to find my own path," he says.
Meanwhile, his childhood friend had started collecting rare instruments and frequently stopped in Chicago to shop. Hwang joined him in visiting well-known dealers downtown, which reignited Hwang's love of music and got him thinking about the trade. Some online research quickly led him to CSVM, the largest program in the country dedicated to violin making and repair. "There are only three full-time programs in the United States and only about a dozen in the world, so there was a little bit of kismet involved for one to be just down the road from me," says Hwang.
Founded in 1975, the school draws students from all over the globe. No more than 30 people are admitted at one time and the classrooms are usually full. Tuition is steep: It costs more than $32,000 to attend for a full three years. Yet Hwang saw it as a relatively modest investment compared to most options for starting his own business. "Plus it endows me with a skill set that is portable, offers professional independence and is lifelong," he says. Much of Hwang's first year was spent on basic woodworking and the proper use of hand tools, forming violin bodies, carving scrolls and installing bridges on a minute scale. "We have to cut by hand to the precision of a tenth of a millimeter," he says. Meticulousness is key: CSVM codirector Fredric Thompson says any deviation can affect an instrument's sound quality. "It's important for a violinist to pick up any violin and be immediately comfortable," he says.
Students continue to refine their skills from there. To graduate, each must make at least six instruments from scratch. Hwang recently completed his first fully varnished violin, a task that took about 2,700 hours—though it won't take him that long to craft each of the next five. He'll receive that first instrument as a graduation gift from the school, along with his final one. He has the option to buy the others wholesale and sell them for a profit. "Most violins that sell will move in the $2,000 to $4,000 range," he says. Thompson notes that the initial violin shaped by Hwang, who plays in the school's ensemble, stood out. "He has a good eye and a natural talent," says Thompson. "He also has experience with the violin as a player, so that helps a lot."
Thompson adds that there's been a renaissance in the field in recent years, due largely to improved music programs for schoolchildren in cities such as Chicago. Still, the job market for builders is slim, so many graduates wind up doing restoration and repair. For Hwang, the goal is to launch a shop that rents and repairs instruments for student musicians, while developing a sideline business of handcrafting new violins for sale to players at all levels. He's gotten a head start, too, working as a freelance luthier at several local companies, including one that maintains violins at the Betty Haag Academy, a prestigious music school whose students have performed at the White House, the Vatican and a certain world-famous New York City venue.
"It's great to know that some of the instruments I've set up have played at Carnegie Hall," says Hwang. "I love knowing I'm making a small difference already in the lives of young musicians. That's really where the reward is."
Heather Salerno is a frequent contributor to DAM.