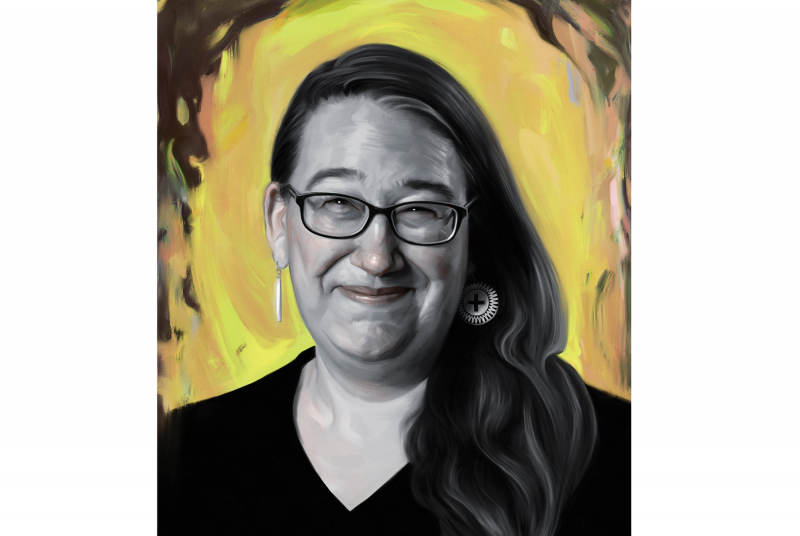 Force of Nature
Ojibwe poet Heid Erdrich '86 rides an unconventional creative streak.
In 2019, poet, editor, and activist Heid Erdrich created an art installation at the Soo Visual Arts Center in Minneapolis called My Process. In it, a headless woman holds a mirror so passing viewers provide the face. Lights bounce off the mirror, sending shimmers and shadows down the gallery wall. 
Erdrich, 57, says the installation represents how she begins her poetry projects by looking outward. She collects art images and copies bits of language as she reads scientific articles and histories. "One of my early influences was the collage in the titles for Monty Python's Flying Circus," she says. "I thought it was the coolest thing I'd ever seen and wanted everything to be like that." 
Her fifth and most recent poetry collection, Little Big Bully, published in October, examines abuse and domination, from interpersonal violence to the systemic oppression of colonialism. She wrote it during the 2019 polar vortex, when it was so cold she didn't leave her house in Minneapolis for 10 days. "I was wondering about the mechanism of how a bully works," she says. "What happens in a woman's life, a person of color's life, or an Indigenous person's life when you decide either to fight a bully or join their side?"
In earlier works, beginning with Fishing for Myth in 1997, Erdrich, a member of the Turtle Mountain Band of Ojibwe, has taken on subjects that range from the mistreatment of Indigenous women's remains by Western museums in National Monuments (2008), the relationship between genetics and cultural memory in Cell Traffic (2012), and how to reinvent art criticism to better respond to Native artists in Curator of Ephemera at the New Museum for Archaic Media (2017).
The influence of Monty Python shows up in Erdrich's use of collaged language and her biting wit. Since 2013 she has been making videopoems—short films that animate her written work and explore contemporary Indigenous issues—often in collaboration with the artist Jonathan Thunder. 
"Heid is one of the finest poets writing today," says her sister, novelist Louise Erdrich '76, who also lives in the Twin Cities and sees Heid nearly every day. "Every book that she writes is a departure and a surprise. Her voice is both commanding and sly. It is extremely difficult to be both smart and funny in poetry, but she does it all of the time." Louise calls her sister "a sage editor" and sends all her drafts to her. "I trust Heid to always tell me if I am deluded or boring." 
When Louise, 10 years older than Heid, joined the first Dartmouth class to include women in 1972, her sister wrote regularly. "Her letters often contained eccentric doodles or reported on our various dogs and their narrow escapes from cars, trucks, and the town dog catcher," Louise says. 
The sisters and their five siblings were raised by two educators in Wahpeton, North Dakota. Their parents are conservationists with an anticonsumer streak, relying heavily on their own garden for food. "We had brown bread and crackers. No pop. No chewing gum," Heid recalls. She was jealous of friends who "got white bread, baloney, potato chips, and Kool-Aid." She now keeps her own garden bursting with vegetables.
She describes their parents as talented storytellers and avid readers. Their mother, who is Ojibwe, helped the children make handbound books to fill with stories and illustrations. Their dad, who is white, was known in town as the man who ran everywhere, preferring his own feet to a car. He also loved poetry, and his children would memorize poems to perform for him. "We were an unusual family," Erdrich explains, adding that marriages between white and Indigenous people were rare at the time. "That made us pretty close." 
When it was her turn, she also chose Dartmouth, which became something of a family tradition, with others following. She studied creative writing and Native American studies, and she engaged in activism and protests, on and off campus. "When I got to Dartmouth I was a budding…," Erdrich stops herself. "No, I was already a pretty well-budded feminist at that point." 
At the time there were calls for Dartmouth to divest from South Africa, as well as anti-military and antinuclear weapon demonstrations. "Something snapped," remembers Raymond Burns '86, a friend of Erdrich's from childhood and a College classmate. "All sorts of groups discovered we were stronger if we worked together." 
Erdrich describes herself as having been "very much in the background" of activism, but Burns says she was in a leadership role. "She wasn't at the podium or on the megaphone, but you could hear her voice in everything the groups were doing," says Burns, now the president of Leech Lake Tribal College in Cass Lake, Minnesota. He describes Erdrich as "very measured and very considered" with a powerful humor. Burns also remembers Erdrich as "fun, a free spirit, rambunctious," as well as an organizer of late-night doughnut runs. 
"My way of being is to listen for stories, tell stories, find what we can learn in those stories, and recognize that the community knows what they want and need."
She received several graduate degrees, including a Ph.D. in interdisciplinary studies from Union Institute and University in 2012, and taught creative writing and Native American literature at the University of St. Thomas. She left in 2007, despite achieving tenure. "It was eroding my sense of mission," she says, explaining that she needed to dedicate her energy to serving Indigenous communities. "My way of being is to listen for stories, tell stories, find what we can learn in those stories, and recognize that the community knows what they want and need." 
Erdrich's work as an editor reflects the vibrant complexity of contemporary Indigenous literature and culture. Her first anthology, Sister Nations: Native American Women Writers on Community, edited with Laura Tohe in 2002, highlights both the commonalities that make Indigenous women from across North America "sisters" as well as the diversity of their voices. In addition, she wrote Original Local: Indigenous Foods, Stories and Recipes from the Upper Midwest in 2013 and in 2018 published New Poets of Native Nations, the first comprehensive anthology of contemporary Indigenous writers in 30 years. As director of Wiigwass Press, she also advocated for the revitalization of the Ojibwe language, and founded, along with Louise, the Birchbark House, a support organization for Indigenous writers. 
A mother of two—Jules, 21, and Eliza, 17—Erdrich says that when she isn't on a visiting writer stint, her schedule allows for days of uninterrupted writing, sustained by cups of good coffee that her husband of 30 years, John Burke, an IT analyst, makes from locally roasted beans. "I don't move as much as I should," she admits, though she memorizes her poems so she can work on them during walks. "I also don't do any housework," she says. "If you are looking for the writer, you will find her here, surrounded by laundry."
Erdrich is researching her next project, which will explore female genealogy and her connection to the Metis from Manitoba, Canada. Each poem she writes goes through "a bajillion" revisions, she says, but she didn't ask anyone for feedback on Little Big Bully before sending the work to publishers. Some of the first people to see it were the readers digging through a mountain of anonymous submissions for the prestigious National Poetry Series. Little Big Bully was one of five poetry collections to win in 2019. "This book broke me open," wrote Amy Gerstler, a poet who nominated the book for the award. "With great ardor, [Erdrich] captures bright, fractious, whirling bits of us, truths and contradictions, and channels them into poems that become a force of nature, like winged migration or river rapids."   
Elizabeth Hoover is a poet and essayist based in Milwaukee. Her interviews have appeared in the Minneapolis Star Tribune, The Kenyon Review, and Bitch magazine. 
Illustration by Robert Carter