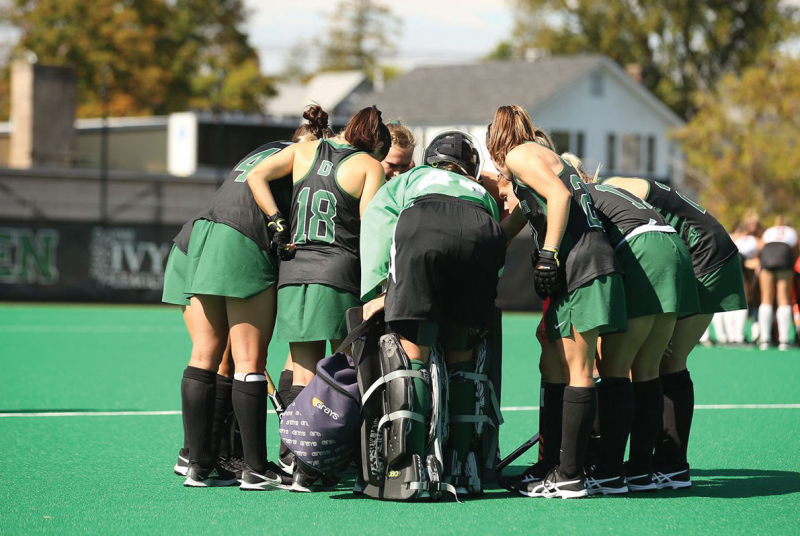 A "Painful" Process
Title IX gender equity is complicated. Or is it?
The athletics department faces a lengthy gender equity review in the wake of cutting and reinstating five sports teams during the last 10 months. Holland & Knight, a national law firm with expertise in Title IX compliance, will oversee the process under the leadership of partner Janet Judge. The College has also enlisted the Ivy League to conduct a compliance review and PricewaterhouseCoopers to launch a process-and-control review of the department. 
Final reports won't be made public, but the College will share its resulting action plan in March 2022. 
The reviews won't come cheaply. The College has already doled out more than $112,000 to cover fees incurred by athletes from the women's golf and swimming and diving teams for the services of attorney Arthur Bryant of Bailey & Glasser. Bryant, a veteran of more than 20 Title IX cases, demanded in a December 18, 2020, letter to President Phil Hanlon '77 that Dartmouth reinstate the women's teams or face further legal action. In January those teams were reinstated, along with the men's golf, lightweight rowing, and swimming and diving teams. Several days later, athletics director Harry Sheehy resigned. 
Hanlon has apologized for the "painful process" that led to the loss of teams and jobs. But the precise nature of any mistakes made may never be known. "Some elements of the data may have been incomplete," Hanlon says. "It's complicated," say other administrators. Bryant insists otherwise. "It's always amusing to me when colleges say that. There are parts of Title IX that can be difficult to measure, but not participation," he says. "Publicly available information showed what they were saying wasn't true." Dartmouth, he adds, was likely out of compliance prior to the cuts. 
Lingering resentment over the fiasco has been offset, somewhat, by optimism at the hiring of new interim athletics director Peter Roby '79. But the athletics department remains under scrutiny as additional details emerge, including a stunning report in Global Golf Post about alumni efforts to provide the College with $22 million to save the golf program. The administration turned down the offer.