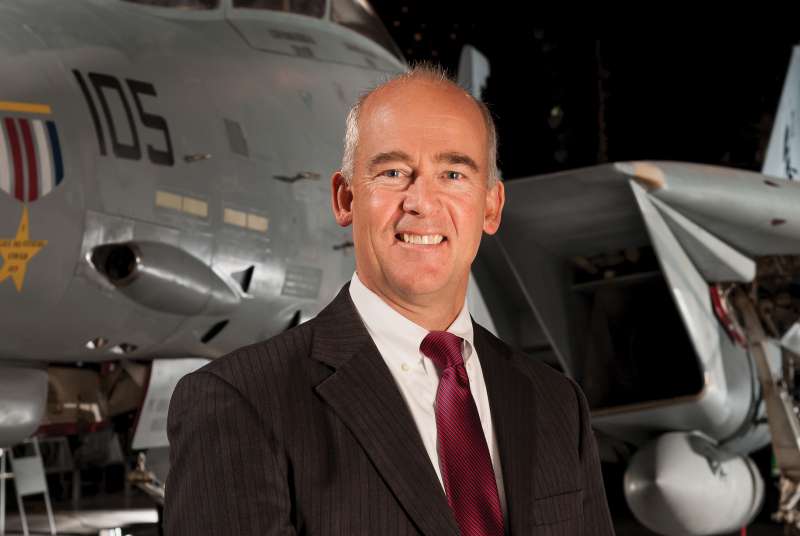 Photo by Brittany Greeson
At the Controls
Fighter pilot Christopher Browne '80 leads Smithsonian makeover.
Charles Lindbergh is looking over Browne's shoulder. As deputy director of the Smithsonian's Air and Space museums, Browne is overseeing a $650 million renovation of the 43-year-old museum on the National Mall through 2025.
"We don't have the luxury of closing the whole place down," says Browne. "It's like doing a home renovation project while you entertain." Among the treasures to be temporarily relocated are the biplane flown by the Wright Brothers at Kitty Hawk and Lindbergh's Spirit of St. Louis.
Browne previously served as airport manager at Dulles International for 12 years and before that as operations director and manager at Washington, D.C.'s Reagan National Airport for 18 years. "I've left the place where planes all move and people are irate to a place where the planes don't move and the people are happy," says Browne, who also manages the Steven F. Udvar-Hazy Center, the Smithsonian's other air and space museum near Dulles. 
Browne began his high-flying days at Dartmouth in the now defunct Flying Club, earning his pilot's license in a Cessna the College owned. "Flying around Hanover in the fall was a wonderful way to learn to fly," says Browne, who majored in history and Native American studies. After graduation, he wanted to be "a bush pilot in the Arctic or carrier pilot, since they were the craziest, most extreme options I could think of." He flew F-14 Tomcats for seven years off the aircraft carrier USS Dwight D. Eisenhower. 
 "The story of aviation is the story of defying the odds," Browne says. "When you look at the Apollo command module and the Wright Flyer, there were only 66 years between the two. It's a remarkable story, and it's an American story."