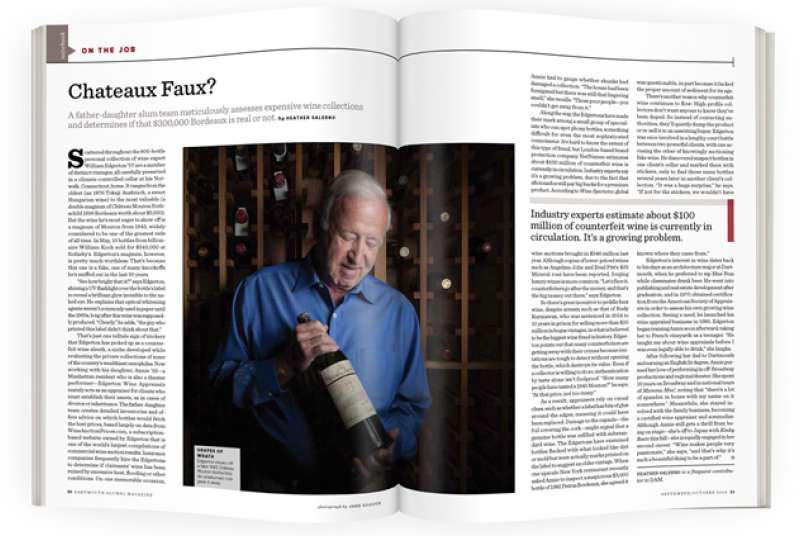 Chateaux Faux?
A father-daughter alum team meticulously assesses expensive wine collections and determines if that $300,000 Bordeaux is real or not.
Scattered throughout the 800-bottle personal collection of wine expert William Edgerton '57 are a number of distinct vintages, all carefully preserved in a climate-controlled cellar at his Norwalk, Connecticut, home. It ranges from the oldest (an 1876 Tokaji Ausbruch, a sweet Hungarian wine) to the most valuable (a double magnum of Château Mouton Rothschild 1996 Bordeaux worth about $3,000). But the wine he's most eager to show off is a magnum of Mouton from 1945, widely considered to be one of the greatest reds of all time. In May, 10 bottles from billionaire William Koch sold for $343,000 at Sotheby's. Edgerton's magnum, however, is pretty much worthless. That's because this one is a fake, one of many knockoffs he's sniffed out in the last 30 years. 
"See how bright that is?" says Edgerton, shining a UV flashlight over the bottle's label to reveal a brilliant glow invisible to the naked eye. He explains that optical whitening agents weren't commonly used in paper until the 1960s, long after this wine was supposedly produced. "Clearly," he adds, "the guy who printed this label didn't think about that." 
That's just one telltale sign of trickery that Edgerton has picked up as a counterfeit wine sleuth, a niche developed while evaluating the private collections of some of the country's wealthiest oenophiles. Now working with his daughter, Annie '93—a Manhattan resident who is also a theater performer—Edgerton Wine Appraisals mainly acts as an appraiser for clients who must establish their assets, as in cases of divorce or inheritance. The father-daughter team creates detailed inventories and offers advice on which bottles would fetch the best prices, based largely on data from WineAuctionPrices.com, a subscription-based website owned by Edgerton that is one of the world's largest compilations of commercial wine auction results. Insurance companies frequently hire the Edgertons to determine if claimants' wine has been ruined by excessive heat, flooding or other conditions. On one memorable occasion, Annie had to gauge whether skunks had damaged a collection. "The house had been fumigated but there was still that lingering smell," she recalls. "Those poor people—you couldn't get away from it." 
Along the way, the Edgertons have made their mark among a small group of specialists who can spot phony bottles, something difficult for even the most sophisticated connoisseur. It's hard to know the extent of this type of fraud, but London-based brand protection company NetNames estimates about $100 million of counterfeit wine is currently in circulation. Industry experts say it's a growing problem, due to the fact that aficionados will pay big bucks for a premium product. According to Wine Spectator, global wine auctions brought in $346 million last year. Although copies of lower-priced wines such as Angelina Jolie and Brad Pitt's $25 Miraval rosé have been reported, forging luxury wines is more common. "Let's face it, counterfeiters go after the money, and that's the big money out there," says Edgerton. 
So there's great incentive to peddle faux wine, despite arrests such as that of Rudy Kurniawan, who was sentenced in 2014 to 10 years in prison for selling more than $20 million in bogus vintages, in what is believed to be the biggest wine fraud in history. Edgerton points out that many counterfeiters are getting away with their crimes because imitations are tough to detect without opening the bottle, which destroys its value. Even if a collector is willing to do so, authentication by taste alone isn't foolproof. "How many people have tasted a 1945 Mouton?" he says. "At that price, not too many." 
As a result, appraisers rely on visual clues, such as whether a label has bits of glue around the edges, meaning it could have been replaced. Damage to the capsule—the foil covering the cork—might signal that a genuine bottle was refilled with substandard wine. The Edgertons have examined bottles flecked with what looked like dirt or mold but were actually marks printed on the label to suggest an older vintage. When one upscale New York restaurant recently asked Annie to inspect a suspicious $3,000 bottle of 1982 Petrus Bordeaux, she agreed it was questionable, in part because it lacked the proper amount of sediment for its age. 
There's another reason why counterfeit wine continues to flow: High-profile collectors don't want anyone to know they've been duped. So instead of contacting authorities, they'll quietly dump the product or re-sell it to an unwitting buyer. Edgerton was once involved in a lengthy court battle between two powerful clients, with one accusing the other of knowingly auctioning fake wine. He discovered suspect bottles in one client's cellar and marked them with stickers, only to find those same bottles several years later in another client's collection. "It was a huge surprise," he says. "If not for the stickers, we wouldn't have known where they came from." 
Edgerton's interest in wine dates back to his days as an architecture major at Dartmouth, when he preferred to sip Blue Nun while classmates drank beer. He went into publishing and real estate development after graduation, and in 1970 obtained certification from the American Society of Appraisers in order to assess his own growing wine collection. Seeing a need, he launched his wine appraisal business in 1985. Edgerton began training Annie soon afterward, taking her to French vineyards as a teenager. "He taught me about wine appraisals before I was even legally able to drink," she laughs. 
After following her dad to Dartmouth and earning an English lit degree, Annie pursued her love of performing in off-Broadway productions and regional theater. She spent 10 years on Broadway and in national tours of Mamma Mia!, noting that "there's a lot of spandex in boxes with my name on it somewhere." Meanwhile, she stayed involved with the family business, becoming a certified wine appraiser and sommelier. Although Annie still gets a thrill from being on stage—she's off to Japan with Kinky Boots this fall—she is equally engaged in her second career. "Wine makes people very passionate," she says, "and that's why it's such a beautiful thing to be a part of."            
Heather Salerno is a frequent contributor to DAM.