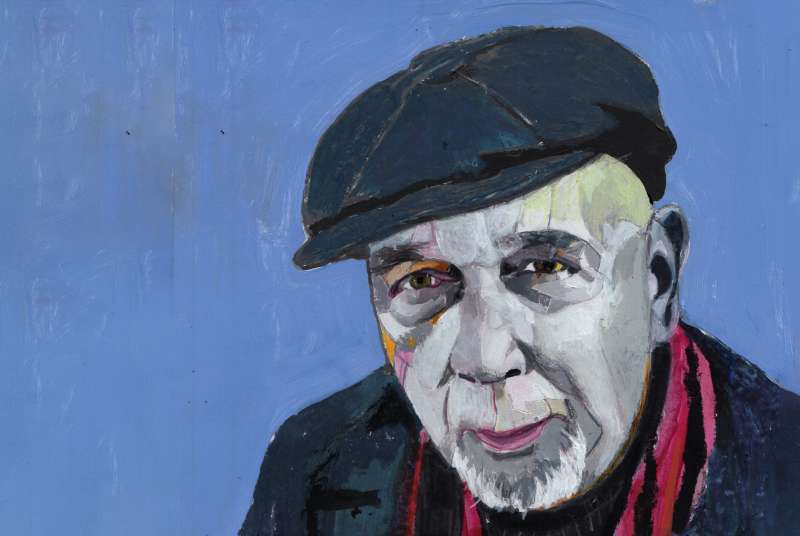 Illustration by Andrea Ventura
American Odyssey
After a drug deal gone bad, Peter Kaldheim '71 fled for his life and embarked on a cross-country epic of homelessness, hitchhiking, and empty pockets. The long road eventually led to redemption—and his harrowing new memoir, Idiot Wind.
Early one evening in January 1987, Peter Kaldheim walked out of the Raccoon Lodge in Tribeca in New York City and straight into a blizzard. For years he had been working as a downtown drug dealer, and the dive bar had functioned as his office. But it was time to say goodbye. Kaldheim had spent the previous weekend partying his own supply away, which meant he was deep in debt to "Bobby Bats," a Mafia-connected drug dealer. He had once watched Bobby Bats splinter someone's shinbone for talking trash during a pickup basketball game. To avoid a similar fate, Kaldheim trudged through the snow, rode the subway to Port Authority, and, with only $5 in his pocket, caught the last bus out of Manhattan. 
He wouldn't return to New York City for another 15 years. 
Though fleeing Bobby Bats was necessary, Kaldheim was running from more than the threat of a broken leg. Once a promising young editor at a prominent publishing house, he had been shattered by addiction, the end of his first marriage, and the death of his second wife. By leaving New York City, Kaldheim had hoped to shed the yoke of unfulfilled potential he'd dragged around Manhattan for the better part of a decade. 
The only baggage Kaldheim carried on the bus was a plastic bag filled with a loaf of Wonder bread, a jar of Welch's grape jelly, a pack of Bic razors, and a travel-size tube of Colgate toothpaste. He had no bank account and no destination, except an inclination to head toward San Francisco. 
Kaldheim was at the end of his rope. He knew the only way to save himself would be to emerge on the Jersey side of the Lincoln Tunnel a different person. As Jay McInerney's young, nameless protagonist says at the end of his 1984 novel Bright Lights, Big City, "You will have to go slowly. You will have to learn everything all over again." 
The only plan Kaldheim had was to take notes along the way. "All I knew at the time was that I wanted to gather material," he says. "I figured I would keep road journals, and they could be very useful to me at some point." 
His intuition was correct, if extraordinarily farsighted. This summer, 32 years after his bus pulled out, Canongate will publish Idiot Wind, Kaldheim's memoir based on those notes he took during the four-month odyssey that followed his seemingly split-second decision to leave Gotham. In the book he rides buses, hitchhikes, and, like a hobo, hops trains across the country, interlacing portraits of the kind people he meets—drifters, diner waitresses, and good Samaritans—with his internal voyage to catharsis and redemption. 
"In my heart, I knew there was no point in running for my life if all I was running toward was more of the same," Kaldheim writes. "Somewhere down the road I'd have to find the courage to take the hard look that was necessary. But I'd been dodging the truth so long I wondered if I still had it in me to face it. And that scared me more than Bobby Bats." 
If any of this sounds vaguely familiar, it is probably because Kaldheim is a devotee of Jack Kerouac. Kaldheim has read On the Road at least a dozen times since he was a high school sophomore. References to On the Road are scattered through Idiot Wind, and Kaldheim often turns to the book to orient himself, like an explorer reading the stars. "As the bus pushed south through New Jersey I soothed my mind with the consoling fiction that the uncertain road ahead would provide me with the Kerouacian adventures I'd been longing to experience," he writes. But On the Road is more than a map to Kaldheim's destination, it is also a talisman that reminds him of who he was when he first read the book as a curious 16-year-old with all the potential in the world.
For Kaldheim, there was an upside to poverty on the road. "If you've got no money, you can't do cocaine," he explains.
Kaldheim enjoyed his time at Dartmouth, where he majored in English. When he was a student, he sat with Robert Lowell and W.H. Auden in the living room of Richard Eberhart, class of 1926, the College's poet-in-residence. Kaldheim still recalls the fresh apple cider and warm homemade donuts Eberhart's wife served. Because of a falling out with his parents, Kaldheim paid for college with financial aid, summer jobs, and loans, as well as three jobs he worked during the school year, including one as a cook in the kitchen that served the dining halls.
After Commencement, Kaldheim took a job as a copy editor at Harcourt Brace Jovanovich publishers. Three "charmed years" later, he'd worked his way up as an editor in the textbook division of D. Van Nostrand Co. Kaldheim had married his high school sweetheart a few months after graduation, and when the young couple upgraded apartments, he converted their spare bedroom into a writer's den, where he vowed to put in time at the typewriter in pursuit of his lifelong dream of becoming a novelist. 
The couple lived in Bay Ridge, Brooklyn, where one afternoon on a basketball court Kaldheim met Gerry Howard, a rising senior at Cornell. Kaldheim got Howard's attention by asking him if he'd ever read Thomas Pynchon, a fellow Cornellian. "That got us on the subject of Pynchon's novel V., and our friendship took off," says Howard, now an executive editor and vice president at Doubleday. "I'm pretty sure nobody has talked about Thomas Pynchon in that park since the early 1970s," he adds.
They became fast friends, two blue-collar boys from Bay Ridge—Howard's father was a cop and Kaldheim's a factory worker—who had gone on to Ivy League schools. Only a year apart in age, they played ball or met up at the Lion's Head in Greenwich Village, where they might bump into newspaper columnist Pete Hamill, novelist Frederick Exley, or any number of writers they admired. Kaldheim and Howard spent hours talking about  the postmodernist writer Donald Barthelme and Joan Didion. According to Howard, Kaldheim's appetite for contemporary literature was unrivaled. 
"Peter was one of the best readers I have ever run into," says Howard. "He is astonishingly well-read." Howard, who has had a legendary career editing William S. Burroughs, David Foster Wallace, and Hanya Yanagihara, to name a few, credits Kaldheim with introducing him in the mid-70s to the hot new writer Don DeLillo. (Howard would go on to edit DeLillo's 1988 novel Libra.) "Everybody knew Peter was going to be somebody," he says. 
Yet Kaldheim's passion and discipline for reading didn't translate to his writing. He published a few short stories and freelance pieces, including a feature for the drug culture magazine High Times about phosphenes, the spots of light you see when you close your eyes. But he could only bring himself to write a few chapters of a novel. Instead, Kaldheim began acquiring habits he imagined a New York City novelist should have. After work he surrounded himself with friends, alcohol, and drugs. Laugh, drink, snort. Repeat. Such a lifestyle might have worked for Hunter S. Thompson and Norman Mailer, but it did not work for Kaldheim. Nightlife became a kind of substitute for the writing he had promised himself he would do.
"It was a way to occupy my mind," Kaldheim says. "If I wasn't putting the work out there, I at least wanted people to laugh at my jokes and think of me as someone creative."
Kaldheim's lifestyle wasn't all that different from that of Bright Lights, Big City's narrator. As with that character, somewhere along the way something changed. Drugs and alcohol took their toll on Kaldheim's job and his marriage. He and his wife parted in 1976, and he resigned from his job after blowing a big deadline. He worked as a freelance editor for a while, but eventually Kaldheim gave up. Instead, he delivered packages, installed drywall, painted houses, drove a truck, and worked as a prep cook.
In 1978 he married again. His new wife, Kate, was slightly more tolerant of his vices than was his ex. She tried her best to keep his excesses in check. But five years into the marriage, Kaldheim was back to his old ways. She kicked him out. Things got considerably worse when, in the midst of a reconciliation, Kate died in 1984 of a brain aneurysm, asleep in bed next to Kaldheim. 
Before long, Kaldheim was selling cocaine fulltime. He was good at it. He worked the same downtown drinking dens he'd frequented for years. Tall and gregarious, "Pete the Hat," as he was known, was recognizable because of his distinctive headware, whether it was an Irish newsboy cap or a felt fedora à la Tom Wolfe. Kaldheim's recognizability may have been his downfall—one night he slipped into the bathroom at the Raccoon Lounge and sold a half-gram of coke to an undercover informant. Kaldheim spent the next (continued on page 94)
four months at Rikers Island Correctional Facility. When he got out, he was homeless and slept in Battery Park or in rooftop mechanical rooms that hummed with heating and cooling equipment. 
In a desperate attempt to find honest work in 1986, months before he hit rock bottom and headed west, Kaldheim hitchhiked to Hanover and spent the night in a laundromat. The next morning he went to look for dining hall work. No job was available. He hitchhiked home. 
Around the same time, he showed up at Howard's office and asked to borrow $100. The young editor obliged with five $20 bills, not knowing at the time that his friend would soon disappear from his life.
Once Kaldheim crossed under the Hudson, his life changed radically. Novels often present journeys as experiences in which the traveler has no choice but to focus so sharply on the path ahead that a meditative clarity inevitably emerges. It's a convenient narrative form storytellers have used for time immemorial (tip of the hat to Homer), and, apparently, it can be as useful to someone struggling with addiction. Kaldheim says he has not snorted cocaine since he left New York City (save for one wild night of partying with Dennis Quaid). For Kaldheim, there was an upside to poverty on the road. "If you've got no money, you can't do cocaine," he explains. 
Kaldheim had only enough cash to buy a ticket as far as Richmond, Virginia. After that, he needed to get creative—and social—to make it to the Pacific. He hitched rides with a manic-depressive teenager in a black Camaro, a chipper merchant mariner, and a vintage car buff headed west to open his own dealership. Idiot Wind (the title is a reference to a Bob Dylan song) can almost be read as a catalog of American men in the late 1980s. Kaldheim manages to bring complex characters to life in a few pages, thanks to his ear for dialogue and eye for detail.
Beyond the characters, Kaldheim's warm spirit is what makes Idiot Wind enjoyable. He inhabits a world where a tarp passes as a duvet and hot coffee is a luxury. Given his past, no one would have faulted him if he had written a dark rumination. Yet Kaldheim's book is optimistic. Public assistance programs, meals at homeless shelters, and a pair of boots from the Army-Navy store all leave him "dazed with gratitude."
Kaldheim's charitable disposition serves him well when he spends time in homeless shelters in New Orleans and Portland, Oregon. (Spoiler alert: He never makes it to San Francisco.) In Portland, he faces his biggest challenge—learning how to be poor, homeless, sober, and sedentary. If Kaldheim's life in New York City is like Bright Lights, his life in Portland is closer to George Orwell's Down and Out in Paris and London. Without friends, income, or an address, he becomes a survivalist but remains upbeat. He befriends another homeless man at a shelter, applies for public assistance programs (drawing an "X" on a city map to officially register the address of the makeshift campsite where he sleeps on a flattened cardboard box). He sells his blood for money at the local "stab lab." Like an inmate who has spent four months tunneling away from prison, Kaldheim begins digging upward. 
Soon Kaldheim has enough money to check into a flophouse a block from the legendary Powell's Books. There, he unpacks his road journal and dashes off a letter to his old friend in New York City.
"The letters I got from him were so vivid," Howard remembers. "Not just the experience, but the way he wrote about it. It made me think he had this book in him."
After Portland, Kaldheim hopped a train to Yellowstone National Park, where he got a job as a cook in a hotel at the park. He spent a few years living in Las Vegas, where he began corresponding regularly with Howard. (Kaldheim even attached five $20 bills to one letter to pay his long-overdue debt.) Eventually, he moved to Montana, where he settled into a 12-year career as a chef at Montana State University. 
Kaldheim has lived on Long Island since 2012 and began working on his book soon after. He had returned to Manhattan only a handful of times since leaving in 1987. When he came in 2016 to meet his agent at The Odeon, the legendary restaurant that's also the narrator's favorite spot in Bright Lights, Big City, Kaldheim showed up early to check out the Raccoon Lodge around the corner. He was disappointed to find the bar's windows soaped and a sign thanking patrons for 33 years of memories.
In March Kaldheim appeared for lunch at the Cupping Room Cafe in Soho, not far from the string of Tribeca bars that formed his territory in the 1980s, wearing a tweed coat, a scarf, and, of course, a newsboy cap. 
Now 70, he is at work on a novel set in southwestern Montana. He wants to take advantage of his momentum, he says. He compares himself to a veteran golfer on the PGA Tour who wins his first major and hits a hot streak. "I had a dream for a long, long time," Kaldheim says between bites of his grilled cheese. "When you've been at it that long, you never think you'll cross it off your bucket list." 
When asked why it took him so long to write Idiot Wind, Kaldheim doesn't offer a romantic, writerly response about self-doubt. He says life got in the way. He was busy with a 25-year career in the hospitality industry. He got married (again) and divorced. After retiring from Montana State he moved back East to care for his two ailing brothers, who were both eventually diagnosed with cancer. They died in 2015, four days apart. 
Writing simply was not Kaldheim's priority. A few months after his brothers' funerals, Howard gently asked him, "So, Peter, what's happening with your memoir?" When Kaldheim's publisher accepted his manuscript, Howard paid for a celebratory lunch with the same five $20 bills Kaldheim had sent him more than a decade earlier. 
The feat of publishing his first book at his age is not lost on Kaldheim. But by the time he was finished writing, the author says he didn't care if the book was published or not—he was happy to have seen it through. "Writing this book, I actually felt like a writer again for the first time since I was in my 20s," he says, still a bit surprised at where the road has taken him.
Kaldheim isn't the only one whose perception has changed. Howard no longer sees a friend spiritually exiled from the person he was meant to be. "There, in Idiot Wind, is the Peter Kaldheim everybody knew was there," Howard says. 
This past spring Kaldheim made a pilgrimage to Kerouac's grave in Lowell, Massachusetts, for the first time and said a prayer for the book he credits with saving his life. Kaldheim says he re-read On the Road last December. "It reminded me what can happen if you've got a big soul, you know?" he says and pauses a beat. "That you'll eventually find what you're looking for. I did."             
James D. Walsh is a reporter at New York magazine and author of Playing Against the House: The Dramatic Story of an Undercover Union Organizer (2016).
EXCERPT: Welcome to The Flophouse
Kaldheim finds shelter from the storm in Portland, Oregon.
Room 222 was just off the stairwell, and when I opened the door to take my first look at it there were no surprises. It was basically a clone of every other flophouse room I'd rented in recent years. Standing in the doorway, I took it all in at a glance. The sagging bed with two lumpy pillows and a threadbare bedspread. The tiny hand sink tucked into a corner, its porcelain bowl crazed with a spidery web of tiny cracks. The unframed mirror above the sink, splotched with dark patches where the silvering had flaked off over time. The indestructible, steel-framed straight-back chair, de rigueur not just in flophouses but in discriminating parole offices and psych ward rec rooms throughout the land. Then, of course, there was the room's lone window, which looked out over (you guessed it) the concrete walls of a blind airshaft—at the bottom of which lay a multicoloured glass mosaic composed of broken wine and beer bottles, an organic art installation that changed nightly as the dead soldiers came whistling down past my window and shattered on top of their fallen brothers. And, finally, the obligatory four-drawer dresser, with two missing drawer-pulls and a cherry wood top whose edges were deckled black with cigarette burns. 
All of which, I should add, sat atop a layer of crusty industrial carpet—in this case, in a mottled brown, though mottled by what I didn't care to speculate. For $22 a week, that's what you get. But I wasn't disappointed in the least. The only furnishings in the room that mattered to me were the solid wood door and the sturdy Yale lock that secured it. Everything else, no matter how seedy, was a bonus. Including the thick red brick that was sitting on the windowsill—an amenity I'd never encountered in any of my previous flops. 
At first, I couldn't figure out what purpose the brick might serve. But when I lifted up the lower half of the window to let in some fresh air, the damned thing came crashing back down like a guillotine blade the instant I took my hand away—and suddenly the brick's purpose was no longer a mystery. And the brick proved to be more versatile than I'd imagined. Depending whether you stood it upright, or laid it down flat, or placed it on its side, you could prop the window open at three different heights, letting you adjust how much cold air flowed into the room. Which was handy, since the room was hotter than a Brooklyn tenement in August and there was no way to adjust the flow of steam clanking through the old cast-iron radiator beside the dresser. I know, because I tried. Only to discover that someone had removed the handle from the radiator's regulator valve. 
Shaking my head in disbelief, I thought, Yep, Bob, you weren't joking. The vandals had taken the handles. And, apparently, the window sash weights too.
Excerpted from the book, Idiot Wind, by Peter Kaldheim. Copyright © 2019 by Peter Kaldheim. Reprinted with permission of Canongate. All rights reserved.
Read another excerpt from Idiot Wind here