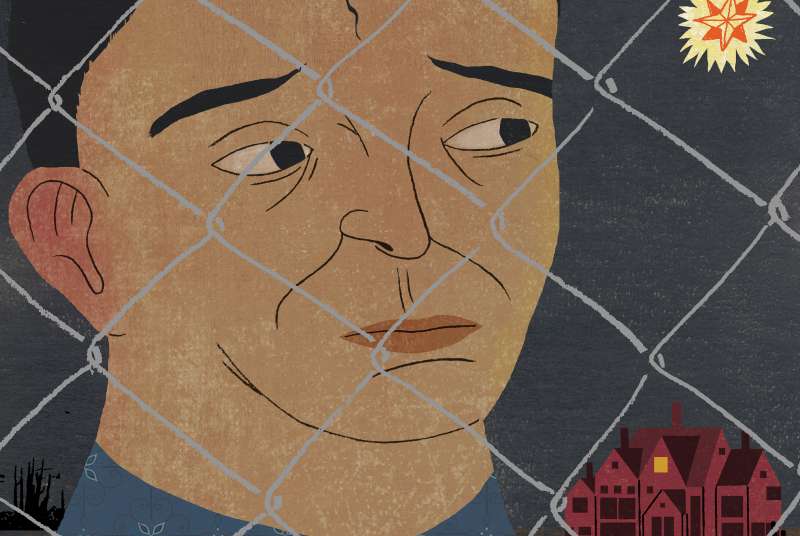 Illustration by Ken Orvidas
American Dreamer
An undocumented undergrad from Mexico shares his story—and his fears.
In 2000, at the age of 5, I crossed the U.S.-Mexico border at the San Ysidro, California, entry station with my brother and a woman who told patrol officers we were her children. My mother entered the country separately with the help of a coyote, a human smuggler. My father was already in the United States, earning money as a farmworker to support us once we arrived. In California we stayed in my great-uncle's trailer home near the Ventura mountainside orchards and ranches. There the pungent smell of California tomatoes and the sight of green mountains forged my first memories of my life in the United States even as the fragrant Day-of-the-Dead cempazúchitl flowers were a constant reminder of my natal home. 
My family eventually settled in the Midwest, where my father as the sole breadwinner worked as a cook to give us a life we could not have had in Mexico. Economic anxiety drove my family here—not a desire to undermine the United States. 
Indeed, the immigration debate too often fails to consider how individual lives are affected by a country's political actions—as an example, the impact of neoliberalist policies such as NAFTA on my family's ability to find stable jobs in Mexico. With no secure employment and low-wage work, my working-class Mexican family faced poverty, prompting our migration. 
As an undocumented student, I see my life as a transnational linkage between Mexico and the United States in the pursuit of justice and belonging. My meaning of home and belonging was eventually nourished by educational and social institutions in a mobile home community in the suburbs of Chicago. Though I resided in an ethnic enclave of Mexicans, I attended predominantly upper-middle-class white schools. There I learned that many considered my skin too dark, that my little trailer-home community was unlike my peers' neighborhoods and that my immigrant status impacted our integration. To survive in that context, I became the bilingual cultural interpreter and bridge between my Spanish-speaking parents and our larger U.S. environment: I had to translate with the doctor, the school principal, the banker or any English-speaking person. 
I created a home in Illinois but, because I am a Mexican immigrant, I see myself living between two homes, navigating within the constraints of my legal status, worrying about being deported. 
In 2012 President Obama—amid aggressive deportation policies—issued an executive order that provided two-year renewable work authorization and deportation deferral to certain undocumented immigrants who did not pose a threat to "national security." His Deferred Action for Childhood Arrivals (DACA) program normalized my life by lifting the threat of deportation and allowing me to work for the first time, but in reality my status can be rescinded with the stroke of a presidential pen. 
I cannot stay quiet as Trump's policies threaten to tear more and more families apart.
I was attracted to Dartmouth as one of the few institutions of higher learning to consider the applications of undocumented students as domestic applicants and provide full financial aid. Once on campus in 2013, I struggled to find support among administrators regarding legal matters, mental health and other transitional issues. However, there were pockets of inclusive learning environments, such as the First-Year Student Enrichment Program. There I met a mentor who helped me navigate Dartmouth. Together, Eduardo Najera '14 and I cofounded the Dartmouth Coalition for Immigration Reform, Equality & DREAMers (CoFIRED) to address this void of support and to advance the rights of undocumented students on campus and beyond. On January 20, 2014, the Council on Student Organizations recognized CoFIRED as an official Dartmouth student organization. The changes that have transpired since—from the admissions and financial aid website that now explicitly explains Dartmouth's policies, to a support network of staff for undocumented students, to a living-and-learning context that recognizes the presence of undocumented students—are the result of student organizing and the advocacy of supportive faculty and staff. 
The now approximately 30 to 40 undocumented students at Dartmouth represent the resiliency of immigrant families, the transformative work of undocumented activists and allies on campus and the evolving landscape of accessibility to higher education for undocumented students. In this emerging Trump era there is an even greater impetus to organize for undocumented immigrants at Dartmouth and beyond. When Trump was elected, I experienced a type of fear that incapacitated me, that I tasted in my mouth. I didn't know what to do. That fear has grown as Trump's deportation orders have affected some with DACA status and deportation plans are constantly in the news. Those of us privileged to be at prestigious universities are compelled to resist. In this contemporary era of nativism, I urge the Dartmouth community to organize for immigrant rights and to protect immigrant families. 
First, we must listen to the experiences of undocumented immigrants, as they are experts on being undocumented. Second, we must critically evaluate immigration law, its architects and how it produces the conditions of illegality. Third, we must utilize the power, influence, money and reach of Dartmouth for change, not only for students, but for communities at large. Finally, we must support local and national organizations that have been mobilizing around varied and heterogeneous immigrant issues.
For me, as an undocumented student, action is required in order to maintain the feeling of belonging. As an initial step, I write this piece because I see written immigrant narratives as a form of activism. I write because I cannot stay quiet as Trump's policies threaten to tear more and more families apart. Our struggle is intimately tied to other movements, such as "Black Lives Matter," environmental justice, and opposition to the Dakota Access Pipeline at Standing Rock. Our fight is intersectional and our resistance is vital.                  
Oscar R. Cornejo is a double major in sociology and Native American studies. He plans to attend graduate school in the fall.