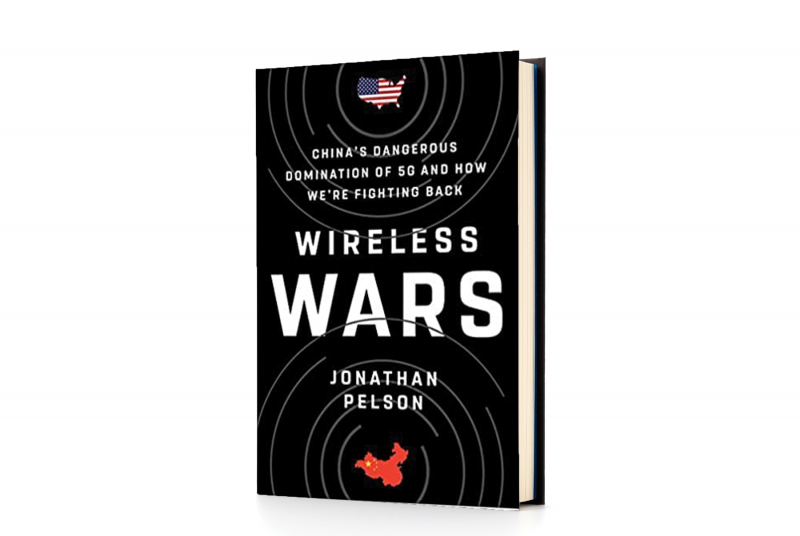 Alumni Books
New titles from Dartmouth writers (September/October 2021)
JONATHAN PELSON '86
Wireless Wars: China's Dangerous Domination of 5G and How We're Fighting Back
Benbella Books
Merely typing the word "Huawei" in a search engine may be enough to trigger attention from Chinese spies. That's according to the eye-opening Wireless Wars, a behind-the-scenes, pull-no-punches account of how the Chinese telecom company used surveillance and other questionable tactics to go from wireless no-name to $120 billion juggernaut in a few years' time. 
Indeed, as Pelson was wrapping up his book—whose 100-plus interviews include former Huawei executives—he received a mysterious message offering him a high-paying job at a state-owned Chinese business, even though China was not even mentioned in his online resume. "It didn't make sense," he writes, though he recognizes the offer as a classic Huawei move: Silencing critics by buying them off. 
Huawei has engaged in ruthless, and possibly illegal, tactics in the pursuit of growth, Pelson charges, such as hiding microphones in the walls of the headquarters of the African Union to eavesdrop on ambassadors and installing cell phone equipment near military bases in parts of rural America for similar purposes. Pelson, a former tech executive who worked for companies such as Lucent, leaves no doubt where he stands. "Yes. This is war," he writes. He also breaks narrative custom and uses bullet points to argue a case for ways to limit Huawei's dominance over fifth-generation wireless networks—the fast, expansive standard known as 5G. 
Quotes that kick off each chapter, from figures such as Mao Zedong, Mike Pompeo, and Napoleon Bonaparte ("Never interrupt your enemy when he is making a mistake"), drive home the battle-royal framing.
Still, a reader might wish to hear more from Huawei executives in their defense. Pelson says he went with the company's prior official responses because "that's all they would have given me" and that some Huawei sources asked not to be quoted for fear of reprisals.
Perhaps Wireless' greatest contribution is the details showing just how much things have changed in a country that was, until recent times, mostly agricultural. Into the 1980s, writes Pelson, who traveled to China on sales trips, most citizens aspired to own only sanshengyixiang, or "three rounds and a sound"—a watch, a bicycle, a sewing machine, and a radio. All may not be lost yet. The Communist land of five-year plans is "vulnerable to the agility of free countries and marketplaces," Pelson writes, in a try at an optimistic conclusion, "and China may find it has been caught in its own trap."  —C.J. Hughes '92
Editor's Picks:
EMILY KATZ ANHALT '80
Embattled: How Ancient Greek Myths Empower Us to Resist Tyranny
Redwood Press/Stanford University Press
The author, a professor of classics at Sarah Lawrence College, turns to the ancient works of Homer, Aeschylus, and Sophocles as a lens through which to consider contemporary concerns about extremist ideologies, abuse of power, prejudice, and injustice. Anhalt explores insights we can glean from Greek myths about leadership, reality, and deception—and their consequences.
KEITH BOYKIN '87
Race Against Time: The Politics of a Darkening America
Bold Type Books
As a new multiracial majority emerges in the United States, along with a surge in white resentment, the author shows how Americans' failure to address some of the grievous realities of racism could leave us completely unprepared for the future. Boykin, a CNN commentator, infuses his review of five presidential administrations with his personal experiences as a Black man and a hope that history need not be destiny. (Read an excerpt of the book here.)
KATHERINE A. SHERBROOKE '89
Leaving Coy's Hill 
Pegasus Books
Based on the life of pioneering suffragist and abolitionist Lucy Stone, the first Massachusetts woman to earn a college degree, this moving novel portrays a former farm girl's courageous crusade for equality amid daunting societal constraints. It also delves into her complex family life and search for personal fulfillment. 
MEREDITH W. RUSSO MATHIAS '08
The Shimmering State
Atria/Simon & Schuster
Writing as Meredith Westgate, the author follows two vivid characters—a photographer and a ballerina—who mysteriously land as patients in a treatment center for abuse of an experimental memory drug with no recollection of how they wound up there. At times dreamlike, at times disturbing, this riveting tale explores how memories can be tricky traps or help people redefine themselves.
Additional books that were not included in our print edition:
Widely acknowledged as a leading expert on the interaction of the brain's neural circuits, Stephen Grossberg '61 explores how humans learn to see, hear, feel, and know things in Conscious Mind, Resonant Brain: How Each Brain Makes a Mind, an accessible, richly illustrated investigation into the human brain's inner workings (Oxford University Press).
In his debut novel, A German Family, award-winning author and screenwriter Nevin Schreiner '64 follows a mother and her two teenage children in Berlin on the eve of World War II as they struggle to stay safe and sane amid the chaos of war (Bowker).
In Marcus Aurelius Updated: 21st Century Meditations on Living Life, Kelvin H. Chin '73, a meditation teacher and founder of TurningWithin.org, looks to the goals the Roman emperor set forth in his 2nd-century book Meditations for inspiration and guidance on practical ways for people today to increase their enjoyment of life (Aurealian Press).
Wilmington, Delaware-based attorney and historian Gil Hahn '75 offers a concise and informative account of complex naval operations and the blockade imposed by the U.S. Navy on the Confederacy in Campaign for the Confederate Coast: Blockading, Blockade Running and Related Endeavors during the American Civil War (West 88th Street Press).
In Larger Than Life: President Lyndon Johnson and the Right to Vote, an accessible yet informative biography aimed at readers in grades 5 to 8, Anne Quirk '77 traces the story of his presidency from the accomplishments of his Great Society programs to his catastrophic decisions regarding the Vietnam War to his monumental Voting Rights Act (Norton).
In To March or to Marry, Ellen Carter '77, writing as Violet Snow, details the lives of two young women in the early 1900s whose friendship suffers when one struggles with marriage and motherhood and the other leaves her abusive husband and seeks independence with the women's suffrage movement (Epigraph Books).
A criminal defense lawyer and aspiring screenwriter inadvertently gets wrapped up in a money-laundering scheme with the head of a very old and powerful Mexican drug cartel in Phantom Money, a page-turning thriller by Irvine, California-based lawyer and novelist Sean Alexander O'Keefe '80 (Greenleaf Book Group Press).
In his latest book, Emerging Powers and the World Trading System: The Past and Future of International Economic Law, Gregory Shaffer '80, a professor at the University of California, Irvine, explores the complexities of world trade and how emerging powers such as China, India, and Brazil have become defenders of international economic law (Cambridge University Press).
In One Life to Live: Martyrdom and the Making of the American Revolution, John Fanestil '83 examines Nathan Hale's immortal spirit of self-sacrifice, tracing the roots of the willingness of young men to fight and die for a sacred cause to American colonial traditions and the Protestant Reformation (Fortress Press).
Michael Keller '87, Tu'91, highlights the relationship between a boy and a beloved pet in his heartwarming children's book The Legend of Jet the Gerbil, which follows a father and son's thrilling rescue of Jet, who accidentally gets sucked into a vacuum tube (Wise Ink Creative Publishing).
Andrew Weber '93, who spent nearly 20 years studying the archaeology of the Four Corners region of the United States, provides a comprehensive guidebook, Exploring Utah's Bears Ears and Cedar Mesa, which breaks down the best destinations for hikes, backpack trips, scenic drives, and landmarks, and focuses on the region as a cultural landscape, home to many Indigenous groups (Falcon Guides).
Maine-based herbalist Seán Pádraig O'Donoghue '96 (formerly Sean Donahue) taps into spiritual, emotional, cultural, and ecological healing through a vital connection with the natural world in The Forest Reminds Us Who We Are: Connecting to the Living Medicine of Wild Plants (North Atlantic Books).
In Vocal Virtuosity: The Origins of the Coloratura Soprano in Nineteenth-Century Opera, Sean Parr '99, a tenor, voice teacher, and associate music professor at Saint Anselm College, delves into the technical aspects of this form of vocal fireworks, with its characteristic runs, trills, and leaps, and shows how it became a source of power and creativity for female singers (Oxford University Press).
In Valedictorians at the Gate: Standing Out, Getting In, and Staying Sane While Applying to College, former international admissions director Becky Munsterer Sabky, Adv '05, encourages high school students to take the college admissions process into their own hands and offers guidance on what it takes to stand out (Henry Holt & Co.).
In her debut novel City of a Thousand Gates, Rebecca Sacks '08 explores love, loss, grief, and unyielding violence in the turbulent Israel-Palestine conflict through the intertwining perspectives of a diverse ensemble of characters—each representing a gate to a unique soul—from an Israeli soldier to a Jewish social media influencer to an Arabic literature professor (HarperCollins).
Set during a global drought that is blamed on immigrants and narrated by a girl whose younger sister vanishes without a trace, Pluto Cove by Arran Forbes '09 is an engrossing, debut novel with a bit of magical realism about a biracial family from Anchorage that goes into hiding in an isolated cabin in the Alaska wilderness (self-published).