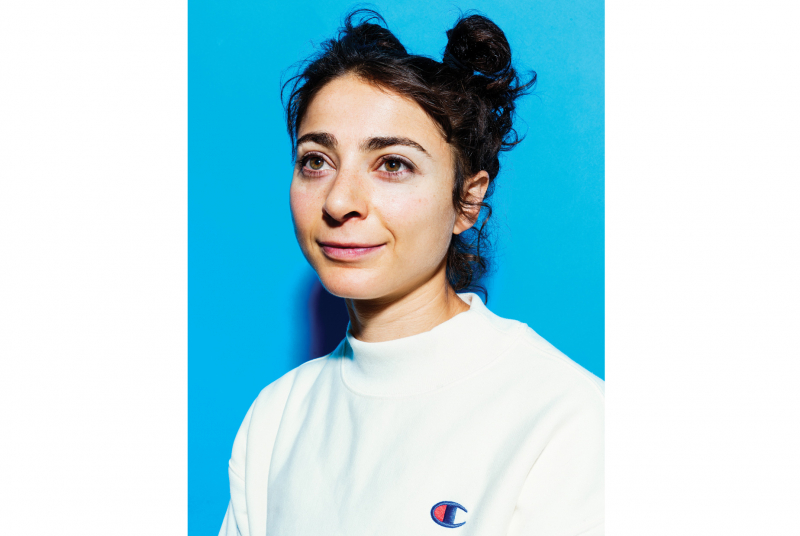 Bravey Heart
With her memoir of heartbreak and hilarity, Olympian and movie-maker Alexi Pappas '12 stays on track
When Alexi Pappas was 4 years old she caught her mother attempting to remove her arm with a handsaw. Alexi remembers the blood, the exposed bone, her mother's expressionless face in the bathroom mirror as little Alexi stood in the doorway watching, scared and confused. Not long afterward, her mother, Roberta, took her own life. It was 1995, a time when people didn't talk much about mental illness or painkiller addiction or the pressures of being a working mom in the hyper-competitive Bay Area. Alexi would have to put the pieces together herself. 
Her mother's suicide at 43 taught Alexi a lot about pain. It also taught her a lot about not giving up. 
Pappas, who has dual U.S.-Greek citizenship, is a three-time All American. In 2016 she set the Greek national record for 10,000 meters at the Olympic Games in Rio de Janeiro with a time of 31:36. Before Covid-19 turned 2020 upside down, she was training for the Olympic marathon in Tokyo, having set a personal best of 2:34 in the Houston Marathon last January. Yet she didn't start college intending to be a professional athlete. "I was an improv, theater kid," Pappas says of her life off the track at Dartmouth, where she majored in English and creative writing. She wanted to be a poet.
Pappas was accepted to several top-tier M.F.A. programs, but she chose instead to do a fifth year at the University of Oregon, whose legendary track and cross-country program has produced some of the best professional distance runners of the past 50 years. Still, she never gave up on her creative aspirations. By the time she was 26 Pappas had not only become an Olympian but also had published her poetry in national magazines and, with her longtime creative and romantic partner, Jeremy Teicher '10, cowritten and codirected her first feature film. In the 2016 semi-autobiographical coming-of-age story titled Tracktown, Pappas plays the lead role of a professional but lonely distance runner named Plumb Marigold. 
Despite her early success, Pappas almost didn't make it to 27.
"No one plans for the moment after they achieve their Olympic dream."
Following the Olympics, Pappas fell into an acute depression. "No one plans for the moment after they achieve their Olympic dream," she says. For many athletes, it's like falling off a ledge. For Pappas, it was more like falling off a cliff. She stopped sleeping but kept up a punishing regimen of 120 miles a week, resulting in a torn hamstring and crippling anxiety. She lost her sponsorship, and with it, her and Teicher's primary source of income. She began to exhibit suicidal behavior that her father, John, remembered all too well. 
But Alexi was not her mother. Alexi faced her depression head-on. She got help.
Now 30, Pappas wants to give back. In January Random House will release her first book, Bravey: Chasing Dreams, Befriending Pain, and Other Big Ideas. Composed as a collection of essays, Bravey fleshes out the persona—by turns whimsical and poignant—that Pappas has developed through her films, social media presence, and articles for outlets such as The New York Times and The Atlantic.
The woman who emerges from its pages is at once fearless and vulnerable, direct and compassionate, extraordinary and familiar. In a word, human—so much so that she may surprise even her most devoted fans, mostly teenage girls and young women who see in Pappas a different kind of role model.
Some see her as a quirky goofball who wears her piles of hair in a bun, has a thing for fanny packs, and writes short poems about anything from wildflowers and hugs to goldfish and the color blue. To others, her whimsy belies a profound depth of character and thought. Pappas describes her social media presence as "the very end of the thought process that began with the first page of the book." She may appear playful, but her playfulness is hard-earned. Bravey provides the "backbone" to her life story thus far, warts and all. "It was sort of bad and challenging and hard, but it's important," she says.
Despite how personal the book is, Pappas' focus is squarely on her readers, and she hopes to reach far beyond her fan base. "I feel that this book is also for parents, for dads, for women and men in my generation," she says. "I am trying to be empowering rather than just inspirational. Because I think inspirational implies some kind of distance between you and the person you're inspiring—as if they'll never get there. Empowerment is giving somebody the tools so they can become their greatest realized self."
Pappas still plans her own life year by year, but increasingly with an eye toward her "North Star moves," as she puts it. Now sponsored by Champion, she continues to train at an elite level. She moved to Los Angeles with Teicher, whom she married in 2018, to pursue her film ambitions. Last January the couple released a second feature, Olympic Dreams, a bittersweet romantic comedy starring Pappas and Nick Kroll. They're currently developing other projects. 
"I think I'll always be a runner. That will always play a role in my life," Pappas says. But her long-term goals center increasingly on writing and acting. She's careful not to be too rigid, though. The process is what matters most. "I think I will outgrow my expectations only if I don't put labels on myself," she says. "Yet or ever."  
David Alm is a Brooklyn-based writer and professor of journalism at Hunter College of the City University of New York.
Photograph by Drew Reynolds