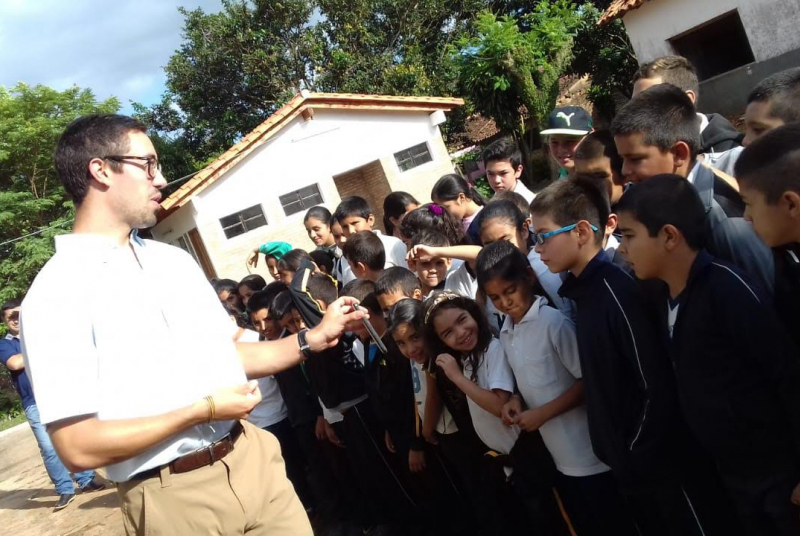 Joshua Perez '17 in Paraguay
Mission, Interrupted
Alums in the Peace Corps had no choice but to evacuate as the coronavirus spread.
It was sweltering that night in the small city of Maria Antonia, Paraguay. Joshua Perez '17 was having a hard time sleeping and woke up around 1 a.m. from the heat.
"My fan wasn't working, and I rolled over and saw some messages on my phone," Perez tells DAM.
The messages shook him awake. Due to Covid-19, the Peace Corps on March 15 announced it would temporarily suspend volunteer operations and begin evacuations. "It's kind of like a flight-or-fight response," says Perez. "Immediately I just started packing my bags. In the haste of the moment my books were most important to me." After packing for a few hours, he caught a little more sleep and woke again early in the morning to tell his host parents the news.
Perez, who was a community health volunteer teaching Zumba classes to older senoras and giving talks to school-aged children about nutrition and fitness, went abruptly from a life that was "tranquilo," he says, to an American mentality of "things have to be done right now."
He had about 12 hours to say his goodbyes. His host family wanted to give him a traditional sendoff meal, so they had chicken with tallarin, which is like spaghetti. "I helped slaughter the chicken, and they were like, 'Look how far you've come, you're helping to prepare the meal as well.' "
Perez spoke to DAM from his parents' home in Silver Spring, Maryland, where he was in the middle of a 14-day self-quarantine, as requested of all Peace Corps volunteers returning home. He was one of approximately 7,000 volunteers who were evacuated safely from 60 countries, according to the Peace Corps press office. "The Peace Corps will be ready to return to normal operations as soon as conditions permit," said a representative. "Evacuated volunteers may apply for another 27-month term of service with expedited processing. We are incredibly proud of the resiliency of our volunteers and the hard work of our staff around the world during this global health crisis."
On the other side of the globe, Isabella St. Onge '19 in Ukraine received the same news as Perez. She found out a day or so earlier because the Peace Corps decided to evacuate Ukraine after the country announced it would soon cease all passenger air travel.
"There's a lot of emotions," says St. Onge from her parents' home in New Jersey. "We had just kind of begun to hit our stride and start these bigger projects, and it's just such a shame to be pulled out when you finally understand the people around you and the projects."
Unlike Perez, who was approaching the end of his service, St. Onge, a double major in government and economics, had just begun hers in August 2019. Working as a community economic development volunteer, she was tasked with helping internally displaced people, Ukrainians who had to leave their homes in Crimea or elsewhere because of the country's conflict with Russia.
The chartered flight home was an emotional whirlwind, says St. Onge, who counts herself lucky because she was able to say goodbye to friends and colleagues. Not everyone had time. "We were still shell-shocked," she says. "We were flying and a lot of us were joking that we didn't know if there would be alcohol. We ran out halfway through the plane ride. I woke up from a nap and thought, 'Whoa, I didn't realize this had turned into a party bus.' "
She said she's hopeful Ukraine will reopen. Depending on when that happens, St. Onge says she is considering going back. "It's just a big waiting game at this point."
Chuck Hobbie '67 volunteered in South Korea soon after graduation and then worked for the Peace Corps off and on for another 17 years before retiring in 2018 as an associate general counsel for litigation.
He recalls evacuations from multiple countries, such as when Ebola broke out in 2014, but nothing like the current pandemic. "Never has there been a total shutdown of the Peace Corps like this," he says. "In fact, in many countries, when the countries were engaged in war, civil wars and other wars, volunteers have stayed in place because they are so carefully protected by their own communities. Nobody can protect them from this."
Dartmouth has a storied history with the Peace Corps, which once used the Rassias method of language instruction, familiar to legions of Dartmouth students, to train volunteers. Since the Peace Corps' founding in 1961, 657 alumni have served abroad as volunteers. Fifteen were serving when the pandemic hit.
Joshua Warzecha '17, an Arabic studies and linguistics major, was on vacation with his family in the northern part of Morocco when he got the evacuation message and had to race back to his post in Tata, a province in the southwestern part of the country. He arrived in country in September 2018 and was due to come home this fall. He worked in the youth development sector, spending much of his time teaching English to teens and young adults.
He is in the Bay Area at his parents' home, under self-quarantine and texting with his former students. They are sad and angry, telling him Tata is too hot for the coronavirus to survive in. "A lot of 'We miss you,' a lot of 'Why did you have to leave?' " he says. "We've agreed the anger is more frustration."
Not all Peace Corps volunteers have a ready place to land back home, according to Sarah Heyborne '16, who finished her Peace Corps service in the Dominican Republic last year.
"People are returning to the United States with no home, no car, no credit, and no money, which is difficult," says Heyborne, who majored in biology and economics and now works in data analytics for the One Earth Future Foundation.
The Peace Corps as well as the nonprofit National Peace Corps Association are working hard to help support returning volunteers, she says, and Heyborne is one of several former volunteers raising money on Facebook to fill in the gaps.
Perez, who had been preparing to leave Paraguay April 28, was a step ahead of those earlier in their service term because he was already lining up a job with the Food and Drug Administration, which he is hoping will work out.
Still, it's quite an adjustment.
"You miss the people, you miss the routines that you develop. In Paraguay you spend a lot of time sitting and talking with people," he says.
And nothing compares to the fresh fruit, he adds. Perez already misses mangoes and fresh-squeezed grapefruit juice.
"When mandarin orange trees bloom, the entire tree turns orange," says Perez, an environmental earth sciences major. "You learn to see the world in terms of the fruit seasons."
He says the Peace Corps did the right thing bringing volunteers home, given the circumstances. Of course, that doesn't mean it's easy. "You continue to process it in waves," says Perez. "It's tough when you make big changes in life and the change isn't up to you."                      
Lisa Kocian is a Boston-based writer and former staff reporter for The Boston Globe.