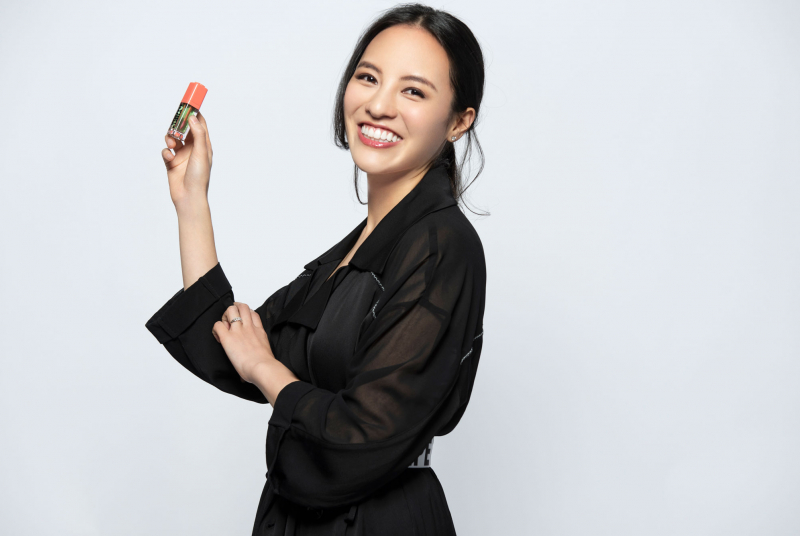 Fresh Faced
How Fiona Co Chan '13 built a viral beauty brand
Before founding a makeup brand famous on TikTok (with more than 2 million likes), Fiona Co Chan rarely wore much traditional makeup. "My skin can't handle it," she says over Zoom from her home in San Francisco. After graduation, the econ major went to work in business development for a software startup, which required travel to data centers in some of China's most polluted cities. She says the travel and pollution, combined with her tendency to fall asleep in her makeup when she did wear it, aggravated her skin. These issues inspired her to found Youthforia, a makeup brand that uses plant-based ingredients and functions like skincare that she started selling in 2021. Her company now sells three products—blush, lip gloss, and primer. She spoke with DAM about her business, TikTok marketing, and her brand's winking references to Dartmouth.
Tell me about the process of launching Youthforia.
As a consumer, I always wondered why most makeup is bad for your skin and why we accept that. I wanted to make a skincare-makeup hybrid that you wouldn't have to worry about sleeping in. I started hiring employees a few months before we launched. We have four employees and a few freelancers, but I'm working on expanding the team as we enter a new growth phase. Our sales are progressing faster than forecast. The company is self-funded. We became profitable about nine months in, so we funded this past year with our profits. 
Your color-changing blush went viral on TikTok. Was using the platform always a big part of your strategy?
The plan was always to be on TikTok. I knew that our blush gives such a different look that videos comparing it to other blushes would help it stand on its own. It looks great on camera. What I like about the TikTok format is that you have to be very to-the-point. It also has great reach. We get a lot of international interest. Within our first year, our TikTok reached 40 or 50 million views. We'd see sales spike every time there was a viral video. Our TikTok outperforms many established makeup brands' accounts by tens of thousands of times, in terms of views. Our philosophy of how we make products and talk about them really resonates with customers. It's hard to fake. You can't just buy ads and get impressions—the content has to be engaging and people have to care.
What inspired the name Youthforia? 
My husband came up with the word. It refers to this emotion when you're really happy in your adult life and you're reminded of your favorite childhood memories. I think makeup traditionally has been something you use to cover things up, whereas when you're really young and you want to wear makeup for the first time, it's all about having fun and trying new things. I really wanted to bring that feeling into the brand.
Who is the typical Youthforia customer?
We have two profiles based on customer's actions and purchasing. We have the person who typically loves makeup and will just try anything new, and we have a set of customers who have typically only bought skincare products, not makeup. They're in their late 20s, early 30s, and are now trying makeup for the first time. A lot of these customers have no makeup at all except for our products. [We found this out] just by observing who's interacting with the brand and buying our products. In the early days we got so many emails, DMs, and comments from customers telling us either "I love makeup and I buy everything" or "I never buy makeup and you're the only brand I can wear."
How has your time at Dartmouth influenced your path?
Youthforia is what I wish I had in college. I developed the habit of sleeping in my makeup in College. Either I was studying very late for finals or going out. I even have a lip gloss shade called Play With Fire that's very bonfire-influenced, and another shade called 3AM inspired by nights out, when someone says "throw on the 3 a.m. playlist." It's a nostalgic thing for me.
What beauty trends are keeping an eye on?
There are a lot of makeup looks coming out of China that I'm starting to see, such as a focus on the under eye, whereas North America has always been more focused above the eyelid. We're seeing a lot of bright colors instead of a monochromatic, professional look. The Y2K trend in hair and makeup—bright colors and even glitter, which my inner 12-year-old is here for—is making a huge comeback.