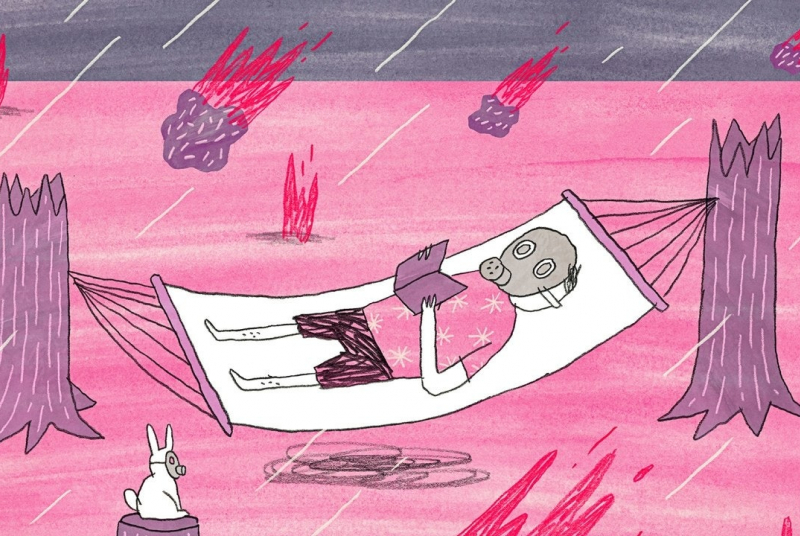 Illustration by Brian Rea
The Future Is Now
Dystopia-lit: doomsday stories for the self-isolated.
Biology professor Eric Schaller knows his science. He also knows his science fiction. Schaller's 2016 short story collection, Meet Me in the Middle of the Air (Undertow Publications), earned critical acclaim as "bold, original" and "weird dark fiction."
Before the 2020 coronavirus pandemic hit, DAM asked the prof to recommend some of his favorite sci-fi titles—and now this. Here's a list of some Schaller favorites.
2312 (2012), by Kim Stanley Robinson. "He is one of the best sci-fi writers when it comes to the range of sciences at his literary command, handling molecular, ecological, astronomical, and political concepts with equal vigor. All of this is underpinned by a searching inquiry into what makes for a good life and a good society."
A Song for a New Day (2019), by Sarah Pinsker. "The author, a musician and writer, follows the music scene in a near-future setting defined by social distancing, the result of terrorist activity and a flu-like pandemic that swept the world."
Stand on Zanzibar (1968) and The Sheep Look Up (1972), by John Brunner. "These stories deal with over-population and the deterioration of the environment. Written a half-century ago, they are still remarkably relevant."
Borne (2017), by Jeff VanderMeer. "A young woman protagonist salvages in the toxic waste of a city, a world in which almost everything has been remodeled through biotechnology, the results being both magical and horrific."
Riddley Walker (1980), by Russell Hoban. "Set in a far-future England, this tale is told in a devolved form of English that is still understandable and has its own raw, poetic beauty."
Where Late the Sweet Birds Sang (1976), by Kate Wilhelm. "A story that follows several generations of a family attempting to use scientific methods, including cloning, to preserve an enclave of civilization following a nuclear war."