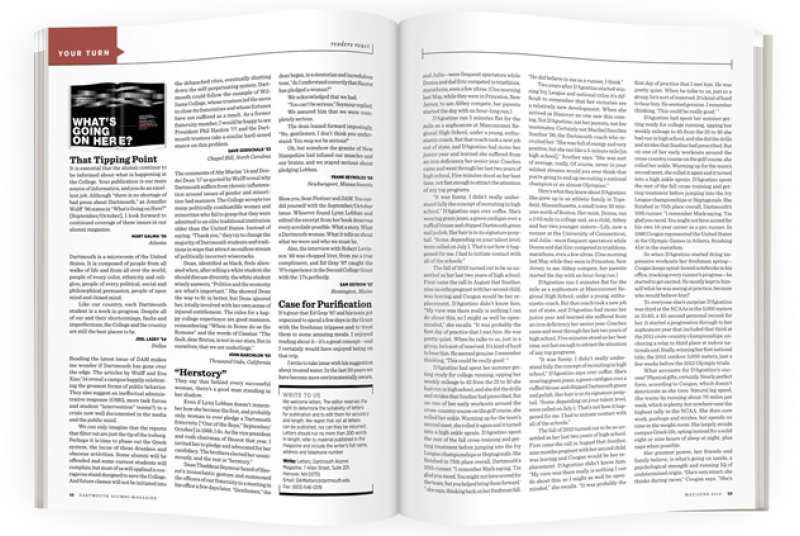 Your Turn
Readers write, react and respond. (November-December 2014)
That Tipping Point
It is essential that the alumni continue to be informed about what is happening at the College. Your publication is our main source of information, and you do an excellent job. Although "there is no shortage of bad press about Dartmouth," as Jennifer Wulff  '96 states in "What's Going on Here?" [September/October], I look forward to continued coverage of these issues in our alumni magazine. 
Mort Galina '56
Atlanta
Dartmouth is a microcosm of the United States. It is composed of people from all walks of life and from all over the world, people of every color, ethnicity and religion, people of every political, social and philosophical persuasion, people of open mind and closed mind.
Like our country, each Dartmouth student is a work in progress. Despite all of our and their shortcomings, faults and imperfections, the College and the country are still the best places to be.
Joel Lasky '54
Dallas
Reading the latest issue of DAM makes me wonder if Dartmouth has gone over the edge. The articles by Wulff and Eva Xiao '14 reveal a campus happily celebrating the grossest forms of public behavior. They also suggest an ineffectual administrative response (OMG, more task forces and student "intervention" teams?) to a crisis now well documented in the media and the public mind.
We can only imagine that the reports that filter out are just the tip of the iceberg. Perhaps it is time to phase out the Greek system, the locus of these drunken and obscene activities. Some alumni will be offended and some current students will complain, but most of us will applaud a courageous stand designed to save the College. And future classes will not be initiated into the debauched rites, eventually shutting down the self-perpetuating system. Dartmouth could follow the example of Williams College, whose trustees led the move to close its fraternities and whose fortunes have not suffered as a result. As a former fraternity member, I would be happy to see President Phil Hanlon '77 and the Dartmouth trustees take a similar hard-nosed stance on this problem.
Dave Godschalk '53
Chapel Hill, North Carolina
The comments of Aby Macias '14 and Dondei Dean '17 as quoted by Wulff reveal why Dartmouth suffers from chronic inflammation around issues of gender and minorities: bad manners. The College accepts too many politically combustible women and minorities who fail to grasp that they were admitted to an elite traditional institution older than the United States. Instead of saying, "Thank you," they try to change the majority of Dartmouth students and traditions in ways that attract an endless stream of politically incorrect wisecracks. 
Dean, identified as black, feels alienated when, after telling a white student she should discuss diversity, the white student wisely answers, "Politics and the economy are what's important." She showed Dean the way to fit in better, but Dean ignored her, totally involved with her own sense of injured entitlement. The rules for a happy college experience are good manners, remembering "When in Rome do as the Romans" and the words of Cassius: "The fault, dear Brutus, is not in our stars, But in ourselves, that we are underlings."
John Barchilon '60
Thousand Oaks, California
"Herstory"
They say that behind every successful woman, there's a good man standing in her shadow.
Even if Lynn Lobban doesn't remember how she became the first, and probably only, woman to ever pledge a Dartmouth fraternity ["One of the Boys," September/October] in 1968, I do. As the vice president and rush chairman of Heorot that year, I invited her to pledge and advocated for her candidacy. The brothers elected her unanimously, and the rest is "herstory."
Dean Thaddeus Seymour heard of Heorot's iconoclastic gesture and summoned the officers of our fraternity to a meeting in his office a few days later. "Gentlemen," the dean began, in a stentorian and incredulous tone, "do I understand correctly that Heorot has pledged a woman?"
We acknowledged that we had.
"You can't be serious," Seymour replied.
We assured him that we were completely serious.
The dean leaned forward imposingly, "No, gentlemen, I don't think you understand: You may not be serious!"
Oh, but somehow the granite of New Hampshire had infused our muscles and our brains, and we stayed serious about pledging Lobban.
Frank Reynolds '69
Newburyport, Massachusetts
Bless you, Sean Plottner and DAM. You outdid yourself with the September/October issue. Whoever found Lynn Lobban and edited the excerpt from her book deserves every accolade possible. What a story. What a Dartmouth woman. What it tells us about what we were and who we must be.
Also, the interview with Robert Levinson '46 was chopped liver, from me a true compliment, and Ed Gray '67 caught the '67s experience in the Second College Grant with the '17s perfectly.
Sam Ostrow '67
Stonington, Maine
Case for Purification
It's great that Ed Gray '67 and his team got organized to spend a few days in the Grant with the freshman trippees and to treat them to some amazing meals. I enjoyed reading about it—it's a great concept—and I certainly would have enjoyed being on that trip.
I write to take issue with his suggestion about treated water. In the last 50 years we have become more environmentally aware, and treated water has a much more benign impact on the environment than bottled water. This is an important lesson for these freshmen to learn. Iodine tablets don't add any weight to your backpack and make running out of water less likely.
Twenty-five years ago I spent a very enjoyable visiting semester at a university in India and drank iodine-treated water throughout without feeling deprived. Of course, I also drank some beer too.
Paul R. Meyer '51
Montpelier, Vermont
In Defense of AA
I have never been as offended by something Dartmouth has put forth as by DAM's back page interview with Dr. Lance Dodes '66.
Alcoholics Anonymous has saved many, many lives and allowed millions of people to live better ones. It is apparent from his cursory discussion of addiction and its cures that Dodes has never been in the throes himself.
Rebecca S. Sullivan '97
Black Diamond, Washington
I am a grateful member of the Al-Anon community, where friends and families of problem drinkers find understanding and support in a community of others affected by the same disease. My older brother's alcoholic disease led me to Al-Anon, which also helped me to reach out to other Dartmouth alums who were recovering addicts, and all credited AA as an important component in their ongoing recovery. 
I was disheartened to read your interview "debunking" AA, and by extension Al-Anon and Alateen. Like Dr. Dodes, my brother never could get behind AA, citing numerous excuses and sucking my parents dry of thousands of dollars to pay for his medical treatments and detox, which never worked. As a Berkeley graduate with a law school degree, he often intellectually debunked AA too. Unfortunately, addiction doesn't discriminate based on GPA or IQ and, sadly, my brother took his own life last year.
AA and its affiliated programs make addiction and its effect on friends and families more manageable and tolerable, while giving us hope. Members learn that "there is no situation too difficult that it can't be bettered, and no unhappiness too great that it can't be lessened." Meetings close with the statement, "The opinions expressed here were strictly those of the person who gave them. Take what you like and leave the rest."
What is the point of attacking a program that helps so many? Why can't such a program be suggested routinely? If psychiatry was the sole answer, we wouldn't have so many addicts in this world, many of whom attended dear old Dartmouth. 
Clearly, this issue is way too complex a problem to be flippantly discussed in a one-pager, and I was disappointed that DAM chose to do so.
Liz Babb Fanlo '86
San Francisco
I read with interest Dodes' thought-provoking comments on Alcoholics Anonymous. My own experience with AA is that while it is not a panacea for treating alcoholism it is still the most effective program in existence. The group therapy and fellowship aspects of the program are important, but the essence of AA is its spiritual, as opposed to religious, tenets. This is clearly annunciated in the third step of the twelve-step program, which reads that "we made a decision to turn our will and our lives over to the care of God as we understood Him." 
The newcomer to the AA program must persist until he or she is able to let a god of their understanding come into their lives. Efforts to "get" the AA program are richly rewarded. 
David Heine '59
Orlando, Florida
Dodes, with all his pedigrees, will have his opinions, but on many of them he is dead wrong. To wit: To say that Alcoholics Anonymous does not work is pure bull****. To say that "group support is what makes AA successful at all" shows a gross lack of understanding as to how this recovery program actually does work.
No matter what Dodes says, alcohol addiction is a disease and is so defined by the American Medical Association, going back decades. Surely he knows that.
Dana Kelly Jr. '64
Los Angeles
A Fan's Notes
The photo of freshman students cheering on page 61 of the September/October issue ["Class Notes" cover] was taken in either fall of 1952 or 1953 at the Holy Cross game. I believe it appeared in The Dartmouth. 
Ted Weldon '54
Winnetka, Illinois