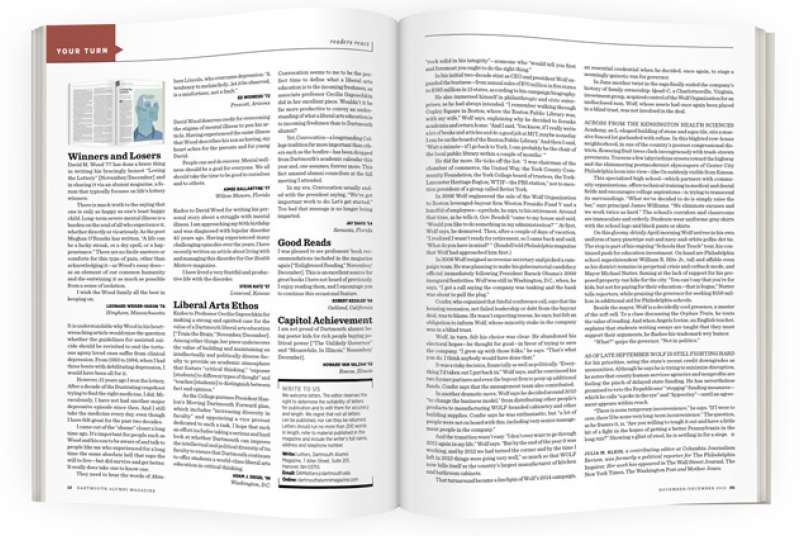 Your Turn
Readers write, react and respond. (January-February 2016)
Winners and Losers
David M. Wood '77 has done a brave thing in writing his bracingly honest "Losing the Lottery" [November/December] and in sharing it via an alumni magazine, a forum that typically focuses on life's lottery winners. 
There is much truth to the saying that one is only as happy as one's least happy child. Long-term severe mental illness is a burden on the soul of all who experience it, whether directly or vicariously. As the poet Meghan O'Rourke has written, "A life can be a lucky streak, or a dry spell, or a happenstance." There are no facile answers or comforts for this type of pain, other than acknowledging it—as Wood's essay does—as an element of our common humanity and dis-entwining it as much as possible from a sense of isolation. 
I wish the Wood family all the best in keeping on.
Leonard Weiser-Varon '78
Hingham, Massachusetts
It is understandable why Wood in his heart-wrenching article would raise the question whether the guidelines for assisted suicide should be revisited to end the tortuous agony loved ones suffer from clinical depression. From 1983 to 1994, when I had three bouts with debilitating depression, I would have been all for it.
However, 21 years ago I won the lottery. After a decade of the frustrating crapshoot trying to find the right medicine, I did. Miraculously, I have not had another major depressive episode since then. And I still take the medicine every day, even though I have felt great for the past two decades.
I came out of the "shame" closet a long time ago. It's important for people such as Wood and his son to be aware of and talk to people like me who experienced for a long time the same absolute hell that saps the will to live—but did survive and get better. It really does take one to know one.
They need to hear the words of Abraham Lincoln, who overcame depression: "A tendency to melancholy…let it be observed, is a misfortune, not a fault."
Ed Wisneski '72
Prescott, Arizona
David Wood deserves credit for overcoming the stigma of mental illness to pen his article. Having experienced the same illness that Wood describes his son as having, my heart aches for the parents and for young David. 
People can and do recover. Mental wellness should be a goal for everyone. We all should take the time to be good to ourselves and to others.
Aimee Ballantyne '77
Wilton Manors, Florida
Kudos to David Wood for writing his personal story about a struggle with mental illness. I am approaching my 80th birthday and was diagnosed with bipolar disorder 45 years ago. Having experienced many challenging episodes over the years, I have recently written an article about living with and managing this disorder for Our Health Matters magazine.
I have lived a very fruitful and productive life with the disorder.
Steve Katz '57
Leawood, Kansas
Liberal Arts Ethos
Kudos to Professor Cecilia Gaposchkin for making a strong and spirited case for the value of a Dartmouth liberal arts education ["Train the Brain," November/December]. Among other things, her piece underscores the value of building and maintaining an intellectually and politically diverse faculty to provide an academic atmosphere that fosters "critical thinking," "exposes [students] to different types of thought" and "teaches [students] to distinguish between fact and opinion."
As the College pursues President Hanlon's Moving Dartmouth Forward plan, which includes "increasing diversity in faculty" and appointing a vice provost dedicated to such a task, I hope that such an effort includes taking a serious and hard look at whether Dartmouth can improve the intellectual and political diversity of its faculty to ensure that Dartmouth continues to offer students a world-class liberal arts education in critical thinking.
Adam J. Siegel '98
Washington, D.C.
Convocation seems to me to be the perfect time to define what a liberal arts education is to the incoming freshmen, as associate professor Cecilia Gaposchkin did in her excellent piece. Wouldn't it be far more productive to convey an understanding of what a liberal arts education is to incoming freshmen than to Dartmouth alumni? 
Yet, Convocation—a longstanding College tradition far more important than others such as the bonfire—has been dropped from Dartmouth's academic calendar this year and, one assumes, forever more. This fact amazed alumni councilors at the fall meeting I attended. 
In my era, Convocation usually ended with the president saying, "We've got important work to do: Let's get started." Too bad that message is no longer being imparted.
Jay Davis '54
Sarasota, Florida
Good Reads
I was pleased to see professors' book recommendations included in the magazine again ["Enlightened Reading," November/December]. This is an excellent source for great books I have not heard of previously. I enjoy reading them, and I encourage you to continue this occasional feature.
Robert Kessler '66
Oakland, California
Capitol Achievement
I am not proud of Dartmouth alumni being poster kids for rich people buying political power ["The Unlikely Governor" and "Meanwhile, In Illinois," November/December].
Howard Van Valzah '52
Roscoe, Illinois
Bringing the Heat
I enjoyed the interview with Jim Kenney '69 ["Continuing Education," November/December] and agree with most of his observations, most notably that ISIS is not about religion, but power, and that "the troubles" in Ireland had more to do with the conflict between the English with the power (mostly Protestant) and the Irish without power (mostly Roman Catholic). However, the conflict within Islam between the Shiites and the Sunnis is well beyond my understanding.
Kenney revealed his fundamental bias in his observation that "to be on the extreme right on almost any question requires an almost athletic ignorance." I suspect that that athletic ignorance is also true of those on the extreme left. 
I also take issue with his observation that "people who believe ISIS is a bigger threat than climate change don't have a clue," and respectfully suggest that ISIS and other forms of religious or political extremism can be defeated in the short or long run. However, climate change is a millennial trend—the current trend having started some 10,000 years ago. We should do everything within reason to clean up and preserve the planet's air and water and to minimize all forms of pollution. But it is the height of human conceit to believe that anything we do will alter the fact, or the pace, of climate change. 
Joe McHugh '60, Tu'61
Dallas
Alumni not paying much attention to global warming might want to take a look at Kenney's last words: "People who think ISIS is a bigger threat than climate change don't have a clue." The earth as of late October has seen record heat for the seventh month and, if temperatures continue to rise much higher, according to New Zealand scientists, melting of the Antarctic ice sheet could result in unstoppable sea level rise for hundreds of years or longer. And then there's species extinction, spread of disease and the prospect of food and water shortages and mass migrations out of devastated warmer countries to places where people have a better chance to survive, etc.
The problem is absolutely real and the evidence everywhere. The real puzzle is why people who will be here much longer than I am are not massing out in the streets protesting loudly, blocking traffic and demanding serious action by all countries putting so much carbon dioxide into the air surrounding us, beginning with our own. 
Anthony Newey '56
Walnut Creek, California
Jim Kenney's comments illustrate the decline of Christianity for America's upper classes and its replacement by environmentalism. It is becoming our state religion even though the Constitution forbids this. Its credo is that all forms of life are revered except human. It has as much potential to degrade our freedom as National Socialism and the Communist Party did in the 20th century. It should be feared.
If property is being despoiled, it is due to lack of clear title. Economists argue that establishing clearly defined property rights protects the environment much better than massive state intervention. 
Man's most complicated institution is private property, which is also a means of keeping the state at bay. The lack of the rule of law, not climate change, is hurting Africa.
Charles R. Courtney '69
Riverside, Illinois 
Did you deliberately run Cecilia Gaposchkin's piece and Jim Kenney's ruminations "on the intersection of religion and culture" in the same issue? 
Kenney says, "To be on the extreme right on almost any question requires an almost athletic ignorance" and "People who think ISIS is a bigger threat than climate change don't have a clue"—all of which makes me wonder whether what Kenney got at Dartmouth was a liberal education as described by Gaposchkin or a liberal indoctrination?
Stu Mahlin '63
Cincinnati
Mountain of Money
Very exciting news that the Moosilauke Ravine Lodge will be rebuilt ["Campus," September/October], but I was astonished to read elsewhere that the cost will be $17 million. Can someone please explain to alumni how the project can cost so much—especially since we are being asked to pay for it?
Alexander Muromcew '85
Jackson, Wyoming
EDITOR'S NOTE: In the November/December issue of DAM we incorrectly identified the network affiliation of Andrew Perloff '93 in our "Pursuits" section. He works for NBC. We regret the error.