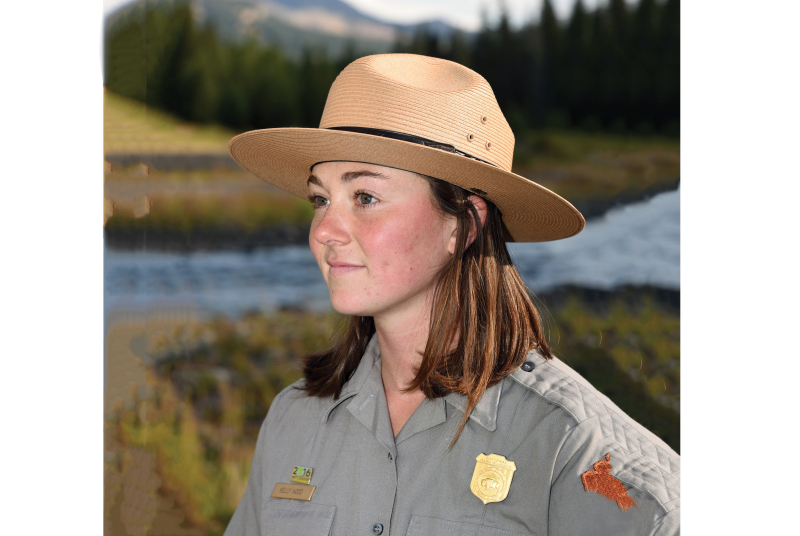 Wild Life
Park ranger Kelly Wood '14 fulfills her dream.
"It makes me sad when people have no concept of wild animals," says Wood, an educational park ranger at Black Canyon of the Gunnison National Park in Colorado. "People get too close to bison and elk. The crowds sometimes make it feel more like an amusement park." Many park areas are overrun by too many visitors who damage trails and don't respect camping areas. Wood tries to teach people the error of their ways. 
Wood's job mirrors what she studied at Dartmouth—she majored in earth science and minored in education, even getting a classroom teaching certificate. The 27-year-old spends her days lecturing about geology, wildlife, and conservation at nearby elementary schools or at the park, in the great outdoors. "Sometimes you see kids shine outside who don't in the classroom," she notes.
A Hanover native, Wood has long enjoyed the outdoors. She first became intrigued with the idea of becoming a park ranger when she visited Grand Canyon National Park with her family and listened to a lecture by a ranger who spent extra time talking with the kids. "She showed us scorpions," says Wood, who remembers thinking "it was the coolest thing in the world." Returning to the Grand Canyon during a Dartmouth off-campus program called "the Stretch," which she describes as "a road trip version of a geology field camp," solidified her desire to pursue a ranger career. 
Her first full-time job in the field was as a recreation ranger for the Youth Conservation Corps at Yellowstone National Park in 2015. This allowed Wood to work for six-month stretches at several parks, including the Everglades, Glacier, and Grand Canyon. "I've taught students how geysers work, led swamp walks, and shared the plight of tidewater glaciers," she says. "I like where I am now because it reminds me of New Hampshire. I love being in the mountains, trail running and skiing."