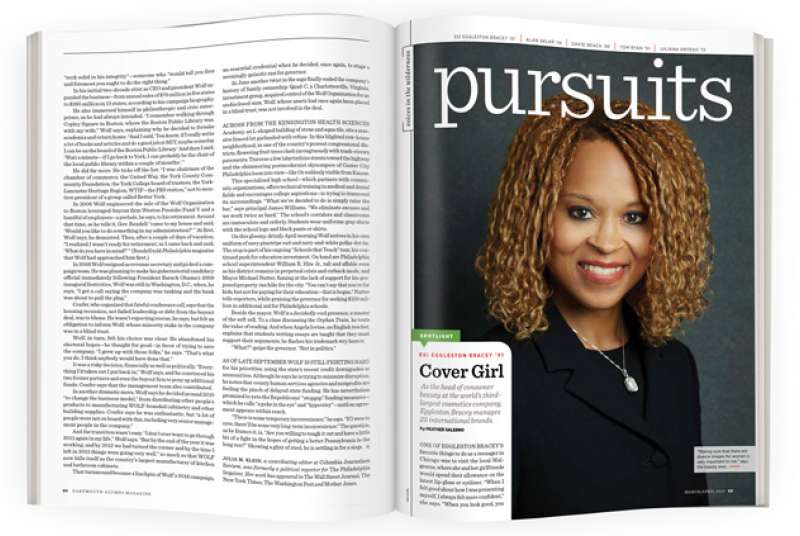 Voices in the Wilderness
Esi Eggleston Bracey '91 • Alan Sklar '56 • David Beach '86 • Tom Ryan '91 • Juliana Ortego '13
Esi Eggleston Bracey '91
Cover Girl
As the head of consumer beauty at the world's third-largest cosmetics company, Eggleston Bracey manages 25 international brands.
One of Eggleston Bracey's favorite things to do as a teenager in Chicago was to visit the local Walgreens, where she and her girlfriends would spend their allowance on the latest lip-gloss or eyeliner. "When I felt good about how I was presenting myself, I always felt more confident," she says. "When you look good, you feel good, like there's nothing you can't do." 
That's a mantra that Eggleston Bracey has maintained throughout her career as one of the country's top beauty executives. As part of an industry-changing merger completed last fall between Coty and Procter & Gamble's specialty beauty brands, she now oversees a $4-billion portfolio at the combined company, which includes CoverGirl, Rimmel London, Sally Hansen, Clairol and other well-known labels. She also recently made the move to New York City from Geneva, Switzerland, where she lived with her husband, Des, and two children since 2009. The new position comes after spending 25 years at P&G, where at 33 she became its first female African-American general manager. While there, Eggleston Bracey traveled the globe to expand CoverGirl and Max Factor in more than 80 markets, resulting in more than $2 billion in retail sales. "The key to growing brands that have existed for some time is identifying what in their heritage makes them unique in the marketplace and connecting that with the cultural relevance of today," she says. 
There's no better example of that than the successful revamp of CoverGirl's easy, breezy image, which began a decade ago by signing a wider variety of celebrity faces: Queen Latifah, Ellen DeGeneres, Pink and Zendaya have been among the line's unconventional choices. Eggleston Bracey says the shift was motivated by consumers who wanted to see a range of ethnicities, ages and body types in its campaigns, as well as more relatable spokespeople. "We really reframed what a cover model was," she says. "At the time there was no one in the industry doing that, so it was an untapped opportunity." In October CoverGirl took another bold step and hired its first male CoverGirl, a 17-year-old beauty video blogger named James Charles. "More and more, the world around us is about celebrating your individuality," she says. 
As an engineering sciences major, Eggleston Bracey never expected to be a leader in the cosmetics world. P&G recruited her as an undergraduate for its household division, where she marketed products such as Febreze. She enjoyed her job, but after eight years a manager encouraged her to pursue a field she really loved. Six months later she joined the beauty side of the business. "I realized I could contribute even more in an area where I had a stronger intuition and a stronger passion," she says.
Moving forward, one of her goals is to make beauty more accessible, in ways that include digital tools such as Rimmel's new Get the Look app, which she describes as "Shazam, but for makeup." Overall, she hopes that her work inspires people to express themselves and embrace what makes them unique. "It's about liberating the diversity of beauty," says Eggleston Bracey. "No one wants to be cookie cutter."  —Heather Salerno
Alan Sklar '56
The Voice
You might not recognize his face, but you've almost certainly heard Sklar's bass-baritone before. The 82-year-old has lent his vocal talents to thousands of radio and TV commercials, non-broadcast corporate videos and film documentaries, with clients ranging from AT&T and NASA to the popular mobile game Clash of Clans. He's also narrated more than 200 audiobooks, including Mark Bowden's Black Hawk Down and Thomas Harris' Red Dragon—"the only voice reading today who can perfectly capture ominous threats," according to In the President's Secret Service author Ronald Kessler.
Sklar caught the acting bug as an English and art history major. In his senior year he became an apprentice at the American Shakespeare Theatre in Stratford, Connecticut, and had to skip his own Commencement ceremony in order to participate in the prestigious program. One gig led to another, and Sklar was soon performing as an equity actor in New York City and in various regional theater productions. "It was a terrible way to make a living, but I was determined," he says. At age 23, Sklar was offered a seven-year film contract from Warner Bros. Pictures. Imagining a future of vapid beach flicks, he decided to walk on the deal. "I wanted to do real theater," he says.
Shortly after passing on Hollywood, Sklar suffered the death of his father and decided to take over the family paint products business. His training in the theater proved a huge asset as he grew the company into one of the largest distributors in the New York metro area. "I was a goddamn good salesman," he says. "I could talk a dog off a meat wagon." In 1983 Sklar sold the company and transitioned to a career in freelance voiceover work. Though he no longer performs on stage, Sklar relishes the opportunity to read his favorite short stories and poems at libraries near his Somers, New York, home. "I love having a live audience," he says. "It nurtures the ham actor in me." —James Napoli
Hear Sklar read four of his favorite Robert Frost poems.
David Beach '86
Rotten Job
"They're all a bunch of heathens!" Beach bellows at a crowd of Londoners. As Brother Jeremiah, a bewigged, blustery circa 1595 Puritan in Something Rotten!, the actor takes on one of the musical comedy's most rib-tickling roles. It's his sixth Broadway show, and previous credits include Mamma Mia!, Fish in the Dark and Urinetown, not to mention dozens of roles off-Broadway, in film and on TV (he recently turned up on Veep and The Good Wife). 
Growing up in Columbus, Ohio, Beach didn't foresee a life in the footlights. He majored in English and developed a deep love of the arts: "I was able to write and direct plays. I was in musicals and the Chamber Singers, into Shakespeare. I studied dance with Pepe and Vicki De Chiazza. I was given so much leeway to try new things." Beach's talent blossomed, earning him the David Birney Award for Excellence in Theater Arts in his senior year and a fellowship to the London Academy of Music and Dramatic Art.
In New York City, fresh out of acting school, Beach braved "soul-crushing support jobs" and took nearly every part he was offered (including donning a panda suit to hand out flyers for the World Wildlife Fund). His big break came in 1995, when he went on as an understudy in Moon Over Buffalo, starring Carol Burnett and Philip Bosco. The thrills have kept coming for Beach, who relishes each role. "I went right from the wonderful community of Mamma Mia! to a play called Opus that had a small cast, a small venue, and was beautifully written and directed," he says. "To go between those extremes has kept me very interested and energized." —Elizabeth Gerst
Tom Ryan '91
TV Planet
Tired of exorbitant cable bills? Look no further than Ryan, CEO and cofounder of Pluto TV, which has been hailed as the world's first free Internet television service. Since Ryan pulled the plug on cable in 2013, Los Angeles-based Pluto has attracted 5 million users—a 10-fold increase in the past 18 months. Many of its users are so-called cord cutters, media consumers chagrined about rising monthly cable bills. "Household incomes have remained flat over the last seven years, and the average pay-TV subscription has doubled in cost," says Ryan, noting that the average household watches 15 channels, not the 200 options offered on many cable plans. "I think there's a perceived lack of value for the money spent."
Enter Pluto, which offers 85 "curated" channels such as News 24/7, Xtreme Sports and Classic Movies. On a basic level, using Pluto TV is as simple as launching the app or heading to the website. The last channel you visited starts playing automatically, with a scrollable channel guide on the bottom of the screen. Pluto's website and mobile apps let users bookmark channels, to view favorites without sifting through the full guide.
"Humans as a species want to be programmed to, they want to be given great curated programming that allows someone else to do the work, and then they can tune in and be entertained by a range of free content," Ryan says. "How do you find what's good in a particular category and not have to search for it, not have to hunt and peck your way around the services? Our thesis is sometimes viewed as contrarian, but we think the data support that this is how people want to watch TV."
Pluto wasn't designed as a replacement for on-demand viewing experiences offered on platforms such as Netflix and Hulu. "It's just a different side of the coin," Ryan says. "People want to push a button and be entertained. That's what we're trying to deliver." —Andrew Faught
Juliana Ortego '13
The Force Awakens
Every year thousands of college students embark on spring break service trips. As an undergraduate, Ortego admired their good intentions, but she wanted to implement a program that would bring long-lasting change. In 2009 the history and Spanish major cofounded La Fuerza para el Futuro (Force for the Future), an intensive leadership development camp for youths staffed by members of the Dartmouth community in a remote and impoverished area of northeast Honduras.
Ortego, who works fulltime in wealth management at Morgan Stanley, has continued to shape the program into more than a typical "voluntourism" trip. During the College's spring break she leads a team of 10 alums and students at the camp, which many of the 60 Honduran students (ages 12 to 22) attend year after year, often traveling three hours or more across rough, mountainous terrain to reach the program. Ortego also helps campus-based organizers raise money and plan curricula and local service projects that build on previous years' activities.
La Fuerza operates in partnership with ACTS Honduras (actshonduras.org), an Upper Valley-based nonprofit that has been conducting sustainable development work in this region of Honduras for 30 years. Recently, to support the work of a dental clinic ACTS built, La Fuerza's Honduran students fanned out to surrounding villages, distributing toothbrushes, floss and toothpaste and presenting skits and demonstrations on oral hygiene to residents, most of whom had never before held a toothbrush.
To Ortego, La Fuerza is a way to nurture the next generation of change agents. "Leadership development is so crucial for what ACTS is doing down there," she says. "If you want some long-term impact, then getting young people to carry it forward is really critical." —Kaitlin Bell Barnett '05