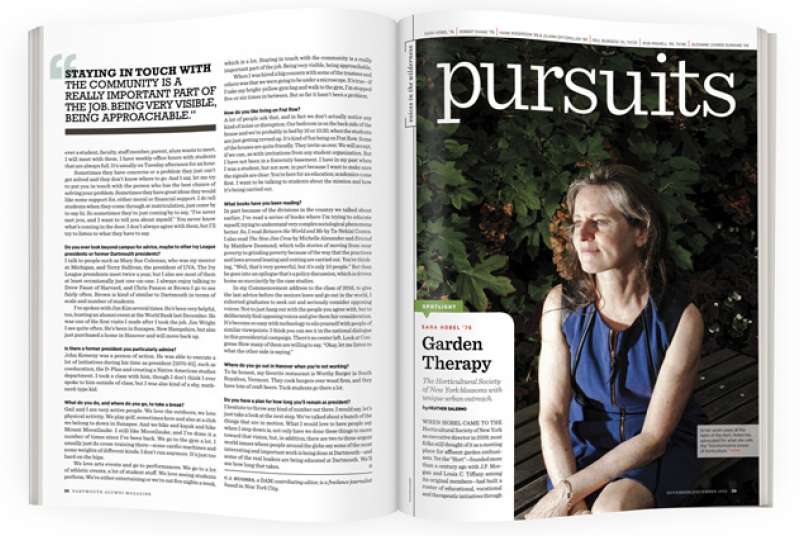 Voices in the Wilderness
Sara Hobel '76 • Robert Evans '79 • Hank Rogerson '89 & Jilann Spitzmiller '89 • Bill Burgess '01, Th'02 • Bob Mighell '85, Th'86 • Suzanne Lehrer Dumaine '09
Sara Hobel '76
Garden Therapy
The Horticultural Society of New York blossoms with unique urban outreach.
When Hobel came to the Horticultural Society of New York as executive director in 2009, most folks still thought of it as a meeting place for affluent garden enthusiasts. Yet the "Hort"—founded more than a century ago with J.P. Morgan and Louis C. Tiffany among its original members—had built a roster of educational, vocational and therapeutic initiatives through the years, many of which help the underserved. "The organization had all these fantastic programs, but they had a very low profile," says Hobel. "It was all kind of quiet." 
Since her arrival, the Hort has gained more recognition for its move toward social service, with eco-friendly activities that include restoring community gardens in disadvantaged neighborhoods, building urban farms at supportive housing facilities and providing horticultural training for the city's at-risk youth and adolescents aging out of the foster care system. Hobel has also helped the Hort expand a small but longstanding program at the Rikers Island Correctional Facility. Today the program is on track to serve 500 inmates and detainees who tend more than three acres of herb, vegetable and native plant gardens and greenhouses on the prison's grounds. Hobel says that the objective isn't just to teach new skills but to help reduce recidivism by offering a constructive intervention. "So many of our participants grew up with violence and poverty. They come off the streets angry, traumatized and reluctant to appear vulnerable in the prison setting," she says. "We see the transformative power of horticultural therapy play out over and over as our participants gain self-control, compassion and resilience through their joint efforts to cultivate the garden."
Under Hobel's leadership the Hort also created 14 gardens at public schools throughout Queens. There, students learn about nutrition by growing their own food, a novelty for those with limited access to fresh produce. "You've got to see these kids when they pull something like a carrot out of the ground for the first time," she says. "They are children who literally have nothing in their neighborhoods but fast food." The group partnered recently with New York City officials, local businesses and other nonprofits to install and maintain green spaces in public plazas throughout the five boroughs, located mainly in underprivileged areas. "They're glorious," she adds. "The planters look like those on Fifth Avenue." 
Hobel came to the Hort from the Wildlife Conservation Society, where she oversaw a range of education programs at the Bronx Zoo, Central Park Zoo and more. Before that, she served as director of the city's Urban Park Rangers, who lead outdoor recreation, wildlife management and law enforcement services at New York's flagship parks. Those positions marked a career shift for the former English major, who decided to change jobs in 1999 after more than 20 years of working in marketing and business development for publications such as The New York Times and Newsweek. Running conservation organizations is a good fit for Hobel, who wanted to connect with nature, yet enjoyed urban culture. "It took me a while to figure out you can have both," she says. "It's the perfect crossover." —Heather Salerno
Robert Evans '79
Murality
Viewers often think of art as propelled by inspiration, but for Evans, meticulous prep work is essential for large wall murals that can stretch 50 to 60 feet or more. "It all comes down to planning and not getting lost on the wall," says Evans, whose work appears at the Smithsonian Museum of American History, the New England Aquarium, George Washington's Mount Vernon estate and museums and visitor centers around the country.
Evans credits his Dartmouth training in trompe l'oeil painting with helping him create hyper-realistic scenes, and years spent painting theater and opera sets with teaching him to work on a large scale.
At Dartmouth the art major admired the famous Orozco mural series The Epic of American Civilization as a "monumental piece, unsparing in its commentary on history and culture." But instead of going on to create political murals—commissions that are increasingly rare—he took his skillset to museums, where he's charged with representing a culture, concept or historical moment as faithfully as possible.
"It's art with a job," Evans says. "It's a narrow niche that I evolved into but one that has a lot of variety within it."  He consults historical documents, scouts natural landscapes firsthand, and confers with anthropologists, biologists, naturalists and historians. All that research helps him create scenes—an Everglades habitat, pioneers on the Oregon Trail, the workings of a human cell—that are most effective when they obscure the labor behind them.
"In a strange way, it's art that, the more successful it is, the less the viewers will think of it as art," Evans says. "They'll just think that they're 'there.' " —Kaitlin Bell Barnett '05
Editor's Note: View a slideshow of Evans' murals here: http://dartmouthalumnimagazine.com/photo-galleries/wall
Hank Rogerson '89 & Jilann Spitzmiller '89
Emotional Explorers
Husband-and-wife filmmakers Rogerson and Spitzmiller are known for taking viewers inside worlds they'd probably rather ignore: a nursing home, a medium-security prison, an Indian reservation. "In these places people are segregated, roped off, and we don't want to look at what's going on in there," says Spitzmiller. "Our work is about looking in places that have some darkness on the outside, but finding what's good and true and light inside."
Before they started winning film awards, Rogerson and Spitzmiller were seniors at Dartmouth running around campus with a VHS camera to create a video yearbook. "My favorite sequence was when Hank spent a whole day at career advisory services during the winter, when everyone was starting to interview with companies that came to campus. They all have their suits on and they're completely uncomfortable," Spitzmiller says. "There I was just shoving my camera into people's faces as they were trying to get ready to interview with Leo Burnett!" Rogerson says. The film was shown at their 25th reunion.
Next year the couple's latest documentary,  Still Dreaming, airs on PBS. It's a tender, often hilarious story about elderly, long-retired Broadway actors, musicians and dancers putting on  A Midsummer Night's Dream as they battle Alzheimer's, hearing loss and the emotional ravages of age, all in an effort to do what they love: perform.
The Santa Fe, New Mexico-based couple seems to run toward crisis and redemption. Shakespeare Behind Bars (2005) is about a prison theater troupe seeking atonement from heinous crimes. Homeland (2000) follows four Latoka Indian families struggling with poverty and poor health on an Indian reservation. "We are emotional explorers," says Spitzmiller. "We have to be brave to go into a place a lot of people don't want to go. It's about deepening the idea about what we feel, see, hear and know from others around us."
"We make a bridge for people to these worlds that are 'other,' " Rogerson says. "We show up as a witness." —Abigail Drachman-Jones '03
Bill Burgess '01, Th'02
Blade Runner
Talk about an unlikely world champion. Burgess fell short in his attempt to be a walk-on with the Dartmouth hockey team as a freshman and has little time for an intense training regimen. But never underestimate the power of a childhood dream that began on a frozen pond on long winter afternoons. The Washington, D.C., patent attorney is America's top speed-skating marathoner.
Burgess learned to skate at an Alaskan military base when his father, also named Bill, who served in the U.S. Army Special Operations, was transferred from Arizona to Anchorage. Determined to make life fun for his transplanted family, Bill senior taught his 7-year-old son to skate, a gift that would bond them for life. He also inspired the boy with tales of the Elfstedentocht (Dutch for "Eleven Cities Tour"), a 200-kilometer race through the frozen canals of Holland. "For the Dutch this event is bigger than the Super Bowl. Racing it became a dream of mine," says Burgess, who stays in shape playing hockey, biking and running marathons. 
The Dutch canals have not frozen solidly since the 1990s but that hasn't stopped Burgess from joining the hundreds of long-distance skaters who compete each year in other races, most famously the Finland Ice Marathon. He has competed three times in the grueling 200-kilometer race just south of the Arctic Circle.
In 2015, on a day when thawing ice shortened the course and confounded his European competitors, Burgess was first to the finish line of the altered route. When the Dutch ambassador to Finland handed him the coveted marathon trophy, Bill senior was cheering from the stands.    
Bob Mighell '85, Th'86
Three and Easy
It had never been done before: a motorcycle with two wheels in front. Even the head of Western Washington University's Vehicle Research Institute, one of the top schools for vehicle design, said it wasn't possible. "That was just about all the incentive I needed," says Mighell, who in 2005 turned an inexpensive Honda Rebel into a three-wheeler, also known as a trike. "I took it to the local motorcycle show. I spent the whole day there, talking about the bike. I realized, 'Hey, this might be a business!' " A decade later Mighell is the CEO of Tilting Motor Works, the company behind the trike that helped him break the land speed record for a three-wheel motorcycle. Twice.
Mighell, who grew up in Seattle, was riding motorcycles by age 12. At 18 he made his first cross-country ride, all the way to Hanover. He studied mechanical engineering at Dartmouth but says he learned as much about his craft by watching his father—a Dartmouth '52—fix VW bugs in their garage. After graduating, Mighell married, had three sons, earned his M.B.A. at the University of Washington and spent the next 25 years in the medical industry. But motorcycles never stopped being his thing. "A lot of guys will ride motorcycles when they're younger, get married, have kids and the spouse says, 'You gotta get rid of the motorcycle!' A lot of guys do. I never did. I used to pick up my kids from grade school on the back of my motorcycle."
His bolt-on replacement front end for Harleys and Hondas, which is on backorder for at least six months and costs about $10,000, recently landed Mighell an interview on Jay Leno's Garage. Last year he met a retired VP from Harley Davidson: "Unbeknownst to me they spent several million dollars developing [a trike] and gave up. I met this guy. He's sitting on my bike and before he even asked, he fired up the motorcycle and took off. He comes back, parks the bike. He has a great big smile and says, 'That's what we were trying to build.' "        —Abigail Drachman-Jones '03
Suzanne Lehrer Dumaine '09
The Test Chef
Since publishing her first cookbook for online cooking subscription service Plated last spring, Dumaine, the company's director of culinary operations, has gotten the same question a lot: "Why did this innovative tech company decide to publish a cookbook?" 
N.Y.C.-based Plated, co-founded by Nick Taranto '06, sends pre-portioned ingredients and "chef-designed" recipes to customers' doors in 48 U.S. states, using metrics from customer recipe feedback and ordering patterns to guide its offerings and help reduce food waste. But Dumaine, who graduated from the French Culinary Institute and got her start creating recipes at the Food Network, also sees lasting value in recipes compiled the old-fashioned way. "There's something really irreplaceable about the feeling of a cookbook, the presence of a cookbook on your shelf, turning a page open to a recipe and seeing it splattered with oil from the last time you used it," she says. "It really feels a part of your kitchen."
The cookbook, called Plated: Weeknight Dinners, Weekend Feasts, and Everything in Between and written with a Plated colleague, is both traditional and innovative in its design. It emphasizes relatively short ingredient lists and clear, succinct instructions, something home chefs don't always get from food blog recipes. "Cheffy Nugget" tips—named after the Plated test kitchen's nickname for leftovers staff can nosh on—give details on techniques, ingredients and flavors. And many recipes have suggested substitutions that allow cooks to swap in seasonal ingredients.
"Cooking should just be accessible," Dumaine says. "It's about mastering the basics, and once you do, you start to really feel comfortable in the kitchen and surprise yourself with what you can do." —Kaitlin Bell Barnett '05