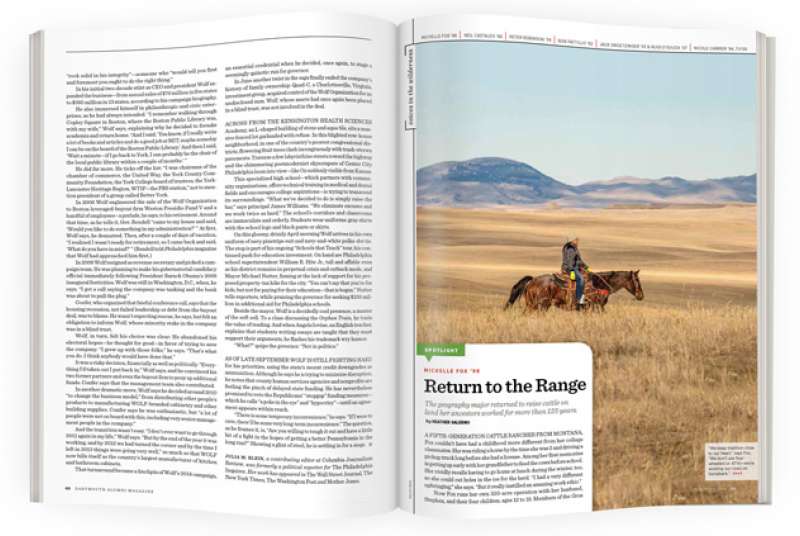 Voices in the Wilderness
Michelle Fox '98 • Neil Castaldo '66 • Peter Robinson '79 • Bob Pattillo '82 • Jack Groetzinger '07 & Russ D'Souza '07 • Nicole Carrier '94, Tu'00
Michelle Fox '98
Return to the Range
The geography major returned to raise cattle on land her ancestors worked for more than 125 years.
A fifth-generation cattle rancher from Montana, Fox couldn't have had a childhood more different from her college classmates. She was riding a horse by the time she was 2 and driving a pickup truck long before she had a license. Among her first memories is getting up early with her grandfather to feed the cows before school. She vividly recalls having to go home at lunch during the winter, too, so she could cut holes in the ice for the herd. "I had a very different upbringing," she says. "But it really instilled an amazing work ethic." 
Now Fox runs her own 320-acre operation with her husband, Stephen, and their four children, ages 12 to 19. Members of the Gros Ventre tribe of the Fort Belknap Indian community, they own F Diamond X Ranch on land that Fox's ancestors have worked for more than 125 years. "It's in my blood," she says. The ranch's primary income comes from raising grass-fed Black Angus beef cattle and heifers for breeding. With no full-time help, Fox and her family do just about everything, from hauling hay to caring for injured animals. "About a month ago I was home alone and this 600-pound calf somehow got a leg caught in part of an old windmill. I said, 'How am I going to do this by myself?' But I got a horse, got a rope and pulled him out. That's a typical day," says Fox, who is often running on very little sleep. During calving season, she says, "two to three hours a night is not uncommon." 
Fox also knows she has to sometimes think outside the box when it comes to improving her bottom line. From 2014 until late last year, she was a rancher and spokesperson for Wild Sky, a company that sells all-natural beef to retailers and restaurants nationwide. Wild Sky is an enterprise of American Prairie Reserve (APR), a nonprofit dedicated to building a so-called American Serengeti—in the Great Plains. (APR counts fellow alumni Gib Myers '64 and Alison Fox '02 among its leaders.) Fox received financial incentives in exchange for promoting Wild Sky and adopting certain conservation standards at her ranch, such as installing animal-friendly fencing. That extra income paid for a new barn. "We're always willing to try some things that aren't conventional," she says.
Fox never expected to return to the range after leaving for Dartmouth. "I was going to live in the suburbs and ride a train to work," she laughs. "The ranch was not part of the equation." She worked in communications and advertising for about a decade, and she discovered along the way that city life was not for her. "I lived in Spokane, Washington, for a while," she says. "My neighbors didn't like me because I had a goat in the yard." 
She moved back to Montana in 2008, and a year later helped found Island Mountain Development Group, a Native American economic development corporation, for which she still serves as CEO. Fox realized that she had missed not only her home state but also ranching, so in 2013 she and Stephen bought her late aunt's ranch, about 15 miles from where Fox grew up. "Ranching isn't something you just pick up and leave," she says. "I went to Dartmouth because I didn't want to be a rancher anymore. But it's kind of funny how you come full circle. You realize this is what you're meant to do and who you're meant to be." She hopes that her children will keep the family's agricultural heritage alive. Each child is currently responsible for a small herd of cows; her youngest has even borrowed money from the local bank to buy heifers. "There's so much history here for us," says Fox. "It's just part of who we are."     —Heather Salerno
Neil Castaldo '66
Shining With Dignity
"It's not about money. It's not about me. It's about dignity and doing things for others without the expectation of a return," lawyer Castaldo says about his newest business venture—a shoeshine stand. 
For the past two years Castaldo has been setting up in downtown Hanover every Wednesday from 11 a.m. until 2 p.m. to shine shoes. His patrons run the gamut of the Hanover crowd—professors (even one who taught when Castaldo was a student), students, restaurant workers, stockbrokers and other professionals. When he first started the stand he offered to shine people's shoes for free—a venture he says was a "total failure" because people didn't trust that he was truly seeking nothing in return for his work. He adjusted his model and started donating all his proceeds directly to the Upper Valley Haven. He asks for $3 but takes whatever people will give him. To date he says he has donated about $1,000 to the shelter. 
The reception he receives varies among those who know him and see him on the side of the street. Most friends, he says, have been very supportive and understand what he is trying to do. A few friends think he has gone absolutely nuts. "The public doesn't like it when somebody they know socially is doing this," he laughs. "I blur class lines and distinctions, and that makes some people very uncomfortable. Picture yourself in this position, if you held yourself out to your community, doing something some people might consider menial or just weird. It took some courage. I'm a firm believer in the dignity of all work—in any job you do. Driving a car, flipping burgers. You can do it with dignity and a sense of purpose."     —Gayne Kalustian '17
Peter Robinson '79
The Man Behind the Fall of the Wall
It's one of the most famous lines of the 20th century: "Mr. Gorbachev, tear down this wall!" Almost everyone knows who gave the speech in which the line occurred (President Ronald Reagan), where it was delivered (West Berlin, Germany) and that it marked the beginning of the end for the Soviet Union in 1987. Less well known is the man who wrote those words: Peter Robinson.
The English major was hired after graduation as chief speechwriter for Vice President George H.W. Bush for a year and a half and then joined Reagan's staff. He wrote more than 1,000 speeches before he walked away from speechwriting when Reagan left the White House in 1989. Sitting in his office at Stanford University's Hoover Institution, where he's been a fellow since 1993, Robinson says his reasoning was simple. "Having worked with Reagan," he says, "everyone else was going to be a letdown."
He still follows political speech makers—"[Sen. Marco] Rubio is the best I've heard since Reagan," he says—but nowadays Robinson is more interested in current events. He blogs on the conservative website Ricochet.com and conducts the Hoover Institution's online video series, Uncommon Knowledge. The series features Robinson's in-depth interviews with leading academics, businessmen and politicians such as Speaker of the House Paul Ryan (R-WI) and venture capitalist Peter Thiel.
He's also engaged in the life of the College, as a former trustee and parent of Edita '13, Pedro '15, Nico '17 and Andrew '19. In a world where technology has transformed the way students learn and communicate, he's delighted Dartmouth remains "a community of scholars." "Just as the fundamental act of speaking has not changed," he says, "the act of teaching cannot be replaced."     —Keith Chapman, Adv'12
Bob Pattillo '82
Beyond the Bottom Line
"There isn't tradeoff between doing good and making money," Pattillo says. "I believe the two converge." Pattillo was one of the first investors in the world to go 100-percent impact—his investments are committed to social impact as well as financial return. His Atlanta-based Gray Matters Capital (GMC) has invested $160 million in microfinance and education, primarily in South Asia, Africa and Latin America. Recent efforts include Gray Matters Kenya, which introduced more than 70 classrooms in the region by charging communities to rent modular units, and Wings Learning Centre, which uses a for-profit model to provide afterschool education to more than 500 students in Bangalore and Calcutta.
Pattillo is famous for his boldness. In 2003 he sold the eighth-largest real estate development firm in America to focus on microfinance. He has put several hundred thousand dollars of his own money into a room and asked entrepreneurs at the table to decide among themselves who should receive it. In the words of Emory business school professor Peter Roberts: "Nobody does that."
Pattillo does, and successfully so. GMC's investments span emerging markets and have provided employment to more than 100,000 people. He was one of Forbes' "Top 30 Social Entrepreneurs of 2011" and is a member of the 100 Percent Impact Network, a group of investors who have committed their wealth to social or environmental impact. GMC is now focused on providing 100 million women with an education by 2036, when Pattillo turns 75. "Human initiative, resourcefulness and spirit are the greatest creators of value," he says. "And the human capital drags the financial capital along for a surprisingly profitable ride."     —Rianna P. Starheim '14
Bob's Top 3 Reasons to Impact Invest
• 3,000-year history
"The first Celtic journey of exploration was an impact endeavor launched by innovation in technology and agriculture."
• Human capital has the highest return of any capital
"A nine-month spoken English course increases a Mexican woman's income potential by 400 percent."
• It's transformational
"Impact investing brings you closer to the person you aspire to be. I'm a better father because of the work I do."
Russ D'Souza '07 & Jack Groetzinger '07
Geeks Sell Seats
The 2007-08 season was a banner one for Boston sports teams, and Groetzinger and D'Souza, having left their consulting jobs, were trying their hands as amateur ticket resellers. Returns were great, but the two were struck by "how difficult and painful it was to buy tickets on the Internet," Groetzinger says. "So we figured, let's try to start a company that uses transparency to help people figure out exactly what they're buying and feel good about it."
The resulting ticket search platform, SeatGeek, featured detailed maps of live entertainment venues that showed exactly where seats were located and used an algorithm to rate prices on a spectrum from "Amazing Deal" to "Awful Deal." SeatGeek was actually the pair's third startup: At Dartmouth they'd founded and sold Evolving Vox, a student furniture rental service still in operation. And the self-taught coders had used the profits from Scribnia, a blog recommendation platform they designed and sold, to get SeatGeek off the ground.
Now based in New York, SeatGeek has since raised $100 million in funding and attracted celebrity investors such as NFL quarterbacks Eli and Peyton Manning and rapper and producer Nas. In addition to offering tickets from more than 500 resellers, it features inventory from primary ticket brokers for the NCAA, Broadway and other major live events. Steve Hafner '91, cofounder and CEO of the travel site Kayak, whose model helped inspire SeatGeek, recently joined the board. Mobile browsing and apps, added in 2013, have set the company apart from the desktop-focused competition, allowing users—many of them planning-averse millenials—to make last-minute purchases with a few taps and use their phones as tickets. The company recently added a feature to let individual users list, sell and transfer tickets themselves. SeatGeek, D'Souza says, is now racing "to be the dominant platform to buy tickets and sell tickets."     —Kaitlin Bell Barnett '05
Nicole Carrier '94, Tu'00
The Nano Brewer
Carrier is quick to point to the most essential ingredient in a successful microbrewery: "impeccable buds." Now she's proving she has the tastebuds to keep customers coming back for more unique drafts at Throwback Brewery in North Hampton, New Hampshire.
A few years ago, the economics major decided she had a taste for more than business and marketing as an employee at IBM. She began brainstorming the brewery with wife Annette Lee, a former environmental engineer who interned at New Hampshire-based Smuttynose, and opened the door on the enterprise in 2011. "Annette said, with her aptitude for brewing and problem-solving and my background in marketing and business and love of spreadsheets, we should open a brewery," says Carrier, who quit IBM last summer to focus full-time on beer. "It didn't take too much convincing."
Throwback Brewery focuses on sourcing ingredients within 200 miles of the operation—so far she is able to gather 70 to 90 percent of the ingredients (hops, wheat, barley, fruit and spices) within that range. Inspired by local produce, Carrier creates innovative beers—from beets, oysters or fennel flowers—that have been winning rave reviews from Draft magazine and Bon Appetit, which named it to its 2013 list of "10 favorite nanobreweries in America." Throwback is now available in restaurants and shops across New Hampshire's Seacoast region as well as at the brewery's restaurant.
Carrier is planning some additions to the business, such as a farm and a five-fold increase in beer output. She also wants to appeal to a lighter palate: "I predict that cleaner, more crisp beers—like pilsners—will gain in popularity." Come May they'll roll out Spicy Bohemian pilsner in cans—"truly a labor of love," she says.     —Juliette Rossant '81