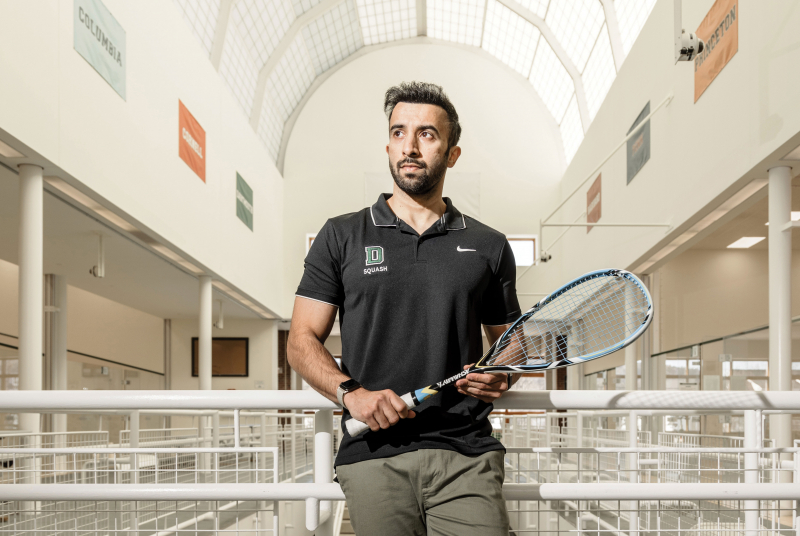 Friend of the Court
Can new squash coach Vikram Malhotra bring his Trinity magic to the Big Green?
As a boy in 1990s Mumbai, Vikram Malhotra, the new head coach of men's and women's squash, tagged along with his father to the squash courts. "I'd watch him play," he says, "and when he'd take a water break, I'd run in and try to learn how to use the racquet." Malhotra's affinity for the game quickly became obvious, and before long he was beating his father. 
Malhotra went on to become the premier junior squash player in India. At Trinity College in Connecticut, he played under renowned coach Paul Assaiante and helped extend the team's 252-game unbeaten run, longest in the history of U.S. college sports. Malhotra's winning continued on the pro tour, where he rose to a world ranking of No. 43, even as he returned to Trinity as assistant coach and helped lead both men's and women's teams to national titles. "Vikram has a brilliant mind for the game, and he really bought into the concept of team," Assaiante says. "He was a world-class competitor here—and while he was on the court doing magic, he was also always doing magic for his teammates."
Some magic is needed for the Big Green. Ivy squash exists under the iron rule of Harvard, Yale, Princeton, and Penn. Those schools and Trinity comprise the top five U.S. men's collegiate teams—and the women's rankings look similar. During the past 15 years, the Dartmouth men's team has gone a dismal 12-64 against the big-four Ivies. 
Malhotra intends to fix things. He's implementing principles and practices from his years with national championship teams: how to finish matches, how to break things down afterward and analyze what went right and wrong, how to maintain an obsessive focus on improvement. "Every day we say the same thing: If you can get 1 percent better today, if there is just one thing you can take away from what we do here, do it," he says. 
"You feel right away that he's taking us to the next level."
His players sense the energy. "Vikram's passionate, and he's super motivating," says Jesse Brownell '23 of the women's team. "You feel right away that he's taking us to the next level." 
The Big Green squash facilities, which underwent an extensive, $1.75-million spruce-up last year, don't hurt with recruiting. "The courts are absolutely gorgeous," Malhotra marvels. The College's recent decision to extend need-blind admission to international students should also help attract more foreign-born players (the top Ivy teams field players who are predominately from abroad) and top American recruits eager to play with world-ranked athletes. "Now we can give an opportunity to someone who comes from the kind of background I did," says Malhotra. The Dartmouth squash program, which celebrated the 85th year of the men's team and the 50th anniversary of the women's team with a reunion in April, is now positioned to climb its way into the elusive top tier of college squash. 
Malhotra is focused on more than just winning. Recently he took his players on a training trip to San Diego, where they visited the Access Youth Academy, whose mission is to transform the lives of underserved young people through academic mentorship and urban squash. He wants to help make the game's life-changing potential more widely accessible. "You're here because of somebody, and you need to pay that forward," he tells his players.
Malhotra keeps his own game sharp via the occasional professional tournament. He is currently ranked No. 82 in the world. Can any of his players beat him? "Not yet," he says. "But in five years, I hope that will be different. We will definitely get a lot better. It may not happen in a year or two, but we'll get there."                  
Rand Richards Cooper wrote about Susan Dunklee '08 in the January/February issue.