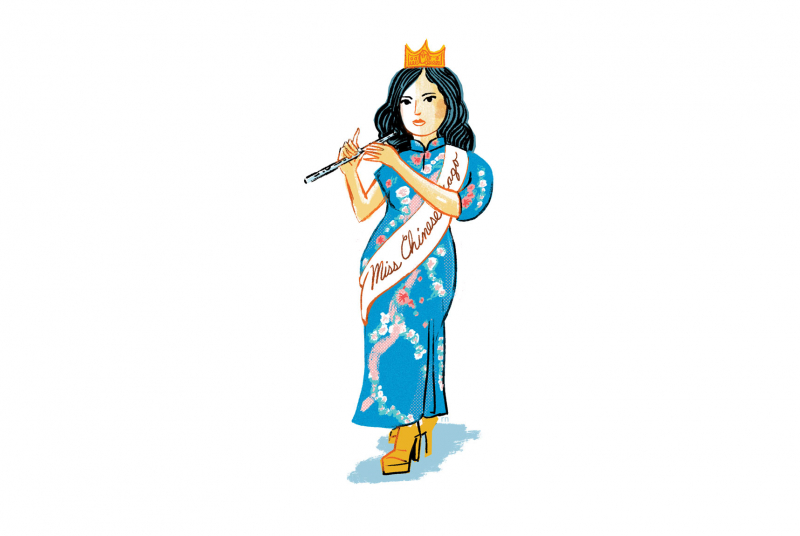 Body and Soul
Empowered pageant contestant Victoria Li '16 celebrates positive self-image.
Li always felt self-conscious about her size. "I grew up chubby," she says. When a friend entered a beauty pageant while they were in College, Li looked up the application, which asked for weight, measurements, and photos. "There's no way they would accept me," she thought. Today, Li has embraced her curvier physique. This summer she competed in the Miss Chinese Chicago pageant, which celebrates heritage and community service as well as appearance and talent. Li, who finished third overall and won the talent award for her flute performance, used the platform to spread a message of positive body image. She hopes that young women in the audience saw themselves in her—"on stage, in a bikini, confident, and happy," says Li—and felt empowered.
The econ major, who lives in Chicago with her husband and works at L.E.K. Consulting, originally pursued a culinary career. She grew up in her parents' restaurant, founded the food club Dartmouth Spoon, and interned at Momofuko restaurant in New York. Though she switched paths, Li started Meals for Chicago to feed essential workers during the pandemic. 
Her bent for community service served Li well in the pageant. "It's been really great to meet this network of women who want to get involved with the Chicago Asian American community," she says. She is starting a podcast about body positivity in Asian cultures. Her first guest was a fellow contestant. 
Pageant founder Victoria Ng says the audience could see the pride the contestants take in their heritage as well as their looks. "It's particularly relevant with a major increase in the amount of hate directed against Asian Americans and Pacific Islanders," Ng says. For the next year, Chicago Asian Women Empowerment will work with the titleholders on their projects. "I look forward to continuing this work and empowering other women," says Li.