Flex Time
Victoria Gibbs '07 makes her mark in the world of competitive yoga.
Gibbs stood near the ring at Gleason's Gym, Brooklyn's famous boxing mecca, stretching her long, lean limbs. When the emcee announced her name, she climbed between the ropes and walked to the center of the floor. I've gotta nail this, she thought. Bringing her hands together in front of her heart, she bowed to the judges, took a deep breath, and began.
Gibbs wasn't there to box. She was competing in the 2016 New York Regional Yoga Asana Championship. The notion of competitive yoga may seem like an oxymoron, but the sport, which is akin to gymnastics or bodybuilding, dates back two centuries. Competitors have three minutes to perform six postures (or asanas), holding each for three to five seconds. Judges score the performances.
That day in Brooklyn, Gibbs deftly maneuvered through her routine. Her favorite posture, Tiger Scorpion—which involves balancing on forearms, then bringing the feet overhead to touch the forehead—nearly sent her toppling over. "We practice these postures all the time, and then as soon as you're in front of a panel of judges, nerves kick in," she says. "I gave it everything I had, pushing back up in the posture. It was the strongest moment of my life."
She finished second and qualified for nationals. Posing for photos with her medal dangling around her neck, Gibbs knew what she'd overcome to get there—addiction, loss, depression—but she had no idea she was on the cusp of another fight for her life.
Growing up in Skillman, New Jersey, Gibbs started ballet at age 4. By middle school she was on the professional track, but her dream of becoming a dancer shattered at 16 when she tore her meniscus. After surgery, she was so concerned about gaining weight that she developed an eating disorder. It lasted for more than a decade. She also faced a new future. "I started to zero in on college and what would be practical and realistic," she says. "The world of ballet is so challenging. Not everyone is going to be a prima ballerina."
After graduating from Dartmouth with a degree in psychology, Gibbs moved to Santa Barbara, California, with her best friend, Katherine Cullinan '08, and got a job in fashion. Her eating habits improved. She felt happy. But everything changed in August 2008. Her father had quadruple bypass heart surgery and, the next day, Cullinan died by suicide. "My world shattered instantly. It took a long time to come to a point where I didn't blame myself for her death."
Depressed and lost, Gibbs moved home. For years she worked office support jobs, struggled with drinking, and tolerated therapy. Nothing helped—until 2012, when she wandered into a yoga studio. After one class, she was hooked. Yoga reminded her of ballet: the warm-up, the discipline, poses to master. When a teacher suggested competitive yoga, she thought, "I'll give anything a shot."
Gibbs was a natural.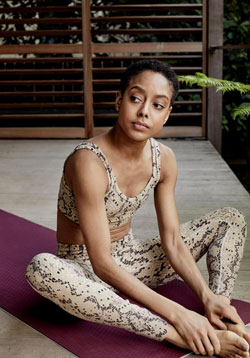 "The things she can do with her body, not many people can do," says Jared McCann, a two-time national and 2013 world asana champion. "If you see a picture of her standing bow—a classic yoga posture on one leg, doing a split but standing on one foot—her alignment, precision, and grace in a really difficult posture is just perfect."
But practicing and performing are different beasts. At her first competition, the 2014 regionals, Gibbs fumbled "a posture I do in my sleep," she says. "I just couldn't get my legs all the way up. I tried once. I tried twice. I skipped it and went into the last posture, which I nailed." Still, she placed in the third quarter of contestants. "I cried, because I'm very hard on myself, but I was like, 'I'm definitely gonna try this again next year.' " In 2015, Gibbs scored in the Top 10 at regionals and qualified for nationals, only to be disqualified because her routine took too long. Finally qualifying for the 2016 nationals at Gleason's Gym was a hard-earned career highlight—and a sign Gibbs was persevering over her eating disorder, her friend's suicide, and her search for meaning. "Competitive yoga is not about winning," she says. "It's a competition within yourself, performing a demonstration that you're truly proud of and quieting the mind." 
Then life threw up another roadblock. While training for nationals, she started having migraines and fevers. Blood blisters formed on her fingers and white spots appeared in her mouth. Occasionally she'd black out at work or not recognize her father's voice when he called. One doctor thought she had mumps. Another gave her steroids. Nothing helped.
She went to nationals but collapsed on stage while performing Tiger Scorpion. Soon after, her motor skills slowed down and she could hardly walk. Eventually, she was diagnosed with lupus, a chronic disease where the immune system attacks its organs and tissues, causing inflammation and pain throughout the body. "I almost lost one of my kidneys," Gibbs says. "I didn't think I would practice yoga again because the outcome for people with lupus can be bleak."
She spent months recovering, but in time Gibbs returned to yoga, finishing first in the 2017 and 2018 regionals and competing in the 2018 internationals in Beijing. Last year, after losing her job as an office manager at a hedge fund and being hospitalized for a lupus flare-up, a teacher training course at McCann's Lighthouse Yoga School in Brooklyn inspired her to finally turn yoga into her career. "Jared said, 'I think you have a gift.' I was like, forget finance. I'm going to pursue what I know I love."
Today, Gibbs competes, teaches, leads wellness retreats, and raises awareness and money for lupus. On Instagram, she opens up about the disease, gratitude, and her path to wellness to nearly 20,000 followers. "Her story is so powerful because there are so many yoga models on social media who are young and haven't really experienced challenges or difficulties in life," McCann says. "Victoria is such a nice spokesperson and role model because she is beautiful and talented and she's also going through stuff. She's real."
As Gibbs puts it, "Everyone is going through something. You have to be patient with yourself and with life. I'm a firm believer that nothing happens before its time. I think I needed to go through all of those things to understand that this is my path."                         
Abigail Jones is an award-winning journalist. She lives in New York City.