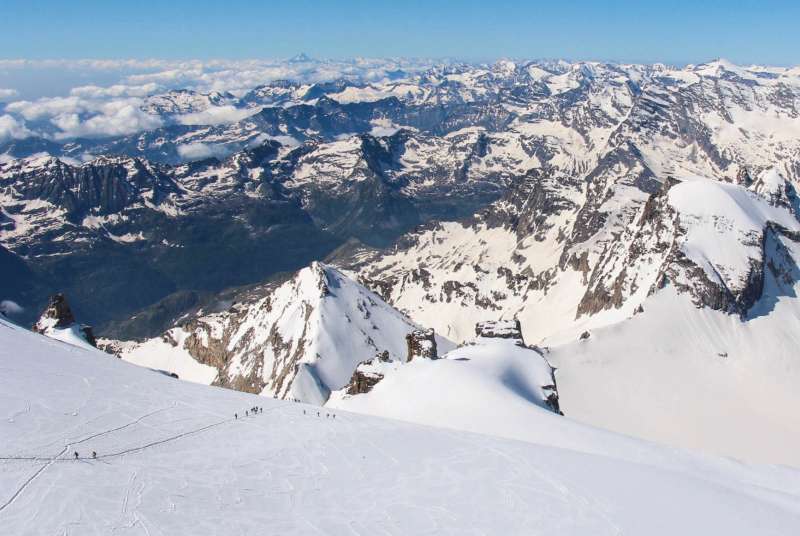 Photo by Bella Jacoby '20
Uphill
Eight female climbers test their courage by scaling one of Italy's highest peaks. But will they survive the men on the mountain?
A sheer rock wall rises hundreds of feet above France's Mer de Glace glacier. Jaquelin "Jaq" Hager '21 was a speck on its face. She clipped the carabiner that tethered her and three other Dartmouth women to ladders running up the cliff, then looked at the stunning scene below. The tongue of ice extended from the imposing Mont Blanc Massif down to a collection of quaint French villages in the lower valley. 
"Wrong choice, man!" came a deep voice from below, startling her. 
It was a French guide, impatient with her careful pace, sneering at members of his all-male team who had chosen the same route and were now blocked from climbing faster.
"It's because they're girls," he shouted. 
Hager gritted her teeth, embarrassed and angry all at once. 
We were indeed an all-female group—to this day, a rare sight in the Alps. In June 2018 eight Dartmouth undergraduates embarked on the Dartmouth Outing Club's first mountaineering expedition to Chamonix, France. Six months before, Mallory Byrd '19 had envisioned a trip focused on women's leadership. The expedition would give female leaders in the DOC the opportunity to improve their technical mountaineering skills. What's more, the absence of men would give us more freedom to discuss the obstacles we face in outdoor leadership. We hoped to return to Dartmouth ready to bring other students—of both genders—into the mountains. 
Leading our expedition were veteran climbers Margaret Wheeler '97 and sisters Liz and Erin Smart, both members of the International Federation of Mountain Guides. It says something about the sport of mountaineering that of the 138 accredited American guides, only 12 are women. This revelation—and the French guide's jeer—strengthened our resolve to hone our skills. Our rock wall climb done, we would tackle our main objective: Gran Paradiso. First summited in 1860, the "Great Paradise" is the seventh tallest mountain in Italy at 13,323 feet. Climbers must ascend a whopping 4,300 feet on their last day to reach the iconic white statue of the Madonna at the summit. 
Four days later, Evening light filtered through the curtained windows of Rifugio Vittorio Emanuele II, an avalanche- and wind-proof bunker located more than halfway up Gran Paradiso's snowy slopes. 
Eleven women huddled around a worn wooden table, clutching mugs of steaming tea. We had traveled from far and wide and brought a diverse set of skills and experience to the expedition.
"So many girls! They're everywhere. Are they all together?" 
Reyn Hutten '21, the daughter of two botanists, had lived in three national parks and hailed from remote Wrangell, Alaska. Isabel "Izzy" Boettcher '20, from Washington's Cascades, spent the past summer researching glacier dynamics on the Juneau Icefield. Her best friend, Mary Tobin '20, was a resourceful engineer and had been on the national champion women's rugby team. The group's true endurance athlete, Anna Ellis '19, had run three marathons and done hundreds of Cabin & Trail hikes. Not to be outdone, Hager, a smiling Georgia blonde, had just returned from the indoor climbing national championship. Our photographer, Bella Jacoby '20, challenged us to think about our female experiences. Finally, our fearless leader Byrd grew up working as a raft guide and playing in the Rockies near her Colorado home. This journey was her brainchild, and we all felt grateful for her vision and determination. Thanks to her, we would attempt the summit the next day.
Erin slapped down a notebook, breaking the reverie. "Our time plan," she announced. "The most important piece of safety equipment we have." Many mountaineering catastrophes are the products of ignored or forgotten time plans. Alpine weather is notoriously unpredictable, and clear mornings often make way for perilous afternoon thunderstorms. Glacier travel is also far easier in the frigid predawn hours, when the snow is crusted over with a layer of ice. Late-afternoon slush means plunging thigh-deep with every step—sometimes into hidden crevasses. 
We estimated our pace using the tried and true Munter system, developed by Swiss guide Werner Munter to calculate time for mountain travel: time = (distance + elevation/100)/rate.
Erin wrote the figures in her notebook. "If we want to be back at the hut by 1:30 p.m. we need to turn around at 10:30," she said. She paused and added, "Even if we haven't made the summit." 
She made pointed eye contact with each of us. This could be a matter of life or death. We grimly nodded in agreement. We would have five hours of uphill travel time to the rocky pinnacle marking Gran Paradiso's peak. With a buffer, that meant waking up at 3:30 a.m. and being on the move by 4.  
"Alpine start," Hutten said, grinning.
I drifted outside to the Rifugio's wooden terrazza. Two rugged-looking men sat at a table, swigging a bottle of wine and conversing in rapid Italian. They couldn't have known that I spoke the language. 
"Tante ragazze!" one exclaimed, amazed. "So many girls! They're everywhere. Are they all together?" 
I smiled with amusement. 
Apparently, the 11 of us were making quite a splash at the 120-bed Rifugio. We weren't the only women on the mountain, but we were the only all- or mostly female group, while many groups were made up entirely of men. I turned to look at the mountains. Clouds haloed in gold flowed over the ragged pinnacles encircling the Rifugio. They created an ethereal scene of rock, snow, and light. 
"Summits," I thought, "look deceptively serene from afar."
Twelve hours later our three rope teams—one with each guide—regrouped a few hundred meters from the summit. It was 9:32 a.m. In theory, we would have plenty of time to traverse the final 60 meters before our 10:30 cutoff. 
However, the final stretch of Gran Paradiso bore little resemblance to the plodding, almost meditative glacier trek we'd experienced. The eight of us gazed up at the knife-edge ridge. It was only a few inches wide at some points and had sheer drop-offs on both sides. 
"My God," someone breathed.
Several Dartmouth students had never climbed before. Even the more experienced alpinists among us blanched at the prospect of scrambling over rocks in our crampons, the razor-sharp spikes we had attached to our boots. Crampons provide excellent traction on ice and snow, but skid uselessly over rock.
Our guides managed the danger with temporary "terrain belays," or roped safety mechanisms, around sharp ridges and protruding boulders.  
Boettcher felt a moment of terror when Liz tried to coax her onto a narrow ledge. "In the back of my mind I knew if I fell I wouldn't go far," she said, knowing the rope would save her. "But I was fixated on the 1,000-foot drop-off and the crampon situation." 
Throwing dignity to the wind, she dropped to all fours and slowly clambered over a boulder the size of a Mini Cooper.
The greatest danger arose not from our imperfect skills or the technical terrain, but from other climbers. 
As we drew closer to the summit, brightly colored jackets swarmed like ants over the ridge. They converged at pinch points in a high-altitude traffic jam, causing delays. Every second was precious. The greatest danger arose not from our imperfect skills or the technical terrain, but from other climbers. 
At 10:07 a.m. a group of clumsy British men started their descent, swearing loudly. Two of our three teams had already reached the Madonna statue marking Gran Paradiso's summit. 
However, our last team—composed of  Erin, Jacoby, Tobin, and me—had to wait for the British men to pass. The four of us were a mere 20 feet from the peak. Gusts of frigid wind ripped through Jacoby's hair as she teetered on the edge of an icy precipice. 
"I promise I won't grab your ass!" one of the terrified Brits called to her. Another man's crampon spikes whistled inches from her face as he descended from an icy boulder above her. Jacoby clutched the slippery rock and took deep breaths to calm the panic rising in her throat. 
After many long minutes the Brits' guide finally descended, bringing up the rear. He winked at us. "You should have seen those guys before you girls showed up," he confessed. "They were really insufferable."
Finally, at 10:26 a.m., just four minutes from the turnaround deadline, our last team summited. We took in the 360-degree panorama of jagged mountaintops—the kind of view usually seen from airplane windows. 
Tears came to Jacoby's eyes. "I was hyper-focused on not dying—not slipping, not losing my grip on the rock—but I was also so in awe," she said later. "It was the most scared I'd ever been, but it was also so beautiful. I was sitting in a vivid mix of fear and love for the world I was seeing."
We'd reached the summit, but, in Byrd's words, "A climb's not over until you're back to the car." 
Five hours later we reached the verdant valley floor. Crisp glacial air was replaced by the thick aroma of pine needles. We relished the warm afternoon sun on our backs. I looked up and noticed a lone woman starting up the trail toward us. She was headed for the Rifugio, two skis strapped to her pack. 
We made eye contact, and she offered a wry smile. 
"Potere alle donne," she whispered. Girl power.                            
Catherine Rocchi, an environmental studies major and anthropology minor from Harrison, New York, is a triathlete who loves skiing and rock climbing.