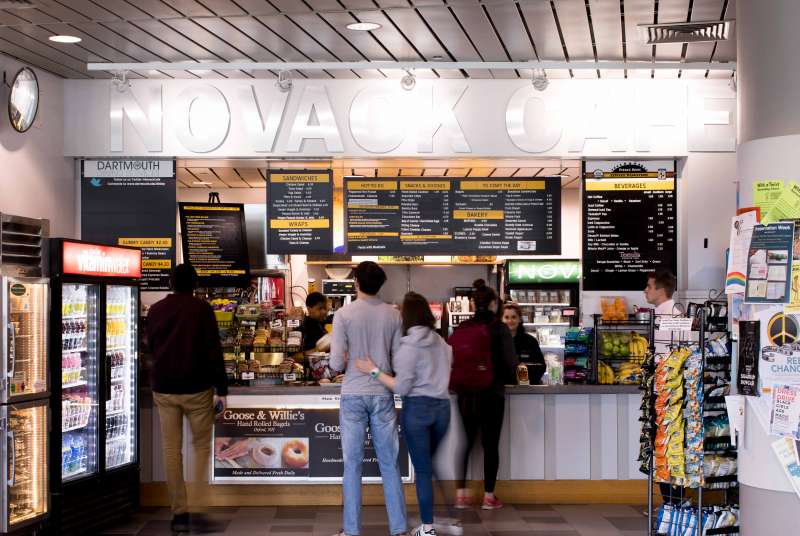 They Are What They Eat
A student foodie dishes on who eats what at campus dining venues.
Collis
The Place to Be
A recent survey indicates that 32 percent of students consider Collis to be Dartmouth's best dining option. Each of its stations provides easily customizable and scrumptious made-to-order meals. But as one of the smaller venues, there are times when the length of the dinner pasta line spills outside.
The smoothie bar offers abundant options. The stir-fry is made exactly to order, with choice of beef, chicken or tofu and six different sauces. For dinner Collis even brings in sushi chefs. Not only is the food top-notch, the staff is the friendliest on campus. Kathy greets everyone at the cash register with a smile. Dave makes a smoky spice that is a must-have staple on stir-fry, and cooks Ben, "Collis Steve" and Falcon expertly fill orders by juggling up to 12 frying pans at a time while chitchatting about sports or asking how a student's day is going.
Saunter into Collis at 11 p.m. for Late Night and you'll find a glut of greasy drunchies such as fried mac-and-cheese bites, kimchi rice, chicken tenders, mozzarella sticks, fried dumplings and other choices designed to sate alcohol-induced cravings.
FoCo
Regrets, I Have a Few
FoCo's dimly lit "dark side," as students refer to it, features long tables conducive to large groups such as freshman-floor residents and sports teams. The choice between the "light side," a brighter, more modern atmosphere, and the dark, more social, Harry-Potter-esque space where athletic groups tend to commandeer tables is up to personal preference.
If you desire to pile your plate high with mac-and-cheese pizza and all forms of meat and carbohydrates, this is the place. The only limit is the size of your stomach or your FoCo-to-go container. Oftentimes, a trip here engenders regret that you got your hopes up yet again for a meal that ended up being a few bites of mediocrity that you discarded unsustainably.
The best parts of FoCo are the DIY options: the ability to mix Greek yogurt and Nutella or make your own panini and stir-fry. Eventually, everyone learns "how to FoCo." But learning to love FoCo—and there is a sizeable contingent that does—takes time and creativity.
Courtyard Café
Hangover Cure
Patience is key here, where students face long lines and wait times. For hot items such as the Billy Bob, Breakfast Bomb, Workout Special, the Hulk, tender chicken queso, mozzarella sticks, General Tso's, burgers and fries—quite popular as hangover foods—one must develop a steely resolve. However, the prepackaged meals and the salad bar—the most varied on campus—have gotten quite the upgrade in recent years.
A secret menu and employees such as Igor and Grillmaster Mike make this venue popular among athletes and males. Regulars develop a rapport and insider knowledge of all the different options, on or off the menu. For example, the Bob Marley is a popular off-menu item that includes steak, hash browns, egg and cheese.
Novack
Late-Night Alternative
It's 1:55 a.m. and you are delirious working on a paper. It's going to take all night, and your only food choice is here, in the library, where you grimly drag yourself to survey the sad sushi, mystery chili, cold sandwiches and gross and greasy calzones. You just need something to get you through the night. You settle on two Odwallas, espresso beans covered in dark chocolate and a 5-hour Energy bottle.
Alternatively, you've got classes straight through from 10 a.m. to 1 p.m. and you need a quick bite before your sprint from Rocky to the Life Sciences building. You settle for a Novack snack, maybe some yogurt or hummus and carrots. You dread the inevitable managerial scream—"Can I help someone?" or "Next!"—during crowded moments. Student employees compose the bulk of the staff. They are alternately bored and frenzied.
KAF
For Coffee Lovers
A Baker Library lobby offshoot of the Norwich, Vermont-based King Arthur Flour Co., this is one of the most popular dining options on campus. The delectable wafting scents of freshly baked rolls and brioches elevate every library study session. Only here can you find specialty skim and chai tea lattes or McNamara chocolate milk with a shot of espresso. Popular items include a curried chicken salad and sandwich, a brie-and-apple sandwich, and chickpea, New England and Caesar salads for breezy and delicious lunches. A variety of jams, granola, marshmallows and caramels, as well as an entire baguette, can be shared among friends. In addition, KAF allows students to order whole cakes and sets of six cupcakes with two-day advance notice, perfect for a special occasion or a friend's birthday. No wonder the line stretches out the door by 9 a.m.
Food Truck
Meals You Didn't Know You Wanted
Greasy and mobile, the Dartmouth dining services-operated food truck materializes when you least expect it, because no one can keep track of its sporadic, one-hour stops each night at random house centers. The most convenient location is behind Fahey dorm, sandwiched between Beta and Zete on frat row, providing the perfect opportunity for those buzzed and too lazy to walk to Late Night Collis. Everything on the menu feels like 1,000 calories—whether the super-loaded cheesy fries, five-cheese (yes, five!) grilled cheese sandwiches, arepas and tacos that can be filled with chicken and avocado, carne mechada or poutine (the Canadian combo of fries, cheese curds and gravy).
The truck is a new and fun concept, and it offers foods found nowhere else on campus. If only its hours were longer and locations more regular, so students toiling away in the far corners of campus could benefit from this mobile option.
House Snack Bars
Fuel for Thought
The snack bars installed in most of the new housing communities provide much-needed fuel throughout the day and offer brand name goods not found in any dining hall: Ferrero Rocher chocolates, Babybel and Cabot cheese, varieties of kombucha, Swedish fish, Junior Mints, Lay's Stax, gluten-free Lucy's cookies, Luna bars and Clif bars. All perfect to bring on a hike or to snack on during class. An amazing ice cream selection includes Häagen-Dazs and milkshake machines to indulge a sweet tooth. If you suddenly realize at 10 p.m. that you forgot to eat a proper dinner, no worries. The snack bars are often equipped with decent frozen meals and healthy options such as chicken vindaloo and sushi rolls.
Read food critic Jane Stern's full review of campus fare in our July/August 2017 cover story. View a slideshow of Stern's favorite discoveries from Dartmouth's dining halls.