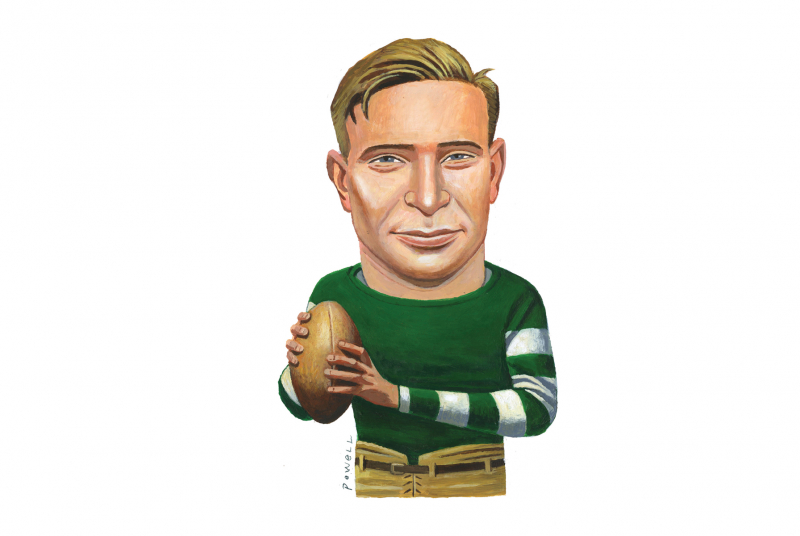 The Man with the Golden Arm
College football hall of famer Andrew "Swede" Oberlander, class of 1926, took the passing game to new heights.
All-Time Great
Oberlander led Dartmouth to an 8-0 record and an average of 40 points a game in 1925. As a six-foot, 196-pound halfback, he passed, he ran, he even punted. Several sportswriters declared the team national champions, although Dartmouth declined postseason play.
Forward Thinking
The two-time All American said he timed himself on long pass plays by reciting these words before he threw the ball: "Ten thousand Swedes jumped out of the weeds at the Battle of Copenhagen."
What's In a Name?
He was known as "Obie" as a freshman, and later the press dubbed him "Swede" because of his blond hair. But Oberlander was not Swedish—he was German-Dutch, and his father's family traced its roots to passengers on the Mayflower. He didn't care for the nickname, and neither did his mother, who was known to admonish those who used it in front of her.
Bull's Eye
Oberlander's remarkable accuracy in the early days of passing led noted sports journalist Grantland Rice to write that Swede could "take a football and nail Ty Cobb at second base on a steal."
Giant Decision
A history major, Oberlander turned down a $25,000 offer from the New York Giants in 1925 in favor of finishing his college studies. "It is not my intention to consider any professional offers," he said, "because I believe acceptance would hurt intercollegiate football and not be for the best interests of the Dartmouth team."
Battle Abroad
During World War II Oberlander served as a lieutenant commander in the Navy and chief medical officer aboard the USS Samar in the Pacific. In late fall 1945, after the war ended, he coached Navy to a 12-0 victory over Army in the China Bowl in Shanghai.
Degree of Difference
According to a 1925 editorial in The Dartmouth, a coach met Oberlander at a store late one night, three days before a game, and asked why he was up so late. Oberlander said he had to study. The coach was surprised and asked about the game. Oberlander replied, "What am I up here for, football or education?"
The Long Game
Oberlander earned a medical degree from Yale in 1933 while he was head coach at Wesleyan. He was inducted into the College Football Hall of Fame in 1954 and died of a heart attack in 1968. Sons Jim '53 and David '55 attended Dartmouth.