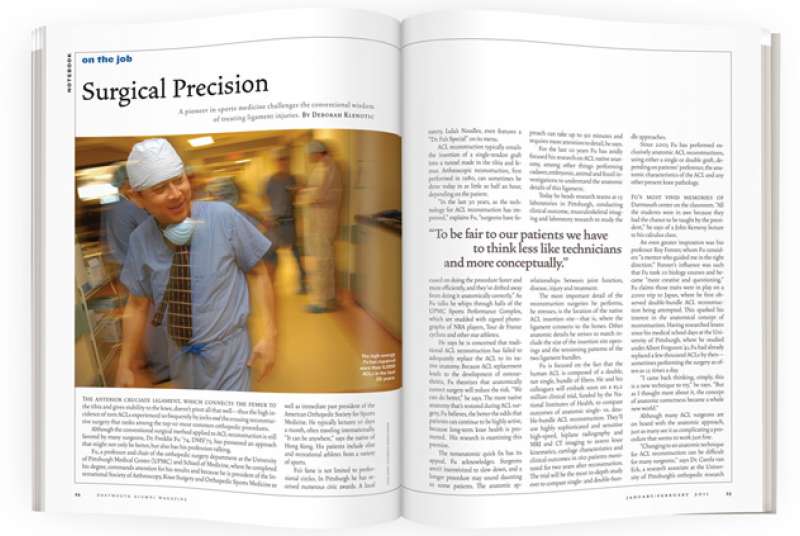 Surgical Precision
A pioneer in sports medicine challenges the conventional wisdom of treating ligament injuries.
The anterior cruciate ligament, which connects the femur to the tibia and gives stability to the knee, doesn't pivot all that well—thus the high incidence of torn ACLs experienced so frequently by jocks and the ensuing reconstructive surgery that ranks among the top-10 most common orthopedic procedures.
Although the conventional surgical method applied to ACL reconstruction is still favored by many surgeons, Dr. Freddie Fu '74, DMS'75, has pioneered an approach that might not only be better, but also has his profession talking.
Fu, a professor and chair of the orthopedic surgery department at the University of Pittsburgh Medical Center (UPMC) and School of Medicine, where he completed his degree, commands attention for his results and because he is president of the International Society of Arthroscopy, Knee Surgery and Orthopedic Sports Medicine as well as immediate past president of the American Orthopedic Society for Sports Medicine. He typically lectures 10 days a month, often traveling internationally. "It can be anywhere," says the native of Hong Kong. His patients include elite and recreational athletes from a variety of sports.
Fu's fame is not limited to professional circles. In Pittsburgh he has received numerous civic awards. A local eatery, Lulu's Noodles, even features a "Dr. Fu's Special" on its menu.
ACL reconstruction typically entails the insertion of a single-tendon graft into a tunnel made in the tibia and femur. Arthroscopic reconstruction, first performed in 1980, can sometimes be done today in as little as half an hour, depending on the patient.
"In the last 30 years, as the technology for ACL reconstruction has improved," explains Fu, "surgeons have focused on doing the procedure faster and more efficiently, and they've drifted away from doing it anatomically correctly." As Fu talks he whips through halls of the UPMC Sports Performance Complex, which are studded with signed photographs of NBA players, Tour de France cyclists and other star athletes.
He says he is concerned that traditional ACL reconstruction has failed to adequately replace the ACL to its native anatomy. Because ACL replacement leads to the development of osteoarthritis, Fu theorizes that anatomically correct surgery will reduce the risk. "We can do better," he says. The more native anatomy that's restored during ACL surgery, Fu believes, the better the odds that patients can continue to be highly active, because long-term knee health is promoted.  His research is examining this premise.
The nonanatomic quick fix has its appeal, Fu acknowledges. Surgeons aren't incentivized to slow down, and a longer procedure may sound daunting to some patients. The anatomic approach can take up to 90 minutes and requires more attention to detail, he says.
For the last 10 years Fu has avidly focused his research on ACL native anatomy, among other things performing cadaver, embryonic, animal and fossil investigations to understand the anatomic details of this ligament.
Today he heads research teams at 15 laboratories in Pittsburgh, conducting clinical outcome, musculoskeletal imaging and laboratory research to study the relationships between joint function, disease, injury and treatment.
The most important detail of the reconstruction surgeries he performs, he stresses, is the location of the native ACL insertion site—that is, where the ligament connects to the bones. Other anatomic details he strives to match include the size of the insertion site openings and the tensioning patterns of the two ligament bundles.
Fu is focused on the fact that the human ACL is composed of a double, not single, bundle of fibers. He and his colleagues will embark soon on a $3.2 million clinical trial, funded by the National Institutes of Health, to compare outcomes of anatomic single- vs. double-bundle ACL reconstruction. They'll use highly sophisticated and sensitive high-speed, biplane radiography and MRI and CT imaging to assess knee kinematics, cartilage characteristics and clinical outcomes in 160 patients monitored for two years after reconstruction. The trial will be the most in-depth study ever to compare single- and double-bundle approaches.
Since 2003 Fu has performed exclusively anatomic ACL reconstructions, using either a single or double graft, depending on patients' preference, the anatomic characteristics of the ACL and any other present knee pathology.
Fu's most vivid memories of Dartmouth center on the classroom. "All the students were in awe because they had the chance to be taught by the president," he says of a John Kemeny lecture to his calculus class.
An even greater inspiration was bio professor Roy Forster, whom Fu considers "a mentor who guided me in the right direction." Forster's influence was such that Fu took 10 biology courses and became "more creative and questioning." Fu claims those traits were in play on a 2000 trip to Japan, where he first observed double-bundle ACL reconstruction being attempted. This sparked his interest in the anatomical concept of reconstruction. Having researched knees since his medical school days at the University of Pittsburgh, where he studied under Albert Ferguson '41, Fu had already replaced a few thousand ACLs by then—sometimes performing the surgery as often as 12 times a day.
"I came back thinking, simply, this is a new technique to try," he says. "But as I thought more about it, the concept of anatomic correctness became a whole new world."
Although many ACL surgeons are on board with the anatomic approach, just as many see it as complicating a procedure that seems to work just fine.
"Changing to an anatomic technique for ACL reconstruction can be difficult for many surgeons," says Dr. Carola van Eck, a research associate at the University of Pittsburgh's orthopedic research laboratories. "They're very good at the fast and efficient ACL reconstruction they've been doing for years." Changing to an anatomic approach requires more learning and is technically demanding, she adds.
"Dr. Fu and his research group have heightened surgeons' awareness of the need for anatomic tunnel placement in ACL reconstruction," says Dr. Jo A. Hannafin, a professor of orthopedic surgery at Cornell University's Weill Medical College who is also director of orthopedic research at the Hospital for Special Surgery in New York City and author of Say Goodbye to Knee Pain. "The issue remains that there is variability from patient to patient in the exact anatomic footprint," she says. "What's especially exciting is his research designed to determine the clinical importance of anatomic reconstruction and the need, or lack thereof, for a double-bundle reconstruction."
Dr. John Richmond, chair of the orthopedics department at New England Baptist Hospital in Boston and a professor of orthopedic surgery at Tufts University School of Medicine, performs more than 100 anatomic ACL reconstructions a year. "Much of what's changed in our field in the last five years can be attributed to Dr. Fu," he says. Richmond lauds Fu "as a classic clinician-scientist, looking at the anatomic procedure critically, researching it in the lab, proving in the lab that it would be better and adopting it. "
Fu says it just makes sense to approach ACL reconstruction with the same anatomic awareness that's shown in other surgeries.
"We as surgeons often want to take a shortcut to surgery and ignore anatomy," says Fu. "To be fair to our patients we need to think less like technicians and more conceptually, more open-mindedly. The hard fact is anatomy never changes. It's been the same for millions of years."
Deborah Klenotic is a freelance writer and assistant director of web communications in Dartmouth's alumni relations office.