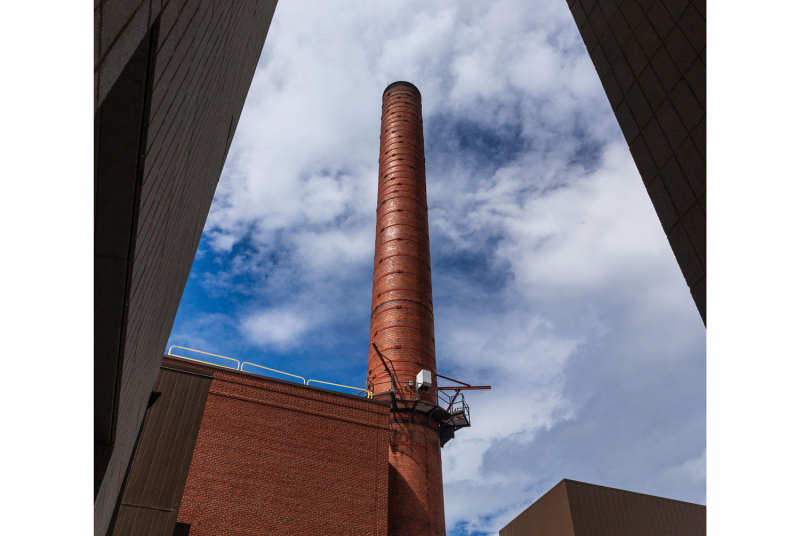 Still Smokin'
Pandemic stalls new power plant plans.
Early last year, Dartmouth announced a sweeping program to cut, and eventually eliminate, campus greenhouse-gas emissions. Most dramatically, it called for retiring the school's 121-year-old steam plant, whose smokestack soars over the green almost as prominently as Baker Tower.
In the midst of the coronavirus pandemic, those plans are less certain, and moving less quickly, than before. Rosi Kerr, Dartmouth's director of sustainability, says, "We are facing much harder choices than we were six months ago."
As first proposed, the $200 million plan included upgrades to buildings, and converting the campus's network of steam heating pipes to a more efficient hot water system. The heating plant was to be replaced with a new facility burning woodchips instead of oil. Though wood is a renewable fuel—and some experts see it as climate friendly—that idea sparked controversy. Three prominent Dartmouth alumni, including MIT professor John Sterman, '77, published a memo challenging "the mistaken assumption that a wood-fired heating plant will be of benefit to the College or the world."
Dartmouth's sustainability team quickly regrouped, seeking fresh ideas and recruiting new experts, including Sterman. He now serves on two advisory committees, which meet virtually. One question they're grappling with is whether Dartmouth's needs could be met without burning any sort of fuel. Sterman believes it's possible—with infrastructure upgrades. "Energy efficiency is the fastest, safest, cheapest way to get where we want," he says. The revamped plan will likely rely heavily on geothermal wells, which harness moderate underground temperatures to assist in heating and cooling.
Meanwhile, the heating-plant smokestack will stand for at least a few years longer. Due to the pandemic's financial impact, "large-scale energy investments will probably be pushed down the road," Kerr says. At the same time, she notes, "turmoil can force you to find new ways to do things." For example, with most employees learning to work from home, the college might experiment with more efficient ways to use office space.
Sterman believes the school must plan for the long term. "Dartmouth has been around for hundreds of years," he says, "and we expect it to be here hundreds of years from now."