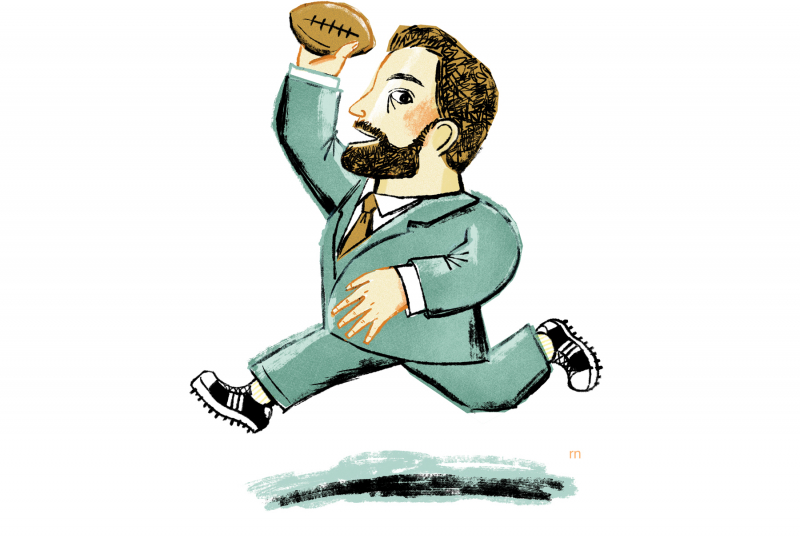 Sporting Life
Former quarterback Brian Mann '02 scores AD job at William & Mary.
Mann fervently believes in the power of athletic competition to shape young people's lives. Sports galvanized his own career and created many opportunities for the student-athletes he has worked with at four schools, including William & Mary, where he took the reins as athletic director in August.
"Being a student athlete put me in close contact with some of the best people I've ever met," the history major says. "It put me on the path to try different jobs, to have different life experiences and adventures."
Growing up with four siblings in an Irish-Catholic family in Canton, Massachusetts, Mann wanted to play every sport he could. His parents were supportive, with one caveat, he says: "First I had to take care of what went on in the classroom." 
Mann holds the Dartmouth record for passing yardage in a season. He also started in the Arena Football League for four seasons. He was Adam Sandler's stunt double in the 2005 film The Longest Yard. The last professional pass he threw was a 15-yard completion to Lady Gaga during the 2017 Super Bowl halftime show.
After a stint in healthcare, Mann worked for athletic directors at three institutions, beginning at Dartmouth in 2009. Berkeley AD Jim Knowlton credits him as instrumental in overcoming fiscal issues there. "Our development office had a lot of instability in the past," he says, "and Brian helped to steady the waters and reorganize the department."
Mann, who lives in Williamsburg, Virginia, with wife Hilary and son Russell, aims to reverse a downward trend in philanthropy for athletics at William & Mary. "I'm here to help young people in the same way people helped me in college," he says, "to make sure they have the skills to go on and be the best version of themselves."