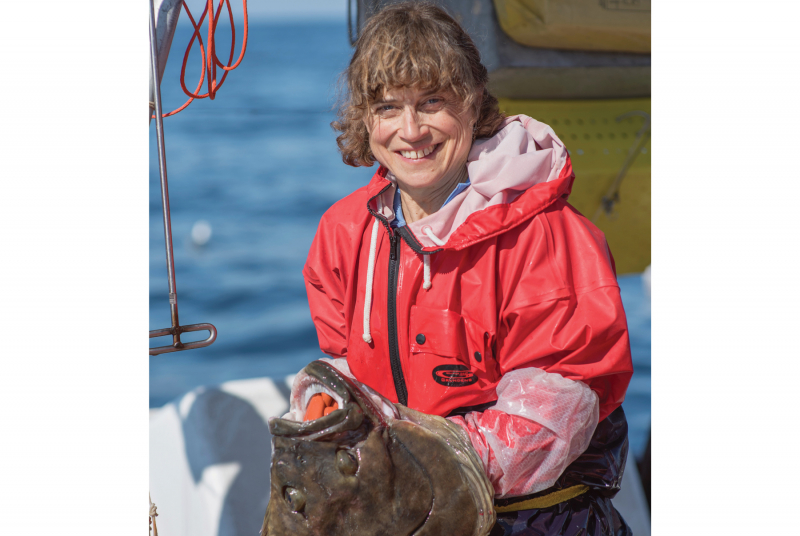 Sea Changer
Fisheries leader Linda Behnken '84 champions sustainability.
Alaska has lured Behnken to its waters since she crewed on fishing boats in Sitka during summers off from Dartmouth. After graduating with a degree in English and a minor in environmental studies, she returned to Sitka to work on small commercial boats. She later bought her own, hauling in salmon, halibut, and black cod with her husband and their two sons, who joined their parents on the boat as babies. (They're now 17 and 19.)
Concerned about pollution and unsafe fishing practices, she earned a master's in environmental science from the Yale School of Forestry & Environmental Studies. In 1991 she took the helm as executive director of the Alaska Longline Fishermen's Association (ALFA), which is dedicated to promoting sustainable fisheries. 
Under her leadership, ALFA helped pass the Southeast Alaska Trawl Closure in 1998, at the time the world's largest ban on trawling, in which huge nets dragged across the ocean floor damage or catch sponges, corals, and other non-target species. "It was a David-and-Goliath win—large-scale industry and big money vs. communities and small boats," says Behnken. "It's why we still have healthy fisheries and communities here."
ALFA's programs—from the Fishery Conservation Network, which unites scientists and fishermen to advance ocean science, to the Young Fisherman's Initiative, which trains people for fishing careers—help rural coastal communities thrive. "Like family farmers, family fishermen really care about keeping the ocean healthy and having healthy fisheries to hand off to the next generation," Behnken says. "I try to give them a voice."
In 2016 the Obama White House named Behnken a Champion for Change for sustainable seafood. Last year she received the Heinz Award for the Environment, a $250,000 cash prize. She donated $100,000 of the award to the Alaska Sustainable Fisheries Trust to support young fishermen and tackle climate change. "Linda has done the most to conserve fisheries in Alaska than any other single fisheries leader," says fellow skipper and fishing conservation activist Eric Jordan.