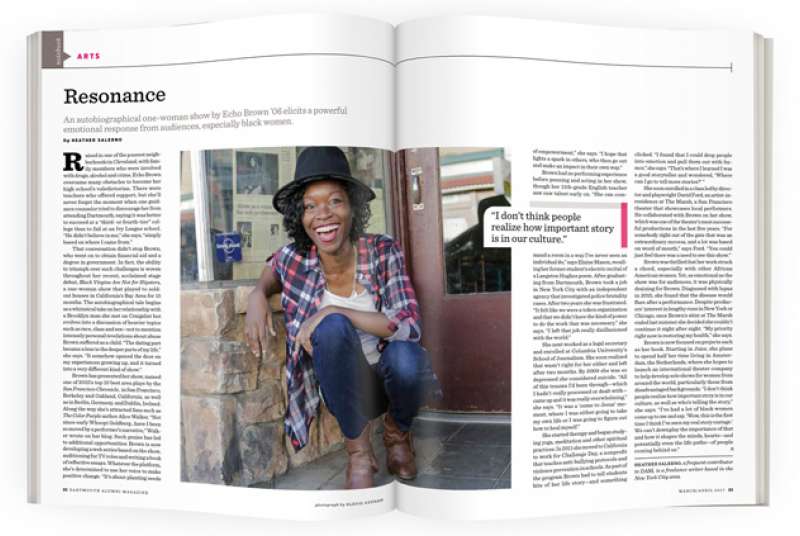 Resonance
An autobiographical one-woman show by Echo Brown '06 elicits a powerful emotional response from audiences, especially black women.
Raised in one of the poorest neighborhoods in Cleveland, with family members who were involved with drugs, alcohol and crime, Echo Brown overcame many obstacles to become her high school's valedictorian. There were teachers who offered support, but she'll never forget the moment when one guidance counselor tried to discourage her from attending Dartmouth, saying it was better to succeed at a "third- or fourth-tier" college than to fail at an Ivy League school. "He didn't believe in me," she says, "simply based on where I came from." 
That conversation didn't stop Brown, who went on to obtain financial aid and a   degree in government. In fact, the ability to triumph over such challenges is woven throughout her recent, acclaimed stage debut, Black Virgins Are Not for Hipsters, a one-woman show that played to sold-out houses in California's Bay Area for 15 months. The autobiographical tale begins as a whimsical take on her relationship with a Brooklyn man she met on Craigslist but evolves into a discussion of heavier topics such as race, class and sex—not to mention intensely personal revelations about abuse Brown suffered as a child. "The dating part became a lens to the deeper parts of my life," she says. "It somehow opened the door on my experiences growing up, and it turned into a very different kind of show." 
Brown has presented her show, named one of 2015's top 10 best area plays by the San Francisco Chronicle,  in San Francisco, Berkeley and Oakland, California, as well as in Berlin, Germany, and Dublin, Ireland. Along the way she's attracted fans such as The Color Purple author Alice Walker. "Not since early Whoopi Goldberg…have I been so moved by a performer's narrative," Walker wrote on her blog. Such praise has led to additional opportunities: Brown is now developing a web series based on the show, auditioning for TV roles and writing a book of reflective essays. Whatever the platform, she's determined to use her voice to make positive change. "It's about planting seeds of empowerment," she says. "I hope that lights a spark in others, who then go out and make an impact in their own way." 
Brown had no performing experience before penning and acting in her show, though her 11th-grade English teacher saw raw talent early on. "She can command a room in a way I've never seen an individual do," says Elaine Mason, recalling her former student's electric recital of a Langston Hughes poem. After graduating from Dartmouth, Brown took a job in New York City with an independent agency that investigated police brutality cases. After two years she was frustrated. "It felt like we were a token organization and that we didn't have the kind of power to do the work that was necessary," she says. "I left that job really disillusioned with the world." 
She next worked as a legal secretary and enrolled at Columbia University's School of Journalism. She soon realized that wasn't right for her either and left after two months. By 2009 she was so depressed she considered suicide. "All of this trauma I'd been through—which I hadn't really processed or dealt with—came up and it was really overwhelming," she says. "It was a 'come to Jesus' moment, where I was either going to take my own life or I was going to figure out how to heal myself." 
She started therapy and began studying yoga, meditation and other spiritual practices. In 2011 she moved to California to work for Challenge Day, a nonprofit that teaches anti-bullying protocols and violence prevention in schools. As part of the program Brown had to tell students bits of her life story—and something clicked. "I found that I could drop people into emotion and pull them out with humor," she says. "That's where I learned I was a good storyteller and wondered, 'Where can I go to tell more stories?' "
She soon enrolled in a class led by director and playwright David Ford, an artist-in-residence at The Marsh, a San Francisco theater that showcases local performers. He collaborated with Brown on her show, which was one of the theater's most successful productions in the last five years. "For somebody right out of the gate that was an extraordinary success, and a lot was based on word of mouth," says Ford. "You could just feel there was a need to see this show." 
Brown was thrilled that her work struck a chord, especially with other African American women. Yet, as emotional as the show was for audiences, it was physically draining for Brown. Diagnosed with lupus in 2015, she found that the disease would flare after a performance. Despite producers' interest in lengthy runs in New York or Chicago, once Brown's stint at The Marsh ended last summer she decided she couldn't continue it night after night. "My priority right now is restoring my health," she says. 
Brown is now focused on projects such as her book. Starting in June, she plans to spend half her time living in Amsterdam, the Netherlands, where she hopes to launch an international theater company to help develop solo shows for women from around the world, particularly those from disadvantaged backgrounds. "I don't think people realize how important story is in our culture, as well as who's telling the story," she says. "I've had a lot of black women come up to me and say, 'Wow, this is the first time I think I've seen my real story onstage.' We can't downplay the importance of that and how it shapes the minds, hearts—and potentially even the life paths—of people coming behind us."                      
Heather Salerno, a frequent contributor to DAM, is a freelance writer based in the New York City area.