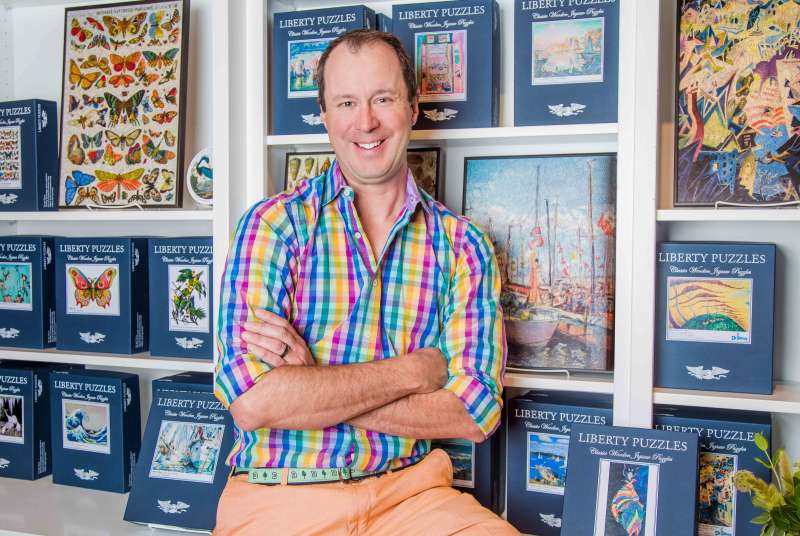 Puzzle Master
Jeff Eldridge '00 puts all the pieces together.
Although he had been assembling jigsaw puzzles for much of his childhood, it wasn't until Eldridge was out of school that he developed a love for the pastime. "I discovered that they were a great distraction from the pressures of work and the stresses of life," he says. "They allow you to keep your mind moving quickly while focusing on an activity that always brought great satisfaction." In 2005 Eldridge and a friend launched Liberty Puzzles in Boulder, Colorado. They both loved vintage, hand-cut, wooden jigsaw puzzles, a whole different game than the die-cut, cardboard puzzles that dominate the market. After a bit of trial-and-error, the pair created a computer-controlled laser cutter that could simulate a hand-cut scroll saw or jigsaw. Using archival ink and paper and quarter-inch maple-veneer plywood, Eldridge's company now makes puzzles with an authentic, heirloom feel.
But these aren't your grandparents' puzzles. In addition to making puzzles of images customers provide, Liberty has nearly 700 puzzles for sale in prices that range from $44 to $1,500. They depict contemporary art, book covers, old travel posters and various fairy tales. All contain at least 15-percent "whimsy" pieces: unique pieces that are outlines of recognizable figures on their own and designed to match the theme of the puzzle. (For example, one of the recent Seuss puzzles includes a piece shaped like the little fellow who runs around offering green eggs and ham.) A global audience is obsessed with Liberty Puzzles—"We ship daily to England," says Eldridge, who declines to share sales figures. Customers include former U.S. presidents, media tycoons and hipsters in Brooklyn. Liberty has expanded to 22 laser cutters and 44 employees. Liberty's motto is "Sit long, talk much," says Eldridge, an appreciation of its new-school approach to an old-school game.