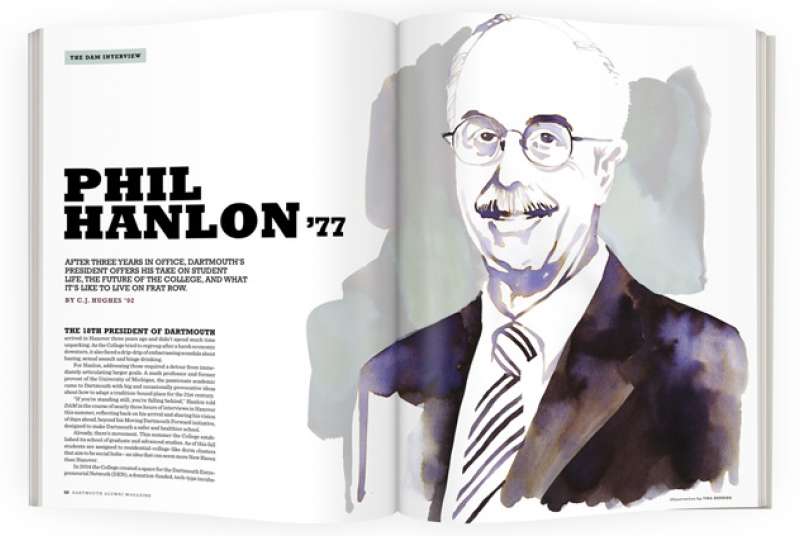 Phil Hanlon '77
After three years in office, Dartmouth's president offers his take on student life, the future of the College, and what it's like to live on Frat Row.
The 18th president of Dartmouth arrived in Hanover three years ago and didn't spend much time unpacking. As the College tried to regroup after a harsh economic downturn, it also faced a drip-drip of embarrassing scandals about hazing, sexual assault and binge drinking. 
For Hanlon, addressing those required a detour from immediately articulating larger goals. A math professor and former provost of the University of Michigan, the passionate academic came to Dartmouth with big and occasionally provocative ideas about how to adapt a tradition-bound place for the 21st century. 
"If you're standing still, you're falling behind," Hanlon told DAM in the course of nearly three hours of interviews in Hanover this summer, reflecting back on his arrival and sharing his vision of days ahead, beyond his Moving Dartmouth Forward initiative, designed to make Dartmouth a safer and healthier school. 
Already, there's movement. This summer the College established its school of graduate and advanced studies. As of this fall students are assigned to residential-college-like dorm clusters that aim to be social hubs—an idea that can seem more New Haven than Hanover. 
In 2014 the College created a space for the Dartmouth Entrepreneurial Network (DEN), a donation-funded, tech-type incubator where students can compete for $25,000 to fund their business plans. The space's lofty Bay Area-style interior on Currier Place was the site of one of the DAM interviews.
In September Hanlon announced a new multi-disciplinary center, the Arthur L. Irving Institute for Energy and Society. Longer-term ideas, still germinating, seem even bolder, such as doing away with the traditional college lecture, at least during class time, and replacing it with discussions and sophisticated role-playing group exercises. 
Focused as he is, Hanlon and his wife, Gail Gentes, manage to have some fun, too.
What follows is an edited and condensed version of the interviews.
From the outside, major changes can seem to be sweeping across the College. Was this part of your grand plan?
Coming back to Dartmouth and being able to give back to the institution that so completely changed my life is an incredible thrill. Dartmouth is an amazing place, with highly talented, highly ambitious students and faculty and staff—and alumni who are incredibly accomplished and very attached to the institution. 
I don't need to tell you what happened to the economy a few years before I got here, so by the time I arrived ideas were set in place. The faculty and alumni were ready for a really compelling vision and set of strategies and ready to jump on board. It was really a great time to land here.
There's a principle in evolutionary biology called the Red Queen hypothesis, that if you're in a competitive environment and you stand still, you will fall behind. You must be constantly moving forward just to keep up. That applies to Dartmouth as much as to any organization in a competitive world. As great as it is, we have to be making it better.
Alums often mention the steep price of a Dartmouth education these days. You've also said cost is a problem. Last year and the year before tuition rose 2.9 percent, pegged to a measure of inflation, which is a level you promised to maintain. This year, tuition shot up 3.9 percent. What happened?
Last year we actually budgeted the campus at 2.9 percent again, but we added another percent to help fund the house community system. It was sort of a one-time addition for new residences for our six house professors and to fund the house professors themselves. The house community budget is about $3.6 million this year, which includes $2.6 million funded by the additional increase in tuition, room and board.
Going forward, though, the houses will cost an extra $1 million each year, for social and academic programming, and that will be covered through philanthropy. I don't anticipate any extra outlay, right now anyway. The thing that's most important is that we budget from an expenditure side, rather than a revenue side. What are the least effective things we're doing? How can we take that money and redirect it toward new initiatives that are important? That's as opposed to asking how much revenue can we get in the door. 
Making each division reallocate 1.5 percent of its budget every year has helped reduce inefficiencies. We've switched from distributed servers at Tuck to centralized servers, which saved hundreds of thousands of dollars that went toward financial aid for overseas study. 
In arts and sciences, we took a tougher stance on off-campus programs that weren't sufficiently enrolled, and added some, such as those in Ghana and Santa Fe, New Mexico. We also reduced printing and mailing, saving $125,000 a year, which went partly into a space-analyst position [to manage and allocate College space]. 
At Geisel, we've gone a long way toward correcting a budget deficit. We cut about $14 million of expenses this year. As with the rest of the campus, it's work you always have to be attentive to.
Critics say administrative costs have to come down, because that's where the bloat is.
I don't know that the data supports their case the way they think it does. But it doesn't matter. It still is the case that we should always be asking, "How can we take dollars spent on operations and administration and move those dollars to our academic side?"
"I take it seriously when people are unhappy about things, but I also think it's imperative that we make progress. I am always open to different ideas, but we can't just say, 'Okay, we're not going to deal with these things,' because some people don't like what we're doing." 
Do you worry that high tuition will make alums think their money is not being wisely spent, prompting them to withhold donations?
I am probably more concerned on the positive side of that than the negative side. What I want to be more focused on is, "Are we doing everything we can to make Dartmouth as great as it can be and do I have the real compelling arguments and message in place that will persuade more alums that an investment in Dartmouth is a really positive thing?"
The perception among some in the alumni body is that the campus is in upheaval, as the College tries to grapple with excessive drinking, fraternity hazing and sexual assault. Does the reality match the perception?
The last year in U.S. higher education was as tumultuous as any I have seen in my experience over the past 40 years—less because of excessive drinking, hazing or sexual assault and more because of the societal issues of race and freedoms of speech, expression and congregation that enflamed passions across the political spectrum on campuses around the country. 
Recent campus upheaval was less about the issues you mention and more about these societal issues, and they are playing out on campuses everywhere. Regarding the issues you mention, when I arrived here, one of the things that came up in practically every conversation was the disruption that was occurring because of harmful behaviors on campus, and people's remorse that these kinds of behaviors were happening. It wasn't that they were happening at Dartmouth and not happening anywhere else, but they were particularly distracting to the campus. We have a very tight community, so when a student harms another student or students harm themselves, it's like that happening in your family. I think it was more impactful psychologically for our campus. I just can't imagine any alums fondly remember putting someone in an ambulance as part of their great experience at Dartmouth. 
Moving Dartmouth Forward, just to remind you, was led by a steering committee that consisted of faculty, students, staff and alumni. This committee was one of the most effective, hard-working groups I've ever run into. They spent about nine months addressing questions like, "What are other places doing? What do experts say? What are the ideas set forward from members of our community?"
Has the hard liquor ban, for instance, been effective?
I'm an outcomes-based guy, and we've got a bunch of indicators we're tracking. On the high-risk drinking side, it's a whole set of indicators about safety and security encounters that somehow involve alcohol [up since 2011], medical transports, medical transports of high blood-alcohol content, and the number of Good Samaritan calls. The high blood-alcohol content, medical encounters numbers are moving in the right direction, but I would also say it's early. The intervention just started a year and a quarter ago. I've known interventions that make progress at first and then revert back. We'll continue to watch it for several years. 
If, in the future, Dartmouth had fewer Greek organizations, would that be a good or bad thing?
I don't feel it's my job to tell students how to associate. I think it's our job as the administration to say, "When you associate, here's our expectation of how you're going to contribute to campus"—whether you're associating through a Greek organization or the Marching Band or the Dartmouth Outing Club or whatever. I don't have an opinion on how students choose to associate. I do think that tightness of friendships, tightness of community are really important things that have been part of the history of Dartmouth.
As at many other institutions, protests seem to have roiled the campus. Your office in Parkhurst was even occupied by students unhappy with the level of diversity at the College. There have also been counter-protests, such as the "Blue Lives Matter" display that upset members of the "Black Lives Matter" movement. Are these considered protected speech at Dartmouth? Is it possible for students to go too far? 
The tragic shootings in Orlando and Baton Rouge and Minneapolis and Dallas this year underscore that there are, in fact, deep divisions in this country and around the world. We certainly expect that on any elite university campus the great issues of the world will be debated and discussed openly and that there be a free exchange of ideas. We understand that will make people uncomfortable sometimes. They will encounter things that do make them uncomfortable. But we follow First Amendment rights and protections, which are very broad protections. So in some of those instances you're talking about, where the YouTube video [from Baker] showed something that really offended people, that's still protected speech on our campus. You will not be punished for it. 
We also have an aspirational part of our speech policy, which is that when ideas are exchanged, that should be done with dignity and respect. You should not be bullying people. If you cross that line you won't be punished, you'll be counseled.
I've had my office occupied three times. The other two times were at Michigan. But we have policies that activism can't disrupt business, so here was a case where we could have taken some sort of action with those students. In fact, we did, after it was over. As with any sort of judicial action for individuals, we don't discuss it publicly. The protestors did not achieve their goals. There was nothing that the administration did afterward that it was not already planning to do.
"Athletics are important because of the values that carry over to the student-athletes, the life lessons they learn about teamwork, about leadership and about perseverance. Sports are part of the education we provide."
What's your own history of demonstrating?
By the time I came to Dartmouth as a student, protests against the Vietnam War had faded. But I used to work in an ironworks on my off-terms in college, in Gouverneur, New York. And we did go on a contract strike one year, though it was pretty tame. It wasn't like On the Waterfront. 
Recent surveys indicate students are frustrated with the administration. Is that something you consider when setting policy? Does it bother you?
I take it seriously when people are unhappy about things, but I also think it's imperative that we make progress. I am always open to different ideas, but we can't just say, "Okay, we're not going to deal with these things," because some people don't like what we're doing. 
If there's a tension on campus between progress and tradition, where do you sit?
I got a letter in my first year from an alum who said you have to recognize the difference between ritual and tradition. Traditions are part of the heart and soul of the institution and are the things that need to be nurtured and protected. Rituals are things that pop up and are followed for a while but may disappear. As I think about forward progress, forward motion at Dartmouth, I think about what needs to be protected. You know, what makes Dartmouth Dartmouth. 
First of all: scholars who teach and a faculty that is truly committed to pulling students into their scholarly work in profound ways.  
Second is a strong commitment to the liberal arts. The term liberal arts means different things to different people, but I'm talking about a set of outcomes: broad knowledge of the world and the experience of having done a deep dive into one subject. The important outcome from that is humility more than anything, as you realize how incredibly complicated the knowledge base around a discipline is. To go with those is a whole suite of generally applicable intellectual skills, like communication skills, critical-thinking skills, having a well-developed creative mind and being able to work effectively with others, particularly others who come from very different perspectives. 
Third is a profound sense of place, this amazing North Woods setting. I think it grabs all of us during first-year trips and you're never quite the same person. You know, sitting on top of Mount Moosilauke and watching a sunset or being down on the river at sunrise or tromping across the Green on some really cold morning.
Fourth is an adventuresome spirit. I think Dartmouth alums are ready to try some new things, to take some risks. They are anxious to make a difference, even if it puts them in an uncomfortable spot. 
You've said you want the faculty to improve on its current 16-percent diversity rate. How do you get there? And what about student-body diversity?
To me the most striking change when I came back on campus was the diversity of the student body, which is terrific. When I arrived in fall of 1973 it was male and mostly white. Today it's wonderfully vibrant and diverse on the student side with international students, students of color, diverse by sexual preference. We will of course do better as the demographics shift even more, but I think we attract a great demographic of students right now. 
On the faculty side we have a lot of work to do. What you've got is 40 percent of the students are students of color and then only 16 percent are faculty of color. That not only leaves us lacking the vibrancy a more diverse faculty brings, but it also puts a lot of stress on mentoring. There are a lot of students who are looking for mentoring by faculty of color and not many faculty of color to do the work.
Is it going to be difficult to achieve that outcome, considering where Dartmouth is located?
Our location is our location. We're just going to have to do the work. Our location has advantages, too. If you're raising small kids, this is a great place to do it. I think the big challenge of our location, when we hire faculty and staff, is spousal employment. We just don't have as rich a set of options for spousal employment as you would in New York or Boston.
We've made a lot of progress. The percentages have gone up in every one of the professional schools, and this year we were able to attract eight new faculty of color to arts and sciences. We've already put in place the financial resources to allow departments to go after opportunities when they see them. We will also be instituting training for search committees and hiring managers around unconscious bias, which we all have. I had this training at Michigan, and it's really enlightening. 
What about student recruitment efforts? 
We have a new dean of admissions, Lee Coffin, and we are looking to him to give us advice about how we might do admissions more effectively. We want very talented students from a diverse set of backgrounds. 
Faculty pay appears lower than at some other Ivies. The average salary for professors at Dartmouth is $184,000, according to the American Association of University Professors. At Columbia the average is $236,000, and at Yale, $204,000. Any plans to make Dartmouth more competitive?
We have kept pace since I got here, but we did fall a bit during the period of the economic downturn. Being competitive is something I take seriously. I am a very competitive person. As part of our reallocation efforts we should always be looking at faculty salaries, because academics are our core mission.
The athletic program seems to be benefiting under you: The football team shared the Ivy title last year, night games have been added, and the stadium has been rehabbed. Older alums, especially, say it's important to have winning teams for morale and giving. Do you agree?
I have tremendous confidence in Harry Sheehy as the athletics director. The one thing I am especially impressed by is that he has developed a culture of innovation. The mobile virtual player [a remote-controlled dummy used in football practices] that came out of an engineering project—that's just really great stuff. Athletics are important because of the values that carry over to the student-athletes, the life lessons they learn about teamwork, about leadership and about perseverance. Sports are part of the education we provide. 
Certainly a secondary reason is that sports do convene the Dartmouth family. Last year at the Dartmouth-Harvard football game there seemed to be more Dartmouth students and alums at Harvard stadium than Harvard students. And it was a very friendly, positive feeling on the Dartmouth side. 
This fall another major change hit campus. Students are assigned to housing clusters that will be their home base for four years. Was this system hard to impose on a campus not built that way? Any resistance to adoption?
With any innovation or change there are people who are wildly enthusiastic and there are people who are reluctant. But, no, it has not been hard to impose. We are being creative with the physical infrastructure to take advantage of what we have in place. It's really important that we don't let the perfect be the enemy of the good here. There have been decades and decades of conversations about creating house systems at Dartmouth, and now it's finally time to do it. 
What does Dartmouth look like in a couple decades? 
I think the student body will be reflective of the nation and, to some extent, the world. I don't know if that means more international students, but each year we want to build a diverse class that's highly talented, and the question is, "How do we do that?"
Geographically, I want to think about building up sectors of campus and, within those sectors, a focus on different disciplines, where people of those passions will be hanging out. It would join grad students, post-docs, faculty and alumni with a full flow of research. I see the west end of campus, the end of Tuck Drive, coming alive in a very powerful way with the fusion of technology, engineering, design and business, a combination that has become so important to the U.S. economy over the past several decades.
The arts and innovation sector will be another one, with the Hop, the Hood, the Black Family Visual Arts Center. That would be the center of activity for those interested in the creative process. 
Also I would love to see more coherence for the first-year experience. Maybe not a single facility but a neighborhood, if you will. It's where things like advising and first-year-only classes would be located.
"Staying in touch with the community is a really important part of the job. Being very visible, being approachable." 
What will students be studying in the future?
We're in a very competitive landscape and our competition's not sitting on their hands. So the vision can't be, "Geez, we're just going to do what we've always done." First, Dartmouth needs to be a real magnet for talent. Second, I want this to be a campus that's really idea-driven—a place of innovation, a place of bold thinking, a place that's looking to the outside to be inspired and motivated by the world's issues. That sounds like mom and apple pie, but it's not. If we just move things incrementally, at our scale, we're not going to make a big footprint on the world. We need to have some home runs.
Third, even more than today I want this to be a place where students are pulled in as full partners with faculty, staff and alumni, in their businesses and making a difference in the world. 
We're going to break the mold by hiring a group of faculty who will all study some world issue, and we're not going to say what department they're attached to. We've hired the first one, a guy named Rahul Sarpeshkar from M.I.T. He's a stellar, stellar faculty member. His one-sentence description of what he does is that he wants to make a bacterial slide rule. His point is that there are a lot of computational processes that actually go on in a human being. 
In digital humanities we're looking at a whole suite of interesting questions about how digital technologies are impacting what it means to be human. You're well aware of the stories about human jobs being replaced by technology. The idea would be to hire a set of faculty, three or four, who study this issue from different angles. 
Also, there's our Society of Fellows. One of the observations about our campus is that we have fantastic undergraduates. We have outstanding faculty. We have some grad students who are good but, relative to other campuses, that middle is kind of thin, and grad students and post-docs add a lot to a campus. They're brimming with ideas. They're new in their careers. They tend to be very creative. 
The first couple years have been incredibly successful in terms of the quality of people we've been able to attract. There were five fellows the first year [2014], eight in the second class. The first class of five was chosen from over 1,700 applicants. They're part of Dartmouth's grad school. 
One of the things I consider most important is experiential learning, the idea that you learn by doing, rather than by passively sitting and listening. There are many forms: undergraduate research, entrepreneurial activities, creative performance, service learning, study abroad, internships. 
We need to take it to the next level. The march of technology and newer tools like MOOCs [massive open online courses] are delivering knowledge free of charge from the very best instructors in the world. If you want to know about Walt Whitman or you want to know about artificial intelligence, you want to know about quantum mechanics, you can download lectures from the very best faculty at Dartmouth or M.I.T. or Stanford. I'm not saying we won't do lectures in the future, but to me it's kind of liberating since what we really want to focus on is the skills part. 
You don't develop the confidence to innovate and take risks by sitting in a chair and having someone talk to you. You do it by going to a place such as the DEN with an idea and having the experience of having them coach you into trying it out in the world. You'll see more classes that are like Acting 1, where students are actually thrown into acting and learning to act by trying it out. You'll see more classes that are flipped in the sense where the lecture will be in advance and then, when students come to class—if they do come to a traditional classroom—it won't be to have the professor talk at them. It'll be to have the professor say, "Okay, you need to, with a group of your colleagues, find a best solution to this issue that's arising." Or simulation classes, where we get government experts to come and say, "Okay, we're going to simulate a crisis in the Middle East. This is your role and this is your role and this is your role. Here's what happens. What are you going to do?" The leaders in undergraduate education will really be the ones that focus on experiential learning going forward.
You announced the establishment of the Arthur L. Irving Institute for Energy and Society in September. Can you talk about the thinking behind it?
Meeting the energy demands of the future is one of the most complex and urgent challenges facing humankind.  On the one hand, we need to provide abundant affordable energy to allow for continued economic growth across the globe, particularly in developing nations, so that billions can be lifted out of poverty.  On the other hand, the current global energy system has led to rampant global warming and climate change. How we produce and provide access to sustainable forms of energy will shape life in the coming decades. Success defies easy or simplistic solutions. Instead, it requires a multi-dimensional approach that integrates science, technology, public policy, geopolitics, and business. In other words, it requires bringing the power and rigor of the liberal arts to bear on a complex problem. 
The exciting thing about the institute is that it links energy and society, which allows us to play to a Dartmouth strength. We bring disciplines and approaches together to focus on big challenges and engage faculty and students around real-world problems. The institute's focus is a powerful combination—it's not energy alone, it's energy and how it connects to people.
We have a wealth of faculty and student talent currently producing important research and engaged on issues related to energy and society. The institute will offer support for their efforts and help our already highly productive community soar.
I know you've taught every year, including Math 20: "Discrete Probability" this fall. How do you allocate your time?
There's some amount of time on the road, of course, about 30 percent of my time, for alumni relations and for development. But I like that work. I love talking to alumni and parents about the institution, trying to pull them into imagining what could be. Probably my most frequent stops are Boston, New York, Washington, but I also go to the West Coast a couple of times a year and I went to China last year. I was in the Arctic this summer and also Peru, again on an alumni visit.
What kinds of topics come up regularly with students, faculty and alums?
I get a lot of email on a whole variety of subjects. The office policy is that some sort of response needs to be sent within 48 hours, which we don't always do, but we try. I also have an open-door policy; if ever a student, faculty, staff member, parent, alum wants to meet, I will meet with them. I have weekly office hours with students that are always full. It's usually on Tuesday afternoon for an hour.
Sometimes they have concerns or a problem they just can't get solved and they don't know where to go. And I say, let me try to put you in touch with the person who has the best chance of solving your problem. Sometimes they have great ideas they would like some support for, either moral or financial support. I do tell students when they come through at matriculation, just come by to say hi. So sometimes they're just coming by to say, "I've never met you, and I want to tell you about myself." You never know what's coming in the door. I don't always agree with them, but I'll try to listen to what they have to say. 
Do you ever look beyond campus for advice, maybe to other Ivy League presidents or former Dartmouth presidents?
I talk to people such as Mary Sue Coleman, who was my mentor at Michigan, and Terry Sullivan, the president of UVA. The Ivy League presidents meet twice a year, but I also see most of them at least occasionally just one-on-one. I always enjoy talking to Drew Faust of Harvard, and Chris Paxson at Brown I go to see fairly often. Brown is kind of similar to Dartmouth in terms of scale and number of students.
I've spoken with Jim Kim several times. He's been very helpful, too, hosting an alumni event at the World Bank last December. He was one of the first visits I made after I took the job. Jim Wright I see quite often. He's been in Sunapee, New Hampshire, but also just purchased a home in Hanover and will move back up.
Is there a former president you particularly admire?
John Kemeny was a person of action. He was able to execute a lot of initiatives during his time as president [1970-81], such as coeducation, the D-Plan and creating a Native American studies department. I took a class with him, though I don't think I ever spoke to him outside of class, but I was also kind of a shy, math-nerd-type kid.
What do you do, and where do you go, to take a break? 
Gail and I are very active people. We love the outdoors, we love physical activity. We play golf, sometimes here and also at a club we belong to down in Sunapee. And we bike and kayak and hike Mount Moosilauke. I still like Moosilauke, and I've done it a number of times since I've been back. We go to the gym a lot. I usually just do cross-training there—some cardio machines and some weights of different kinds. I don't run anymore. It's just too hard on the hips.
We love arts events and go to performances. We go to a lot of athletic events, a lot of student stuff. We love seeing students perform. We're either entertaining or we're out five nights a week, which is a lot. Staying in touch with the community is a really important part of the job. Being very visible, being approachable.  
When I was hired a big concern with some of the trustees and others was that we were going to be under a microscope. It's true—if I take my bright-yellow gym bag and walk to the gym, I'm stopped five or six times in between. But so far it hasn't been a problem. 
How do you like living on Frat Row? 
A lot of people ask that, and in fact we don't actually notice any kind of noise or disruption. Our bedroom is on the back side of the house and we're probably in bed by 10 or 10:30, when the students are just getting revved up. It's kind of fun being on Frat Row. Some of the houses are quite friendly. They invite us over. We will accept, if we can, as with invitations from any student organization. But I have not been in a fraternity basement. I have in my past when I was a student, but not now, in part because I want to make sure the signals are clear: You're here for an education; academics come first. I want to be talking to students about the mission and how it's being carried out.
What books have you been reading?
In part because of the divisions in the country we talked about earlier, I've read a series of books where I'm trying to educate myself, trying to understand very complex sociological phenomena better. So, I read Between the World and Me by Ta-Nehisi Coates. I also read The New Jim Crow by Michelle Alexander and Evicted by Matthew Desmond, which tells stories of moving from near poverty to grinding poverty because of the way that the practices and laws around leasing and renting are carried out. You're thinking, "Well, that's very powerful, but it's only 10 people." But then he goes into an epilogue that's a policy discussion, which is driven home so succinctly by the case studies. 
In my Commencement address to the class of 2016, to give the last advice before the seniors leave and go out in the world, I exhorted graduates to seek out and seriously consider opposing voices. Not to just hang out with the people you agree with, but to deliberately find opposing voices and give them fair consideration. It's become so easy with technology to silo yourself with people of similar viewpoints. I think you can see it in the national dialogue in this presidential campaign. There's no center left. Look at Congress: How many of them are willing to say, "Okay, let me listen to what the other side is saying."
Where do you go out in Hanover when you're not working?
To be honest, my favorite restaurant is Worthy Burger in South Royalton, Vermont. They cook burgers over wood fires, and they have lots of craft beers. Tuck students go there a lot. 
Do you have a plan for how long you'll remain as president? 
I hesitate to throw any kind of number out there. I would say, let's just take a look at the next step. We've talked about a bunch of the things that are in motion. What I would love to have people say when I step down is, not only have we done these things to move toward that vision, but, in addition, there are two to three urgent world issues where people around the globe say some of the most interesting and important work is being done at Dartmouth—and some of the real leaders are being educated at Dartmouth. We'll see how long that takes.                                          
C.J. Hughes, a DAM contributing editor, is a freelance journalist based in New York City.